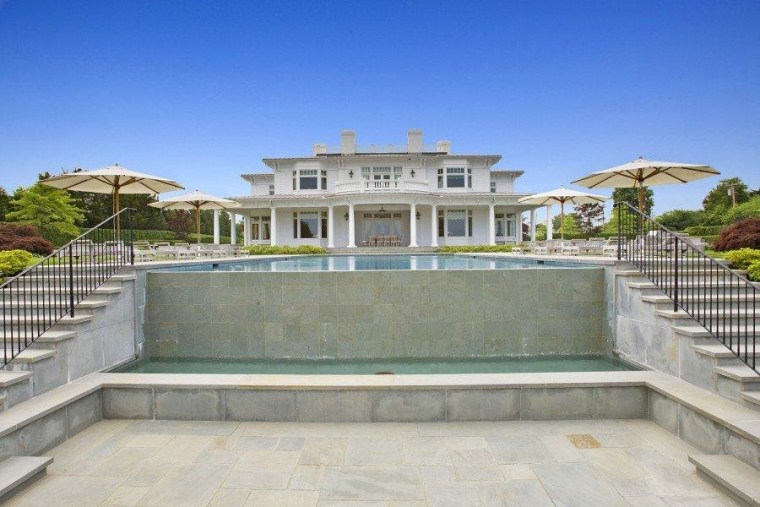 The property: 8 bedroom, 11 bath, customized Southampton home
Location: Water Mill, New York
Price: $58.5 million
Anything you think a house should have, this house should have it, says Sotheby's real estate broker Harald Grant. The 20,000-square foot property includes a grand master suite, four separate guest suites, three staff bedrooms, two powder rooms and eight fireplaces (with 100-year-old mantelpieces, of course). It also has a tennis court, pool, movie theater that seats 20, professional gym that would make any trainer drool, and a state-of-the-art kitchen designed by restaurant consultant Mark Stech-Novak. (The kitchen is so extravagant that it was featured in Forbes's America's Most Decadent Kitchens).
The waterfront home also has a dock, which is unusual on a four-acre piece of land, Grant said. The Water Mill community is considered part of the Southamptons, about two hours from Manhattan. In 2010 Water Mill was listed as number 14 in America's 100 Most Expensive ZIP Codes.
In designing his dream home, expense was not an issue for the owner, Grant said. After beginning construction in 2003, it took two years for the owner to see his vision come to fruition. But now, with a change of lifestyle and an interest in other properties, the owner is looking to sell to someone who will appreciate the attention to detail.
Details such as the grand staircase cast in bronze and silver and gold leaf that ushers guests in under an early 19-century, stained glass skylight. Or the coffered ceilings in the library and living room, and coffered cross beams in the living room.
"This would attract a person of accumulated wealth who understands the cost of finishing a house to the detail this house is finished in," Grant said. "This is not for your typical bargain hunter. This is not a typical Hamptons traditional home."
View the listing here.