Many of us have dreamed of taking a private plane to our destination of choice, but that wasn't exactly the plan for Nigel Short when he arrived at the airport in Johannesburg on July 15. Initially told he was going to be one of only four passengers on the 737 flight to Victoria Falls, Zimbabwe, the former World Chess Champion finalist (he lost to Garry Kasparov in 1993) ended up being the only one.
"I went to check in and they said don't be late because we only have four passengers," he told TODAY.com. "So, I got to my gate on time and there was no one there. I was uncomfortable because I thought maybe I made a mistake or arrived too early." Short then proceeded to go back to the main terminal to double-check his gate information. "The gate listed on my ticket was correct, so I went back four or five times and there was still no sign of anyone."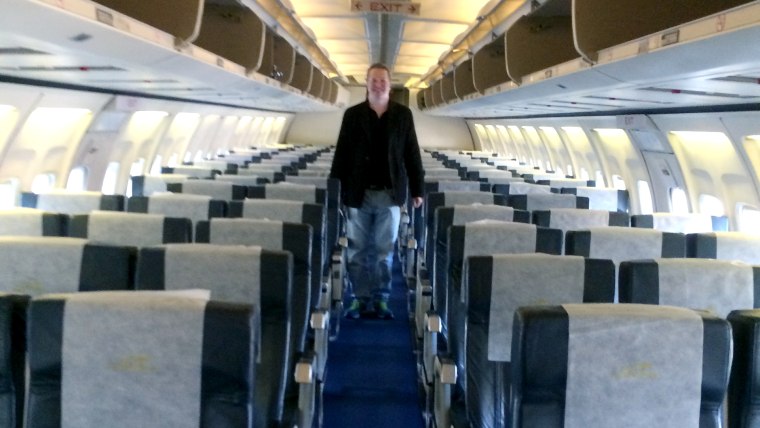 Eventually the crew for his Air Zimbabwe flight did arrive and much to his shock, they told him he would be the only passenger on board that day. "I fly a lot and have been to well over 100 countries. And once in a while you're on a flight with not many passengers," he said. "But, there's a difference when you're the only passenger."
RELATED: 60 countries in 3 years: How this man traveled the world on a budget
As you might imagine, the airline waived traditional pre-boarding routines like letting first-class passengers or people needing assistance on first. But, Short revealed, they did complete their full safety demonstration and were "very attentive." Once on board, Short opted not to sit in his assigned aisle seat, but moved to a window to see the view. And though he had the whole 105-seat aircraft to himself, the Brit didn't ask to move to first class. "They had one guy who was sitting there that was the staff," he said. "So, I just stayed in economy."
But Short still received top-notch service. "I was served by two ladies and all of the announcements were directed to me," he said. "They would say things like, 'Mr. Short, we're beginning our descent.'" Upon landing, Short was even escorted to the arrivals hall to top off his solo traveler experience.
Ultimately, the whole scenario amused him. "It was just the novelty and total surprise of the whole thing," Short quipped. "I've been on other private planes and small planes, but there were more passengers on those. I'm amazed they didn't cancel it." Many others wondered the same, prompting the airline to respond to the news outlet NewsDay.
RELATED: 'Lord of the Rings' fans: These architects want to bring Middle-earth to England
"Please be advised that the aircraft in question operated Victoria Falls-Bulawayo then Johannesburg and it became necessary for operational reasons to position the aircraft to Victoria Falls to operate a scheduled flight Victoria Falls-Harare," acting CEO Edmund Makona's personal assistant Emma Benhura told the site. "The flight had therefore been rescheduled and some of the booked passengers had opted for other earlier flights."
Short joked in the end he was "effectively just the luggage," but wanted to tell people that he hired the jet himself. And though he thought just visiting Victoria Falls would have been the experience of a lifetime, it turned out the flight that got him there was the bigger story. "The Falls were great," he said. "But, I can't imagine I'll have such an experience like the flight ever again."