Attention, luxury-loving travelers: Did your last stay at a Four Seasons fail to earn five stars? Ritz-Carlton just not ritzy enough?
Fear not. With famous purveyors of the finer things from other industries hoping to expand their brands, luxury lodging has never looked — or tasted — so good.
The latest boldfaced name to make the leap? Famed sushi chef Nobu Matsuhisa, whose first Nobu Hotel opened at Caesars Palace in Las Vegas on Monday. Taking over the resort's old Centurion Tower, the hotel within a hotel features 181 rooms, the world's largest Nobu restaurant and the sort of built-in brand recognition that promises to attract a hungry, well-heeled crowd.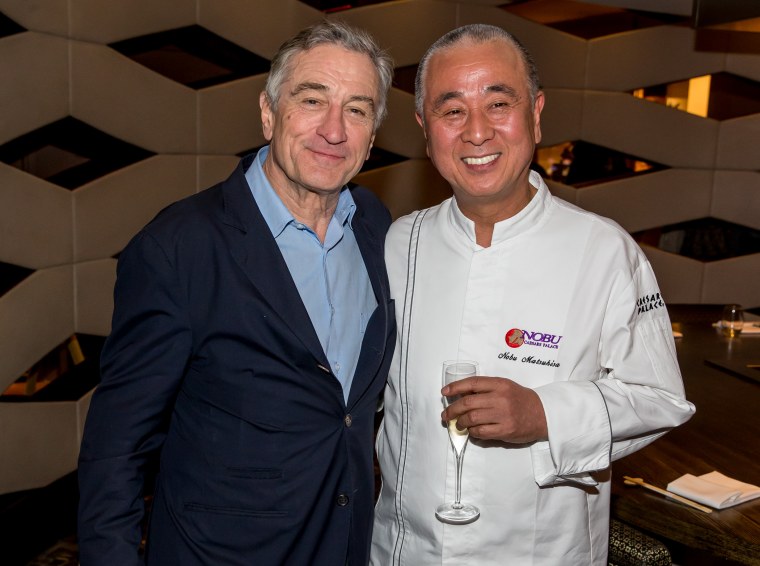 "We've been around for 20 years and we've been the restaurant of choice for a number of hotels," said Trevor Horwell, chief executive of Nobu Hospitality. "About four years ago, we said to ourselves, we don't want to help create other people's hotels. We want to do our own."
The result is an Asian-infused retreat where the rooms feature teak furnishings, Japanese artworks and a much-buzzed-about room service menu that offers everything from miso soup and green tea waffles to a budget-busting bento box featuring lobster, Wagyu steak and premium sushi rolls for $288.
That last one, by the way, will set you back more than a basic king room, which, at opening, runs just $249 per night.
"They're promoting a whole new level of customer service and opulence, above the Four Seasons and the Mandarin Oriental," said Anthony Curtis, president of LasVegasAdvisor.com, an online newsletter. "They're positioning themselves as something special for the high end of the travel market."
And Matsuhisa and his cohorts (Robert De Niro, among them) aren't the only ones targeting that market. In recent years, other hotels in other cities have opened under boldfaced names including Armani, Bulgari and Missoni.
Also in the works are the world's first Baccarat Hotel, expected to open in New York next year, and several planned Harrods hotels, including outposts in London, New York and Kuala Lumpur.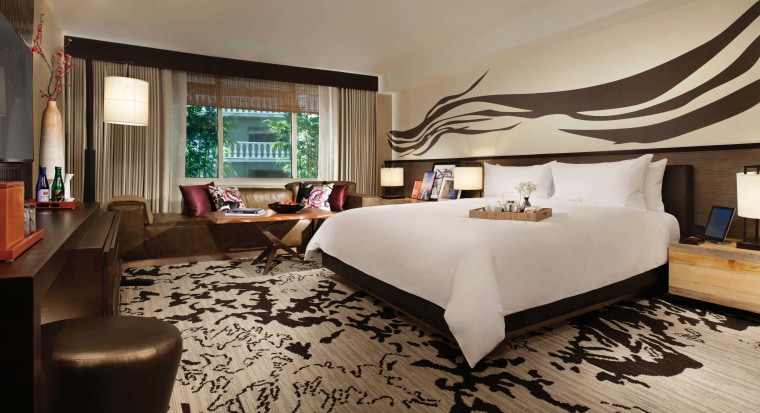 "Properly executed, the hotel industry is entertainment and at the high end, it touches on fashion and lifestyle," said David McMillan, a Toronto-based hotel branding consultant. "People who travel at the very high end are looking to stay at properties that they personally identify with."
"These companies have discovered that they have significant brand equity," said John O'Neill, director of the School of Hospitality Management at Penn State. "The consumer who wears Armani clothing would potentially be the same consumer who would want to stay in an Armani hotel."
But even strong brand equity will only get you so far. For one thing, such properties will naturally appeal to an exceedingly small sliver of the traveling public. For another, the pricier the property, the higher the cost of managing the inevitable wear and tear on amenities and furnishings.
The biggest challenge, however, may be that such concepts don't lend themselves to the scalability that most major hotel brands rely on to remain profitable.
"These concepts have never panned out in any big way," said O'Neill. "They're limited to cities like New York, Las Vegas, San Francisco. You're not going to see them in Kansas City or Oklahoma City."
Rob Lovitt is a longtime travel writer who still believes the journey is as important as the destination. Follow him at Twitter.