Brace yourselves, New Years fitness resolution makers! Pepperidge Farm has added three new types of Milano cookies to its classic chocolatey line.
The three newest offerings are: Banana Chocolate, Mocha Chocolate and Salted Caramel Chocolate.
The flavors, which quietly hit shelves earlier this month, were engineered to be "a truly indulgent experience," Brian Blanchard, VP Marketing, Snacks, at Pepperidge Farm told TODAY.com.
The Mocha and Salted Caramel flavors are both "coffee-inspired," Blanchard said.
"Through tracking consumer behaviors and food trends, we discovered that mid-afternoon snacking is on the rise," said Blanchard. "What better way to appeal to consumers than by creating a delicious cookie that tastes like some of their favorite beverages?"
Banana Chocolate was created because "bananas top the list of America's favorite fresh fruit," and because the fruit pairs so well with chocolate, Blanchard explained.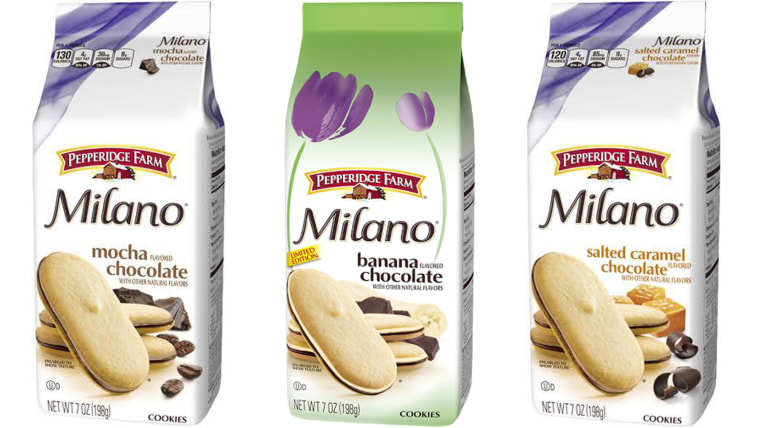 Adding to but not changing its Milano cookie formula is a smart move for Pepperidge Farm, says Dan Hill of the communications, government relations and public affairs firm Ervin Hill Strategy.
"It's important for successful brands to stay current while resisting temptations totally reinvent themselves — there's too much nostalgic attachment consumers have to these kinds of products," he said. "Adding variety without abandoning your core makes perfect sense in a competitive market."
Two of the new Pepperidge Farms Milano cookie flavors, Salted Caramel and Mocha Chocolate, are initially being exclusively sold at Target through January, a spokesperson for Target told TODAY.com in an email.
Blanchard of Pepperidge Farm said the flavors will be expanded to retailers nationwide in February, joining the rest of the company's year-round lineup, which includes Orange, Double Chocolate, Raspberry, Mint, Milk Chocolate, Dulce de Leche and Lemon.
Banana Chocolate Milanos are already available at retailers nationwide, she said.