The dreaded middle seat on an airplane could soon be getting a lot worse.
A new patent by Zodiac Seats France shows the direction airplane seat manufacturers may be heading. That direction being backwards-facing middle seats that are situated between two other people who are facing the front of the plane.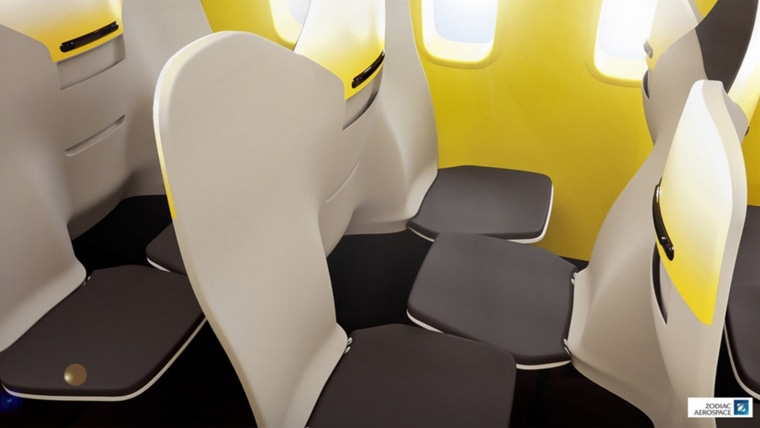 "The forward-facing seat and the aft-facing seat are arranged adjacent to one another so that a shoulder space on one side of the forward-facing seat overlaps with adjacent shoulder space of the aft-facing seat," the patent states.
Named the "Exonomy Class Cabin Hexagon," the new concept would give each passenger four more inches of leg room, Zodiac says. The bottoms of the seats fold up to allow passengers to enter into the middle and window seats, saving space and allowing for more seats to fit on the plane.
"With the high price of fuel and the ongoing demand of airline economics, they've been trying to squeeze as many people into the back of the plane as possible for years," aviation analyst Richard Aboulafia told TODAY.com.
As uncomfortable and awkward as the new seats may look, Aboulafia says if the concept ever becomes a reality, customers would still pay the price to fly.
"People have been able to buy premium economy tickets for years, paying just modestly more," he said. "But they still don't do it. Instead they go for the very cheapest fare."
Although the patent has been filed, whether or not the seats will become popular depends on whether or not airlines want to pick up the design.
We're pretty sure regardless of whether the seats catch on, the middle seat will never be fun.