At a growing number of companies across the country, sleeping on the job is considered a good thing.
With more Americans failing to get adequate sleep, companies like The Huffington Post and Nationwide Planning Associates have created "nap rooms" for employees to grab a few z's in hopes of making them more productive at work.
Rather than have their employees snoring under their desks like George Costanza on "Seinfeld," Nationwide Planning's New Jersey office has a nap room with a recliner that allows one worker at a time to catch up on sleep. Other companies have purchased "EnergyPods," made by a company called MetroNaps: chairs specially designed for power naps in the workplace. Priced from $8,900 to $12,900, the chairs have been used by companies in 20 countries across four continents, including Google and Procter & Gamble.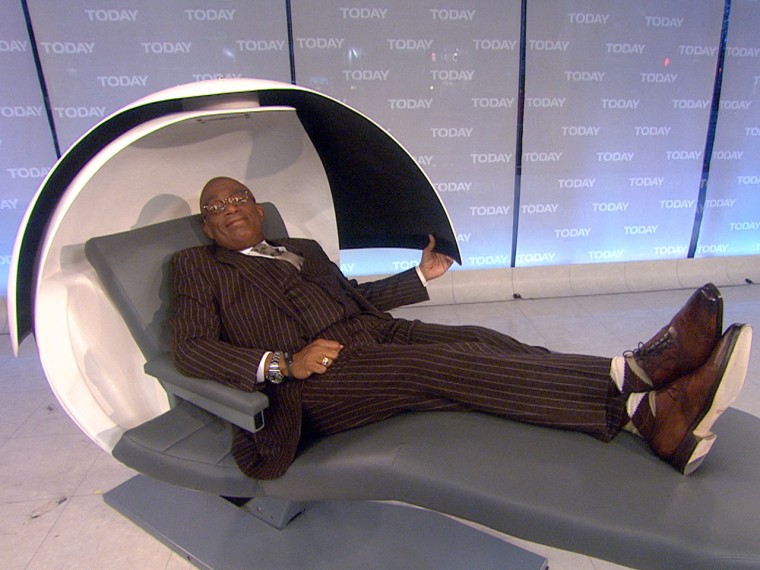 To allow the employee to stretch out and sleep, the EnergyPod includes a bottom component that makes it resemble a chaise lounge, and an adjustable pod top that can block light. The EnergyPod can last for 10 years before having to be replaced, according to the company.
At Nationwide Planning, there is one nap room for the New Jersey office's 20 workers. "We call it the 'rejuvenation center' to put a more positive spin on it,'' Nationwide Planning's James Colleary told TODAY Friday. "People associate napping with laziness.''
Colleary pushed for a nap room, and company executives quickly noticed happier, more productive employees.
"The nap for me, personally speaking, really allows me to approach the second half of the day with a lot more force,'' Mike Karalewich, Nationwide Planning's chief compliance officer, told TODAY.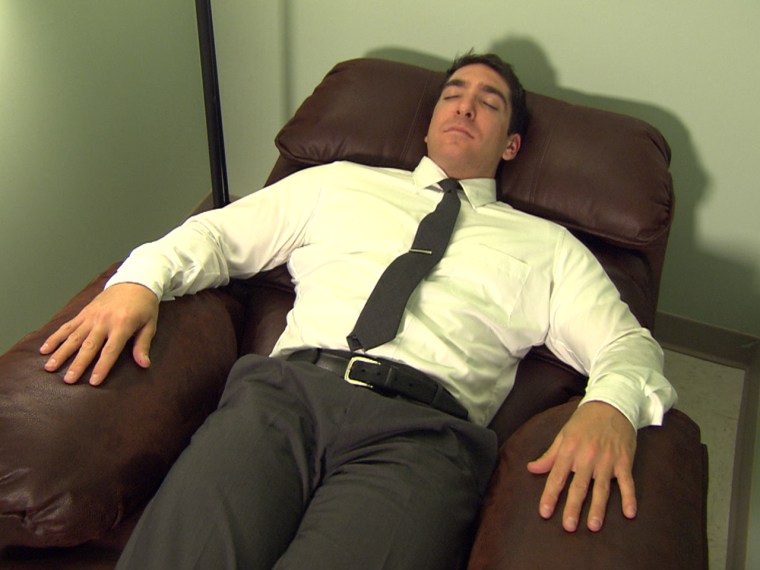 "I firmly believe that napping breaks will become the new coffee break eventually,'' Colleary said.
According to a 2011 poll by the National Sleep Foundation, 43 percent of Americans claim they don't get enough sleep. A power nap can't replace all of that lost sleep, but it certainly doesn't hurt. To make the most of your nap, experts say, rest in a cool, dark room and limit your nap to 20 or 30 minutes.
"We all get sleepy in the midafternoon, and it looks like our body clocks are winding down a little bit then,'' Dr. Steven Feinsilver, the director of the Mount Sinai Center for Sleep Medicine, told TODAY. "If you need an extra two hours of sleep, getting a half an hour is good, and it helps.''
Huffington Post founder and president Arianna Huffington used to think that working 24-7 was the only way to be productive, but learned the hard way that a midday nap can make a big difference. Five years ago, she fainted from exhaustion, ending up with a broken cheekbone and stitches -- and a newfound appreciation of how being sleep-deprived makes it harder to focus and function.
"Sleep makes us more productive, creative, less stressed and much healthier and happier,'' Huffington told TODAY. "Even a 20-minute nap in the middle of the day can make a huge difference. I grew up thinking that if you work around the clock, you are going to be more effective, and I realize that is not true.''
There are now two nap rooms for the more than 400 workers in the The Huffington Post's New York office, with a third on the way.
"Just putting in 20 minutes off the computer on the couch makes all the difference in the world to me,'' Nate Hindman of The Huffington Post told TODAY.
Would you use a "nap room" if you could? Weigh in below!
Read more:
Many moms – and dads – are stressed out by 'having it all'
Most execs believe they can 'have it all' – but with a catch