Museum of Me, an app by Intel, documents your Facebook life story, compressing years of Facebook behavior into a 3-minute video. 
The free program accesses everything you've written and everything you've posted, liked, or looked at on the social networking site. And within a minute, you have a pretty slick movie set to a somewhat sappy soundtrack by Japanese artist Takagi Masakatsu playing back at you. 
The video takes you on a tour of what looks like the insides of a real museum, with framed images of your friends on the walls, a giant screen displaying recent posts you've "Liked" and an enormous Wall that scrambles and displays everything ever posted on your Facebook wall.
In the last room of your Museum of Me is an installation where robotic arms pick through and arrange the profile pictures of all your friends into an outsized collage that ends up looking like... you!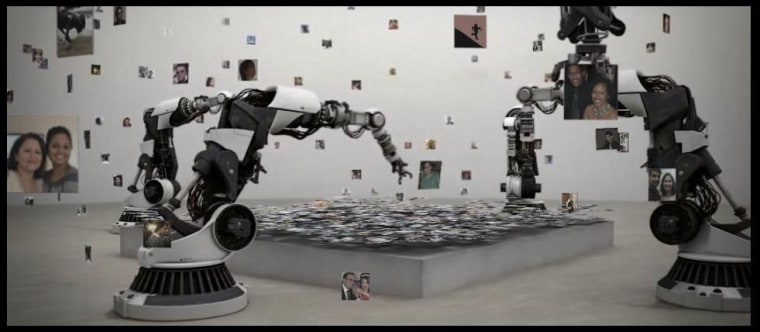 If you like Facebook, it's pretty neat to see all your info sorted and displayed. The app chooses and displays slightly different elements every time you play it, keeping things (somewhat) interesting. 
Ultimately, the app's charm, and perhaps its creepiness, lies in in its ability to detect who and what you interact with the most (at least that was the case for this blogger). 
But as pretty as its product is, the Intel app itself doesn't let you record the video and share it. When you hit the "Share Yourself on Facebook" button at the end of the video, the app uploads five screenshots from the your video, and also posts an ad for the Intel app on your profile page. 
Ultimately, Museum of Me really isn't about you —  it's a well-cloaked campaign for Intel's Core i5 processor, Engadget observed when the app launched recently.  
The enterprising Facebook fan who wants to save the video can turn to other programs, like Screencast-o-matic, which will record the Museum of Me video as it plays on the Intel website screen.
It can then be saved and shared at will, though we're guessing it will probably wind up where it belongs — on Facebook.
More about Facebook add-ons on msnbc.com: 
Nidhi Subbaraman writes about tech and science at msnbc.com. Find her on Twitter and Google+ and join our conversation on Facebook.