As commercial airlines look for more ways to cut costs, passengers find themselves in closer contact with one another in a more stressful environment. If you've ever longed for the bygone days of air travel — when comfort, convenience and yes, manners, reigned supreme — you're not alone.
Travel site Expedia.com today released its third annual Airplane Etiquette Study, which asked Americans to rank the most aggravating habits of fellow passengers. The survey found that most Americans are plagued by seat kickers, inattentive parents and smelly co-passengers.
While sitting in the same row as a "Pungent Foodie" or a "Seat Switcher" can make for an irksome voyage, 61 percent of respondents said that "Rear Seat Kickers" are the most frustrating fliers of all. More than 1,000 adults were interviewed for the study, which was commissioned by Expedia and conducted by GfK, a global market research company.
Other onboard offenders include the "Audio Insensitive," whose headphones blast music so loud that you might as well be wearing them; "The Boozer," who mistakes the flight attendants for bartenders; and "Chatty Cathy," who must believe that a break in conversation will lead to a sudden drop in cabin pressure.
RELATED: Goodbye in-flight movies? Why some airlines are ditching seat-back screens
Reclining seats are a polarizing issue. While the majority of Americans exercise their right to recline, 31 percent remain in the upright and locked position. Roughly a third of respondents said they would like to see reclining seats banned entirely, or at least restricted to set times during short-haul flights.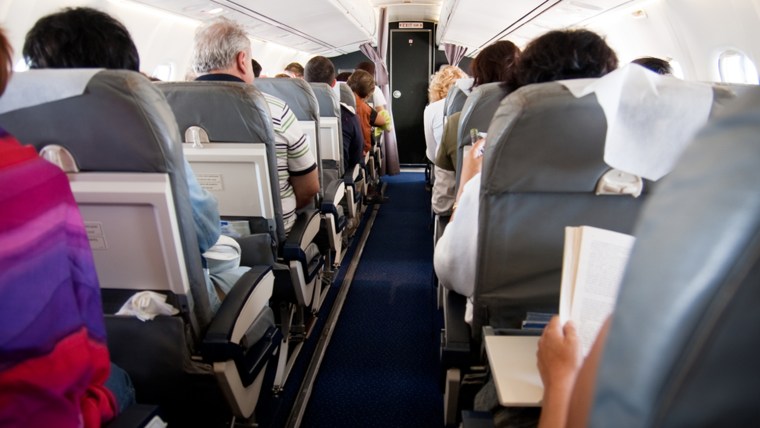 Of the recliners, 30 percent lean back to sleep, 28 percent recline if the flight exceeds three hours and 13 percent get their lean on immediately after takeoff. Some passengers (13 percent) said they will lean back only after the person in front of them reclines, kicking off a domino effect of recumbent travelers.
RELATED: Robots and sky-diving: Inside the massive Anthem of the Seas cruise ship
Meanwhile, 12 percent would lean back even if the person behind them were tall, and 10 percent would recline even if it were into the lap of a noticeably pregnant woman. A quarter of respondents would recline their seat to punish the passenger behind them for being rude or aggressive.
As for in-flight interaction, three-quarters said that a little small talk is fine, but they prefer to keep to themselves for most of the flight. Two-thirds dread sitting next to someone who talks too much, and more than half get annoyed with parents traveling with loud children. If a "quiet section" existed, 37 percent said they would actually pay more to sit there.
RELATED: The South attracts more interest from foreign tourists: Here are the top 10 cities
The silver lining is that the majority of respondents said that fellow passengers are generally considerate of those around them, and 51 percent find flight travel fun and exciting. For those looking to spice things up, they can always join the one percent of passengers in the "mile high club."
Here is the ranked list of onboard etiquette violators:
Rear Seat Kicker (cited by 61 percent of study respondents)
Inattentive Parents (59 percent)
The Aromatic Passenger (50 percent)
The Audio Insensitive (talking or music) (50 percent)
The Boozer (45 percent)
Chatty Cathy (43 percent)
Carry-on Baggage Offenders (38 percent)
The Queue Jumper (rushes to deplane) (35 percent)
Seat-Back Guy (the seat recliner) (32 percent)
Overhead Bin Inconsiderate (stows bag in first available spot, rather than nearest to his/her seat) (32 percent)
Pungent Foodies (30 percent)
Back Seat Grabber (27 percent)
The Amorous (inappropriate affection levels) (26 percent)
Undresser (removes shoes, socks or more) (26 percent)
Mad Bladder (window seat passenger who makes repeat bathroom visits) (24 percent)
The Single and Ready to Mingle (13 percent)
The Seat Switcher (13 percent)