More dads are staying at home full time with their kids than in decades past, but a new report finds that many of them are doing so because of health reasons or a lack of employment.

Still, the analysis from Pew Research Center shows, there has been a sharp jump in the share of dads who say they are at home primarily to take care of their families, rather than for other reasons.  
Noelle Chesley, an associate professor of sociology at the University of Wisconsin who has studied stay-at-home dads, thinks there has been some increase in dads who made the choice to stay home with the kids.
But Chesley, who was not involved in the Pew report, said many of the dads she spoke with for her research ended up as a stay-at-home parent because their wives' careers were advancing and it made more sense for her to take the breadwinner role, or because they lost a job or had another career setback.
Jeff Jones had never considered being a stay-at-home dad until his wife suggested it to him.
"This came out of left field," Jones said. "At the time, I wasn't even aware that there was such a thing." 
That was 17 years ago. Back then, Jones had an 18-month-old son and was working in the restaurant industry, but his wife had just landed a new job that meant moving across the country.
At first, Jones said, being a stay-at-home dad could occasionally be both scary and overwhelming. But as he got more settled into the role, he said he came to cherish the opportunity to watch his kids grow.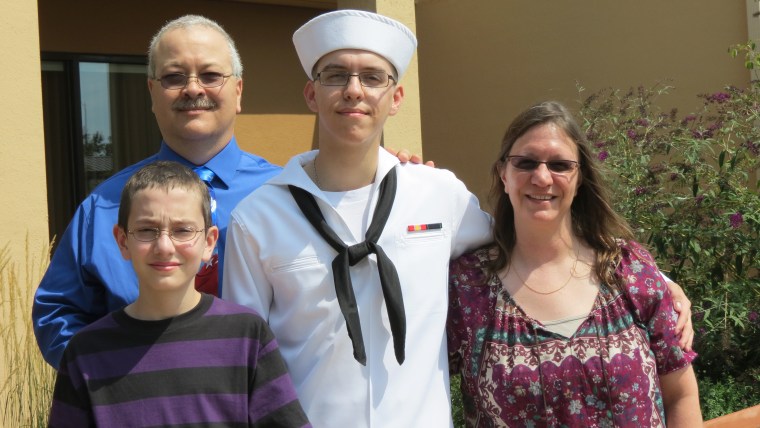 "Just being there and witnessing things that my son was going through as he developed, it just kind of made it seem like this was where I had to be," he said.
Jones, 55, is still a stay-at-home dad. His older son is 19 years old and in the U.S. Navy, and his younger son is 13 and still at their home in Columbus, Indiana.
Jones said he has absolutely no regrets about becoming a stay-at-home dad, even though it has involved some tough times and financial sacrifice.
"Once we became a stay-at-home dad kind of family, that was the game plan we were going with for the duration," he said.
Two million dads
The number of dads staying at home full time has nearly doubled compared to a quarter century ago, to about 2 million dads as of 2012, according to the report released Thursday by Pew Research Center.
Still, stay-at-home dads remain a rarity. About 7 percent of all dads who live with their children under 18 did not work at all in the prior year and were considered stay-at-home dads under Pew's methodology. That's up from 4 percent in 1989.
Unlike stay-at-home moms, a minority of dads who are at home say they are doing it primarily for family reasons.
Twenty-one percent of stay-at-home dads say they are at home primarily to care for home and family, compared to just 5 percent in 1989.
Another 23 percent say they are home because they can't find a job, and 35 percent say they are ill or disabled. The rest are retired, in school or have other reasons for staying home, according to Pew's analysis of government data.
Regardless of how they ended up in the role, Chesley said most of the men she interviewed were happy it had happened.
"Being more involved with their kids was a transformative experience for a lot of the at-home dads, and that was true for a lot of the dads that had resisted being an at-home dad," she said.
Allison Linn is a reporter at CNBC. Follow her on Twitter @allisondlinn or send her an e-mail.