Monopoly is sending one of its tokens directly to jail forever — without passing go, without collecting $200.
The iconic board game is asking its Facebook fans to vote for their favorite game piece, including the car, thimble, boot, Scottie dog, battleship, hat, iron and wheelbarrow.
The one that receives the fewest votes will be voted off the board next month. 
It seems everyone has a personal connection to Monopoly's signature game pieces. Savannah gushed on the show Thursday morning, urging viewers to cast their votes and revealing her loyalty to the thimble – but then admitted that she also likes the iron (a token likely to get voted off, according to our tally).
Joining in on the nostalgia was Natalie, who said that she and her sister used to fight over who would be the Scottie dog as children.
Do you have a signature game piece? Tell us on Facebook!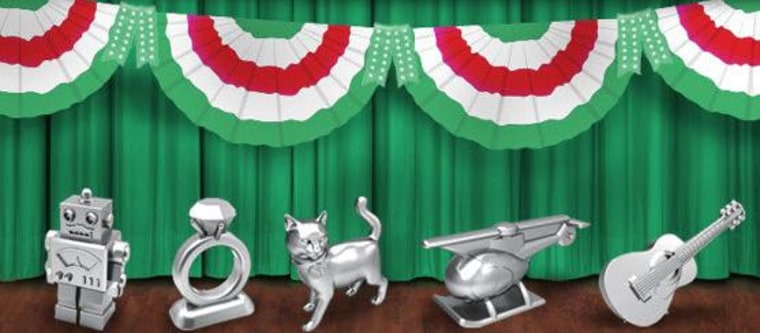 As of Jan. 9, the dog and the car have garnered the most support. Fans of the wheelbarrow and hat may need to select a new game piece. 
But out with the old and in with the new: Monopoly will replace the shunned piece with a cat, diamond ring, guitar, helicopter or toy robot.
This isn't the first time Monopoly has introduced replacement tokens. According to Hasbro.com, the lantern, purse and rocking horse got the ax in the early 1950s, making way for the dog, wheelbarrow and the horse and rider (the horse eventually got booted from the box, too).
Hasbro's promotion hearkens back to M&M's marketing stunt in 1995, when the the tan-hued chocolate candy was nixed and fans were asked to vote for a new color (the verdict was blue).
Hasbro will reveal the new token exclusively on TODAY on Feb. 6. Be sure to watch! 
More on TODAY.com:
Star Wars figures, dominoes enter Toy Hall of Fame
Dangers on the toy shelves: Dora's guitar, balloon launcher