Sure, millennials might work long hours for cheap and know the ins and outs of technology and social media, but that doesn't mean older generations have lost their place in the office.
You just have to be smart about how you present yourself, experts say.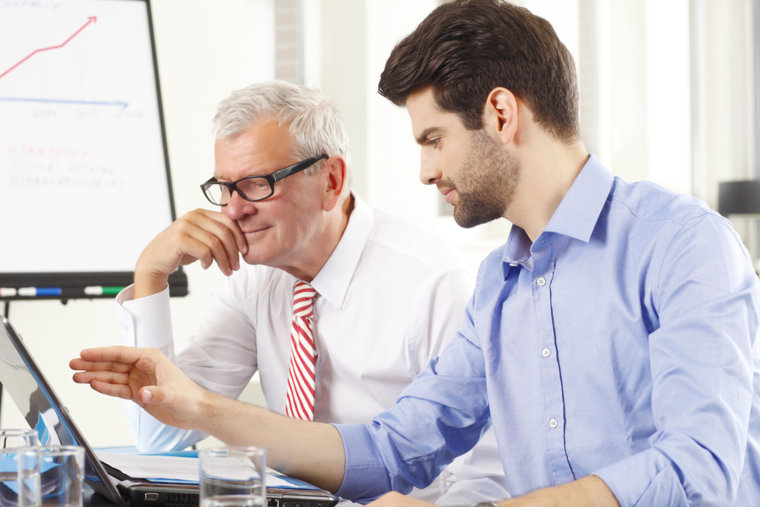 "For colleagues who are 50-plus, they bring to the table a perspective of seeing the last two or three decades of how the workplace has changed, how the marketplace has changed, and that can be a very powerful resource," human resources and talent management expert Curtis Odom told TODAY.com. Plus, they have more experience.
RELATED: How more millennials could change the workplace for the better
But he warns of a common mistake older employees often make: settling into a role and routine, instead of focusing on new ideas and the future of a company, he added.
"Many of us who are out there in the workforce, we get to work every day and we do the job we were hired for," said Odom, who has written several books about the topic. That's great, but you should also try to figure out how to "help the company move forward," he said, "so you don't become the worker who helped us become who were before, but not one who helps us move in a new direction."
In May, the Pew Research Center reported that millennials (ages 18 to 34) surpassed Generation X (ages 35 to 50) in the workforce. While millennials are indeed cheaper, that's true for any young generation entering the workforce. Odom offers another theory, explaining that during the economic downturn of 2008 many companies were forced to downsize, and when they started to hire again, they realized that millennials were more acclimated to the changing work environment. Young people can better handle ambiguity and are quicker to adapt to shifting technologies, he said.
RELATED: 40-year-old interns finding their way back into the workforce
"Companies are really seeking out millennials," Odom said. "Because they're seeing a work ethic, a willingness to engage, almost an entrepreneurial spirit of colleagues in this age demographic."
For 50-somethings and older workers to compete, "they need to show they're just as able-bodied and able-minded and hungry as their millennial counterparts," he added.
Samantha Ettus, a work-life balance coach, points out that companies might also be drawn to employees who don't yet have kids and families.
"If you're young and able to dedicate your entire life to your career, that probably seems more appealing to an employer," she said.
But there's a flip side: "What we're seeing, though, is that people who manage multiple responsibilities [at home] tend to be much more focused at work. They simply don't have time for cooler talk. So employers really have to think about what kind of office environment they want. If you're hiring a young person, you're often getting someone who doesn't mind late nights at the office, but you might also get someone who expects to do their socializing at work."
RELATED: Millennials: Lazy, entitled, or maybe just young?
Both Odom and Ettus say that an obvious way for Baby Boomers and Generation X to succeed at work is to stay updated on technology, perhaps even pairing up with a younger person for a crash course.
"You never want to be that person in the room who kind of flaunts that they don't know what Twitter is. That ages you really fast," Ettus said. "In terms of technology, it's a steep but short learning curve. It's easy to be fluent quickly. You can hire a young person in your neighborhood or a friend's kid and have them give you a tutorial."
Or, find someone in your office for a mutually beneficial mentorship. That's exactly what Katelin Morris, 22, and her boss Jennifer Zeidler, 44, have done. Morris, a content marketing manager for FreeConferenceCall.com, a telecommunications company in California, helps Zeidler, head of marketing and communication, stay up to date on technology.
In return, Zeidler teaches Morris what she's learned from more than two decades in the business — like why sometimes you just have to pick up the phone and call someone instead of sending another email.
"It's like yin and yang, there's a balance," Zeidler told TODAY.com. "It's not about replacement. I really love feeling like I'm giving back and teaching her a lot of my knowledge. At the same time, she helps me keep up on trends and keep current."