McDonald's sales have been as soggy as that last fry at the bottom of the bag for some time now, so here's their solution: Bring back the Hamburglar!
Better yet: change him entirely, then bring him back as a live-action, kinda hot, scruffy-bearded dad!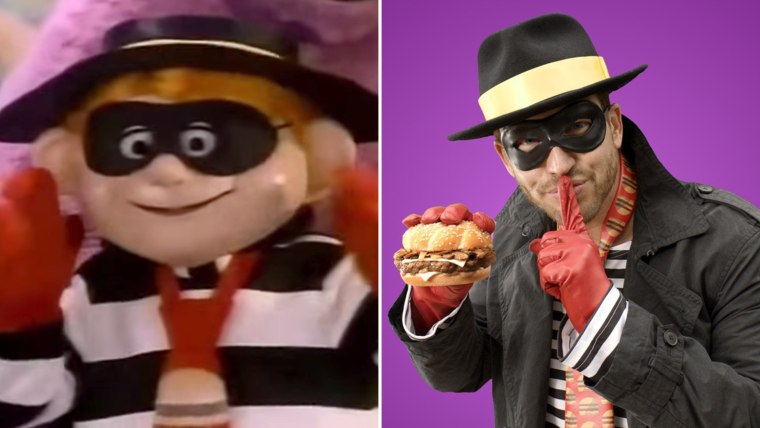 Hamilton B. Urglar (street name "Hamburglar") has been a part of the McDonald's canon since circa 1975 and — like most of the McDonald's characters who aren't Ronald — either portrayed as a cartoon character or as an actor inside a costume with a headpiece. He never said much, just muttered "robble robble" and would make off with (as his name indicates) your McD's patties.
But he vanished more than 13 years ago from ads and has been clearly living a lower-key, if not vegetarian, lifestyle.
"We felt it was time to debut a new look for the Hamburglar after he's been out of the public eye all these years," Joel Yashinsky, McDonald's' VP of U.S. Marketing told Mashable in a statement. "He's had some time to grow up a bit and has been busy raising a family in the suburbs and his look has evolved over time."
He has kids? What kind of message does this send to the next generation? Also: If he's living in the suburbs, burger theft is apparently a more lucrative career option than we realized.
Comedian Patton Oswalt speculated that maybe he's branched out:
The new sexified Hamburglar has already gotten social media sizzling:
While others remind us to thank our lucky stars that he's easier on the eye, as the earliest Hamburglars were anything but handsome:
Not everybody's happy, though. Actor/musician Tommy Vicini, who played the Hamburglar from 1971-92 and now performs in a rock band, expressed his displeasure on his Facebook page: "Its mcD's at it again with their media blitz promoting a new sandwich. Remember the year when they put out a commercial with Ronald out in the bars playing pool with chicks etc.? Same thing. except they should being putting their money into promoting us!!!"
Hey, you can't please everybody, not even when your object is petty theft ... of the heart.