Facebook CEO Mark Zuckerberg has some parenting advice for folks who are raising kids: Don't ban Facebook. 
In a town hall-style public Q&A Thursday, the second this year, Zuckerberg field a range of questions, from a "dislike" button to the role of Facebook in society to his favorite pizza topping.  
The event was perhaps best summed up with his answer to the final question, in which a woman asked (to big laughs): "I am a mother of a teenager, and if you and I were married, how would we handle Facebook with our daughter?"

Zuckerberg took the question in good humor. Though he has no children himself, he said that if he did, he would not ban social networks or technology.
"I think sometimes society has a bit of an overbearing attitude where we treat children as if they don't know how to do stuff, when sometimes they're more sophisticated than you could ever imagine," he said. "I would want my children to use technology because it's one of the ways that you become literate and develop the skills that you need to for the modern world."
He did, however, caution that bullying and misuse are real problems the company works to prevent, and that kids under 13 are not allowed to join or use Facebook.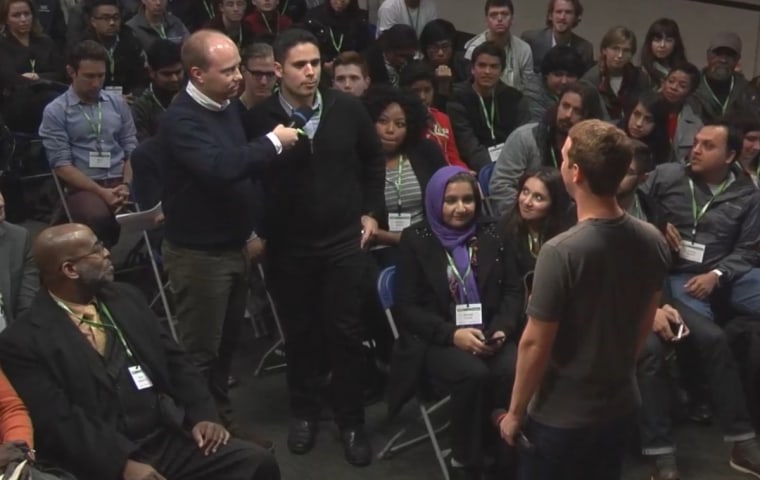 On other topics:
How is Facebook handling experiments, like the emotion-tracking one from earlier this year? 
Faced with that particular PR failure, Zuckerberg admitted: "We could have done it a lot better. When some engineer inside Facebook decides they want to go test that, that the right people in the company know about it and can evaluate whether it's an appropriate and good thing to be testing."
"Which," he added, "is what we now are going to do."
He also made assurances that tests would not target sensitive communities or minors, or fiddle with your privacy.
What about a "dislike" button?

That's not on the table. "Some people have asked for a dislike button because they want to be able to say 'that thing isn't good,' and we're not going to do that," Zuckerberg said. "I don't think that's socially very valuable, or great for the community."
You might see more of a variety of responses in the future, though. The "like" button, he said, "is a powerful way to sympathize or empathize with someone. I think giving people the power to do that in more ways with more emotions would be powerful, but we have to figure out the right way to do it."
Facebook and the community
Zuckerberg fielded a number of questions on Facebook's role in making things better in the real world. He gave the example of recent protests and controversies in the U.S. and elsewhere: "Whenever there are important moments and tension around the world and in different countries, a lot of people turn to Facebook and social media ... We view it as our job to keep on making that as powerful a voice as we can for people."
He also highlighted efforts the company is making both to promote charity work and advance learning in STEM fields. Check out Non-Profits on Facebook for lots of examples, he suggested.
And for one person in the audience, the presence of Facebook in her real-life neighborhood has had immediate benefits. "Thank you for upping the price of my house," she joked — but the gratitude seemed real.
The important stuff
Then, of course, there were the fun and frivolous questions. Zuckerberg doesn't have any New Year's resolutions yet (he suggested you post ideas on his wall). His advice to his younger self would be not to worry so much about making mistakes. And the most frivolous of all? What Zuck likes on his pizza.
"My view on this important issue," he responded with a laugh, "is that if you're going to be eating pizza, you might as well be having fried chicken on top of the pizza. Next question!"