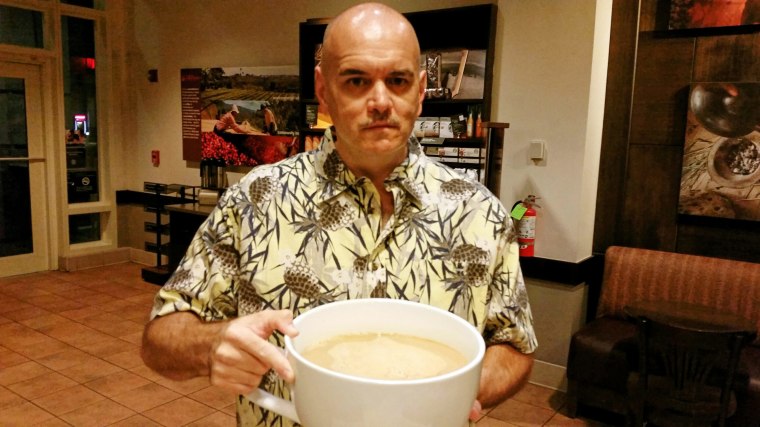 A Florida man broke records Wednesday for ordering the biggest and most expensive Starbucks drink: a 101 shot "Mega" latte worth $83.75.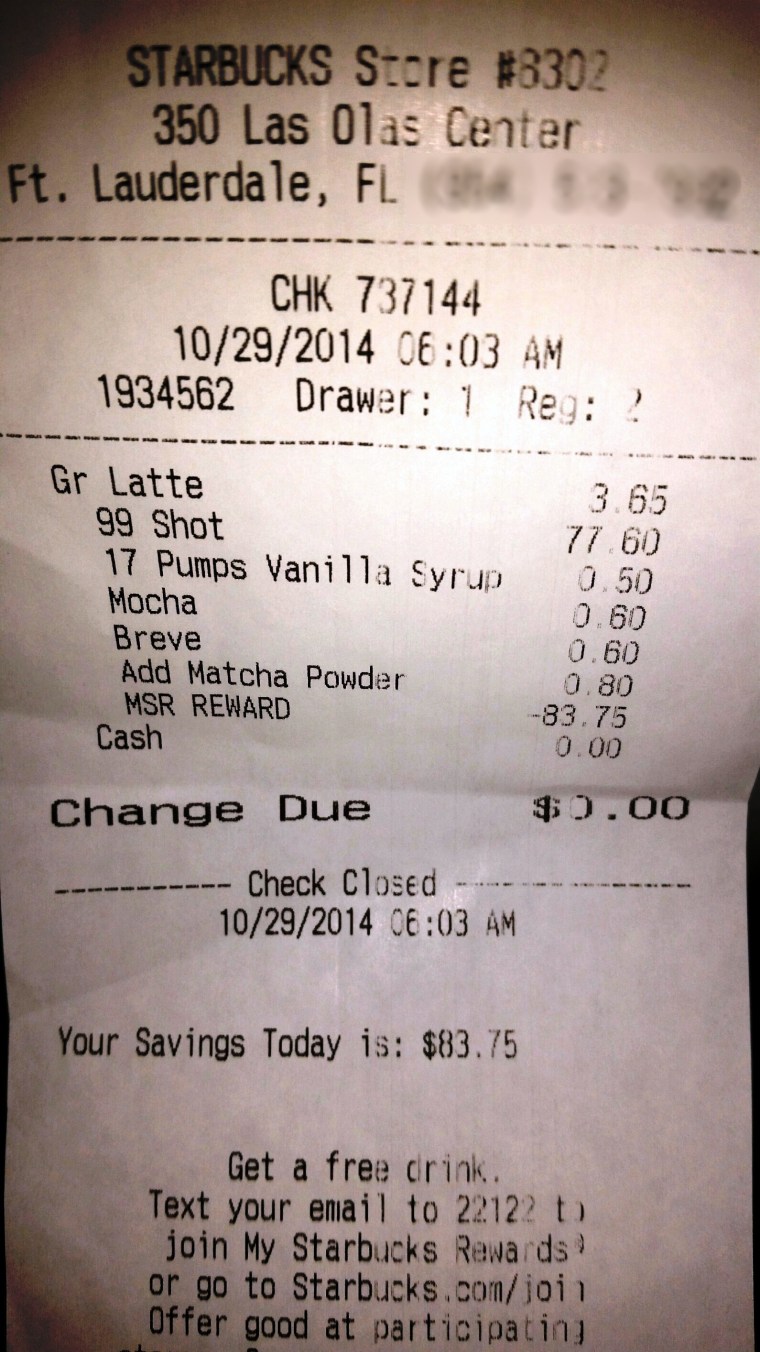 He brought his own mug too, a 160-ounce novelty cup he bought online as a gag. Into it went a grande latte, 99 more shots of espresso and 17 pumps of vanilla syrup.
"It's an internet challenge," said William Lewis, a political and business consultant and talk show host, "I wanted to beat out the record."
The drink exceeds previously reported records. In July a man in West Virginia had a $71.35 Starbucks drink served to him in a cooler. A few weeks before, a Florida medical student had a 60-shot frappuccino worth $60.58 served to her in a jug with a spigot.
It was all for the LOL's, said Rico Petrocelli, who is running for City Council and shared the cup of coffee outside the store along with long-time friend William, and three other men. That's about 32 ounces per man, a little more than the Starbuck's 31 oz Trenta size. The giant gag cup was poured into normal-sized Starbucks cups for each to drink from.
"It's like pulling up to McDonald's drive-thru and saying, 'give me 600 hamburgers,'" said Petrocelli, a long-time friend of Lewis's.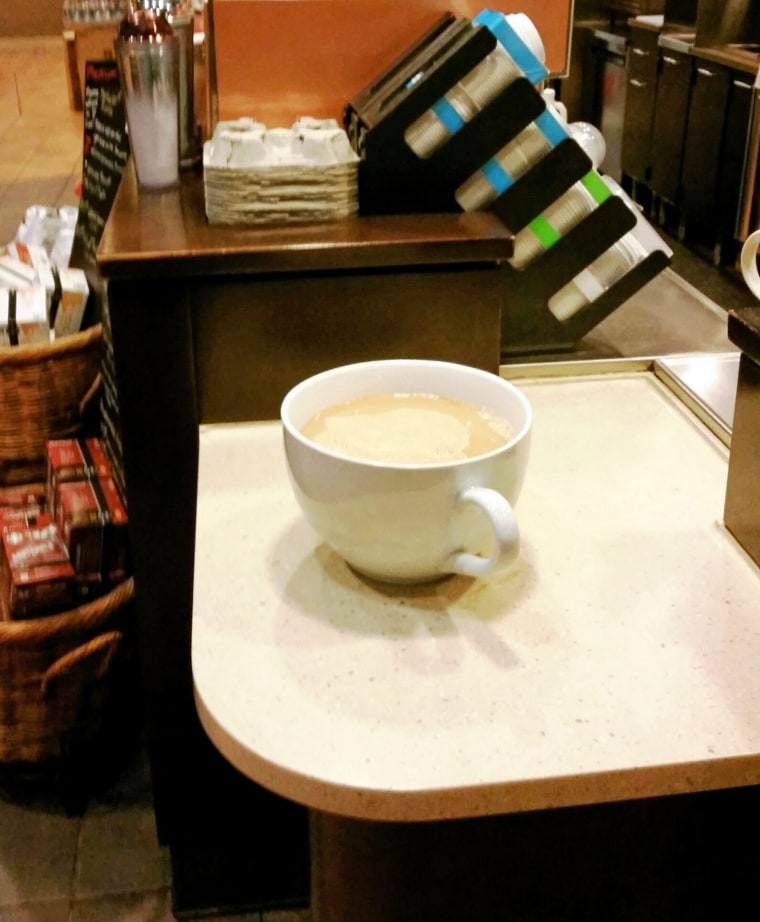 Lewis routinely entertains his Facebook fans with posts about his morning coffee, usually a six-shot Venti, four-pump Vanilla, one-pump Mocha, extra-hot, extra-fat, upside down latte from Starbucks, and his adventures in "extreme couponing." This combined both pastimes, with the drink as his complimentary beverage on his Starbucks MyRewards loyalty card that grants a free drink of the customer's choice after 12 drinks.
"I game the system," said Lewis.
But this escapade tops his previous caffeinated antics. "This is the apex of his Starbucks career," said Petrocelli.

By rough calculations, this morning's brew contained about 7,500 milligrams of caffeine.

"I advised him not to drink it," said Danielle Strachan, the Starbucks barista who served him the mammoth beverage even though she was worried about getting in trouble for doing so.
Starbucks spokesperson Linda Mills said the policy for the chain, the majority of whose U.S. stores are company-owned, is that its hot beverages can't be served larger than a 20 ounce Venti size.
Lewis's beverage, "is naturally against our policy," she said. As for drinking the gargantuan coffee itself, she said, "We wouldn't recommend it."
Lewis said he was drawn to test the system in part because he feels the 31 oz maximum drink policy "smacks in the face" of the store's other policy of fulfilling any customization customers request. Starbucks spokesperson Mills said that while the chain encourages customers to have fun with their free Starbucks Rewards beverages, like "looking for extra sauces," the chain has to make sure beverages are within the size guidelines, "to protect the product integrity and also to protect the safety of our customers."

Lewis is just revved up that he gets to post about his lark to his fans on social media. 
"It's my daily buzz," said Lewis. "You always want to do it bigger and better."