Can recording every detail of every day for years on end make your life better?
Morris Villarroel, a life-logger and professor of animal behavior at the Polytechnic University of Madrid, is in the process of finding that out after having recorded all the details of his life for the past five years. He has filled more than 180 notebooks since starting in 2010 and uses a Narrative Clip camera strapped to his chest that shoots about 1,200 photos per day at 30-second intervals.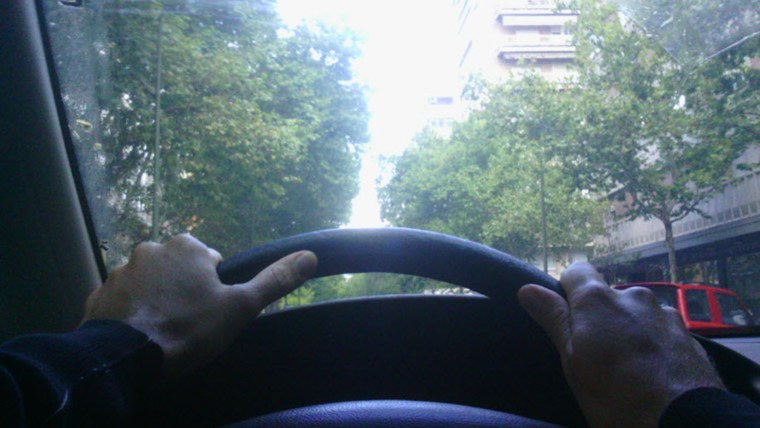 "Life is complex, so full of small details, habits and routines, and so beautiful,'' Villarroel told TODAY.com. "For example, I became more aware of the importance of friends and just people in general. If I review any given year and think about the events that I most cherish, they revolve around human contact, not necessarily on personal advancement, but on sharing yourself and listening to others."
RELATED: Couple donates half of income every year to treat world health
Villarroel carries his log book with him just about everywhere he goes, writing down everything from meetings he's had to everything he's eaten for the day. He then reviews and summarizes everything he's written for the day to put in an index in every book. While life-logging is not a new behavior, many of its practitioners use either video, pictures or written accounts, while Villarroel is one of the rare participants who uses more than one. It's gotten to the point where others are used to it.
"Yesterday, I had lunch with a good friend and kept my notebook open beside me and wrote down some ideas while we were conversing,'' he said. "If I did this to someone who did not know me very well, it could seem like I was a reporter interviewing them, but friends know that I like to keep a record of the conversation."
Villarroel, who has five children by three women, began his project when he met his current wife. Knowing that they are constantly being photographed or written about opens the possibility of his family modifying their behavior or being annoyed when he's around, but he says it has become normal for them.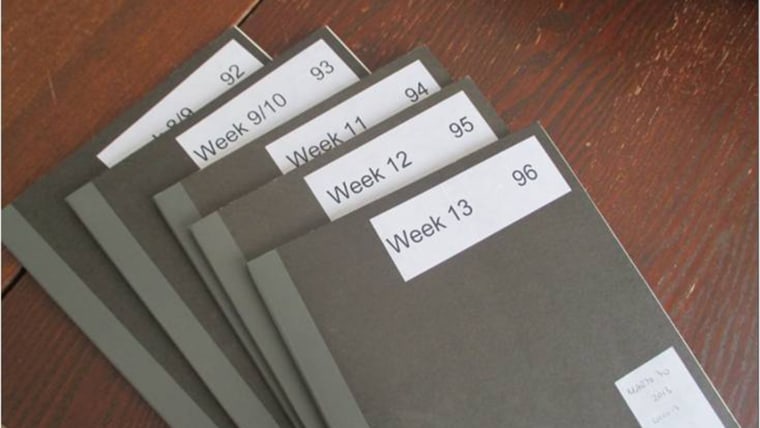 "My family is great with it, to the point that I don't think they notice anymore,'' he said. "My wife does not mind the camera at all, except of course for more private moments. Friends and family are generally quite supportive.
RELATED: This job has the best work-life balance...
"I think my wife and kids realize that they are very important to me and the things I record often can be beneficial or fun for them, from logging photos of us doing different things, to helping them to organize their own lives. My 14-year-old daughter often asks me if she can scan through the photos, just out of curiosity. I sometimes show my family sequences of photos from when I've been traveling, and I think it's nice for them to see different cities and places where I've been."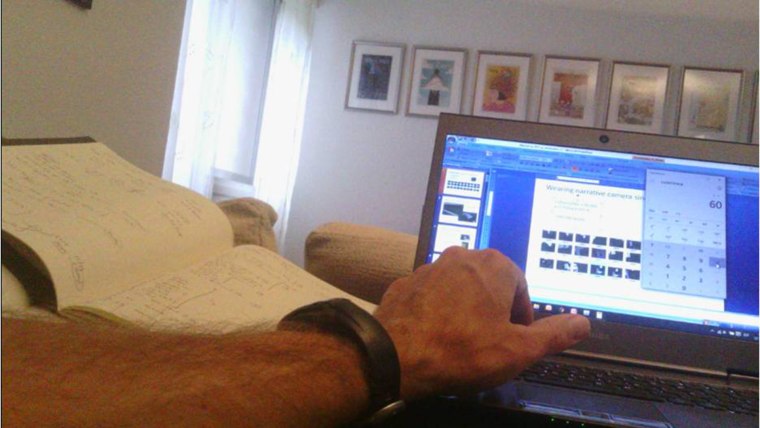 However, some people do draw the line at a point.
"The only thing I've noticed about personal relationships is that people tend to prefer I take off the camera while they or we are eating, I guess they don't want to be seen chewing or in some weird facial expression,'' he said. "I usually tell people I'm wearing the camera and what I'm doing, and people are fine with it."
The camera is also a way to document fleeting moments that Villarroel may not remember to write down.
"There are several apps out there that can tell you how much time you 'waste' on different web pages or using this or that software, so I have not gained much insight on those things using the log book,'' he said. "The Narrative camera however has underlined the importance of small things. By small things, I mean short encounters with people that do not make it into the log book, since they are so brief I don't have time to write them down, or forget."
RELATED: 100-year-old woman works 11-hour days, 6 days a week to keep active
Detailing everything in such a meticulous manner has also been used for self-improvement. Going back through his log in 2014 showed him that he read 20 books during the year, which was less than he thought, so he made a plan and a method to improve on that in 2015 and has doubled his total. It also has given him a bigger appreciation for the passing of time.
"I feel it's made me more aware of process, the preparation for something, the event itself and the review or assessment of it,'' he said. "That works for a meal at a restaurant with a friend, a meeting at work and other things like preparing classes, preparing a course, planning summer vacations or personal goals for a whole year or four years. All that I see as positive, appreciating time and accepting its passing."
Having already detailed five years, Villarroel doesn't see himself stopping any time soon.
"It's nice for me that I have a whole series of photos, moments, that I can look back on, and maybe even share in the future,'' he said. "For example, I have a son who is 11 months old, and he has pictures of his mother, pregnant with him, hundreds of photos of himself the day he was born, and every day thereafter. I imagine him growing old, being 80 and deciding one day to look at a photo of how his mother looked when she was eight months pregnant, what we were doing when he was 120 days old, and how our life was. That motivates me to continue for a long time."
Follow TODAY.com writer Scott Stump on Twitter.