A man recently took his girlfriend on a series of eight dates over the course of twelve hours. At the end of this romantic journey, he proposed to her and she said "yes."
Why is this news? Because the fella live-tweeted the whole thing.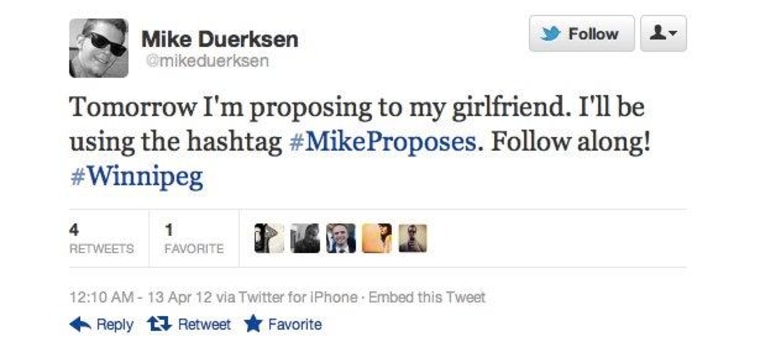 The man — whose name is Mike Duerksen — kicked things off on Friday, by explaining his plan through a series of tweets. 
"The plan is simple: [O]ver the next 12 hours I'll be taking her on 8 different dates to 8 different places," he began. "Each location has a story and special meaning behind it — some of them sentimental; others are inside jokes." On each date, he would give his girlfriend a card containing "a picture, a memory and a wish for the future." 
And then on the final date, by a bonfire in the same place where he first asked her out, Duerksen would propose to his girlfriend.
Duerksen met his wife-to-be — whom he only references as J — at a conference in Paraguay, about three years ago. Out of over 6,400 attendees, she was the one who caught his eye. He concocted a plan to sit beside her at a session and then "stalked her for the rest of the conference." Nothing really happened beyond that though, and at the end of the event J simply went back to her home in Pennsylvania and Duerksen went to his, in Winnipeg.
"This is where the story gets good," writes Duerksen: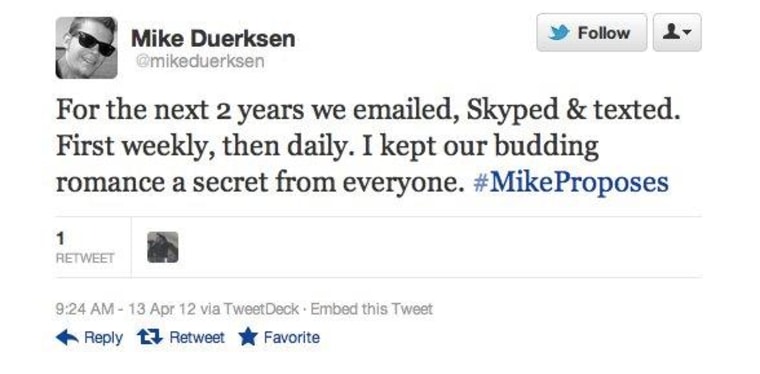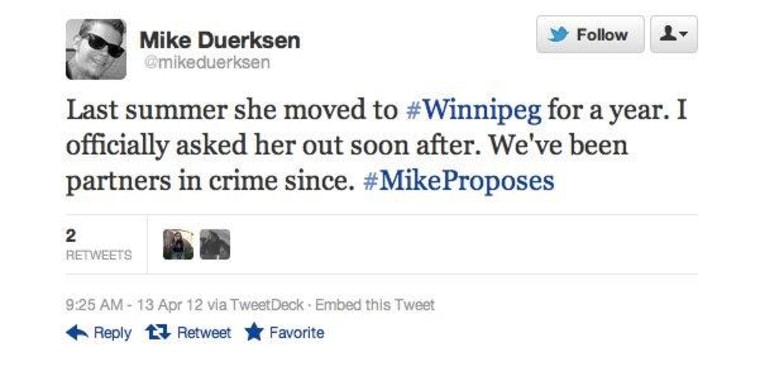 While that meeting and the romance which ensued was pretty darn cinematic, the live-tweeted proposal didn't go off without a hitch. 
At one point J — who, according to her husband-to-be, isn't a Twitter user — insisted that Duerksen get off his phone so that he could focus on their time together. (He somehow managed to keep live-tweeting anyway.) It also rained, nearly putting a stop to a nice stroll along a river, but Duerksen came prepared with a "huge" umbrella.
Many (many!) tweets later, both from Duerksen and Twitter users closely following along, it was time for the big moment — but there was another problem: The weather wouldn't allow for a bonfire where Duerksen originally planned for the final date to end.
Thankfully he had an alternate plan: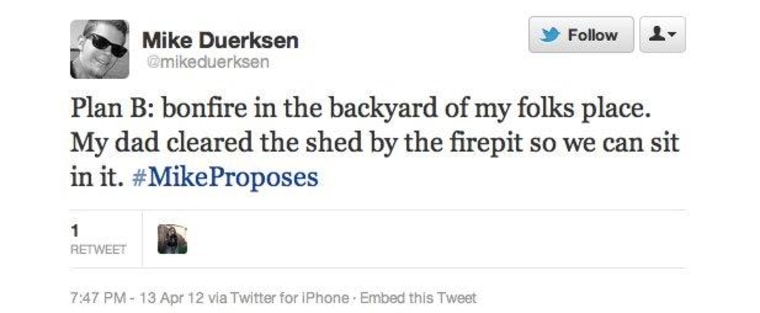 And as you already know, J said "yes" to the proposal that followed — even though her husband-to-be spent half the day glued to his phone.

Related stories:
Want more tech news, silly puns, or amusing links? You'll get plenty of all three if you keep up with Rosa Golijan, the writer of this post, by following her on Twitter, subscribing to her Facebook posts, or circling her on Google+.