/ Source: TODAY contributor
While Christmas shopping season may be a hazy idea in the heat of summer, the video game companies are already warming up for the shopping season. Or, more accurately, sweating profusely.
Why? Big problems. Due to product malfunctions in the world's No. 1 game console, chronic undersupply of the world's No. 2 (and fastest-growing) console, and disappointing demand in a third, the industry is undergoing its biggest shakeup in years.
And when we say "biggest" shakeup, we mean it — according to PricewaterhouseCoopers, as of the end of the 2007 holiday season, and for the first time ever, the total number of dollars spent on video games will exceed the total dollars spent on music ($37.5 billion vs. $35 billion) in the United States.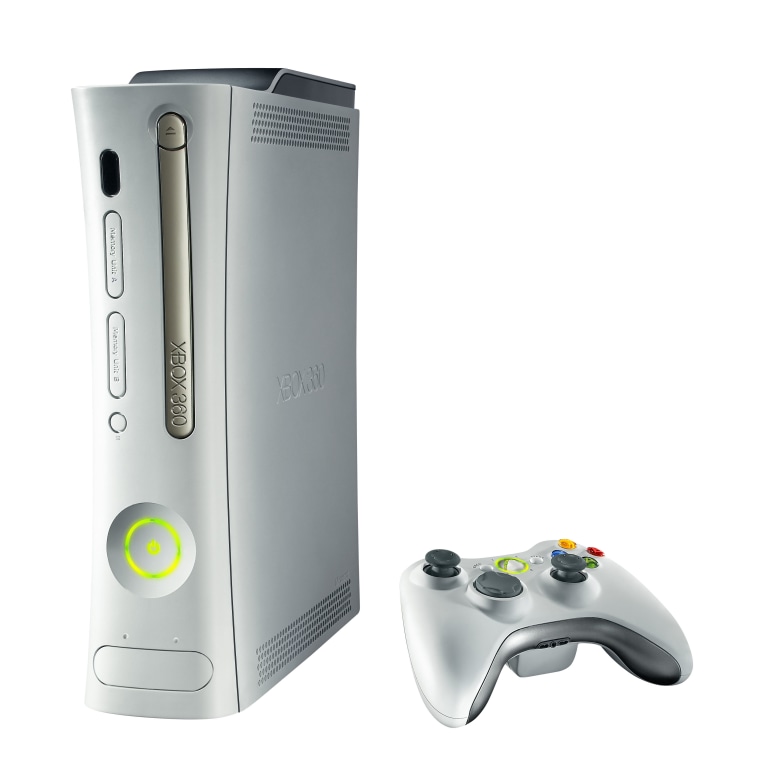 XBOX 360
The giant in the category is the world's No. 1 console, the Microsoft Xbox 360. Microsoft has the three most popular game series — Madden, Grand Theft Auto and Halo — and has sold more than 11.6 million consoles with the idea that it's more than just a video game. Indeed, the Xbox 360, introduced in 2005, can connect to the Internet with Wi-Fi, has a built-in ethernet port, plays DVD's and CD's, and lets you connect your MP3 music collection to it, as well as up to four wireless game controllers so you can play with your friends.
The strategy has worked: Xbox 360 has sold more than twice as many consoles as the No. 2 console (Nintendo's Wii), and has sold four times as many consoles as its archrival, Sony's PS3.
But there's a problem: Some Xbox customers are experiencing major product malfunctions, in some cases for the third or fourth time, and Microsoft has announced a warranty extension on all of the Xbox 360 consoles ever sold, to 3 years from 1 year, which was already an extension of the product's original 3-month warranty. They have also set aside more than $1 billion to pay for the now-inevitable returns and have told customers to expect to wait up to a week or more when they send their console in for repairs.
How do customers know there's a problem? The "Red Ring of Death." A circle of flashing red lights indicates an error, and games just won't play. Microsoft emphasizes that its warranty extension is "not a recall" and says customers who return their console (Microsoft is paying all shipping expenses) will likely wait about a week for its repair and return. 
In fact, the Consumer Product Safety Commission, which issues recall notices to product manufacturers, issues recalls only for "products that present a significant risk to consumers either because the product may be defective or violates a mandatory standard issued by CPSC." Since there is no safety issue associated with this warranty issue, the CPSC has NOT issued a recall.
NINTENDO WII
The Xbox controversy is not unwelcome news to the industry's surging No. 2 console maker, Nintendo. According to Nintendo, they have sold more than 2.3 million Wii consoles in just the first six months of 2007, and they've sold almost 435,000 units in June alone (compared to sales of 198,000 Xbox 360's). The company is now 2007's top video game publisher. According to the research group NPD, seven of the top 10 video games sold in the U.S. were made for Nintendo platforms (including the Wii and Nintendo's portable DS game). 
But Nintendo has a problem, too — while its wildly popular Wii has revolutionized the way people play video games, letting players control the game by moving their body, Nintendo simply can't keep up with demand. Consoles on eBay are often being sold for up to $100 more than the suggested retail price of $249. Best Buy reports that whenever consoles arrive, a line immediately forms and the supply disappears. One Manhattan Best Buy location has to limit purchases to "one per buying group."
Nintendo CEO Satoru Iwata actually apologized on the company's Web site and cited "bottlenecks" throughout the production cycle, even promising to use part of the company's Mario video game factory to make Wii's.
SONY PS3
Which brings us to the expensive, ultra-high-tech, spectacular-looking and disappointingly underperforming No. 3, Sony's PS3, which according to NPD has sold just over 90,000 units in June.
Sony's goal was to use the PS3 as something of a Trojan horse — not only would you buy video games, you would also be getting a game console that happens to have an ultra-high-definition video player inside, called BluRay. Yes, the PS3's video games are mesmerizingly gorgeous, the visual quality of the software is unsurpassed, and the networking ability of the console is amazing; but what Sony really wanted to do was get you hooked on BluRay-formatted videos (which play inside it) so you'd want to use the PS3 as your movie player, too, replacing your old DVD player.
You see, Sony is locked in a next-generation movie video-format war with rivals that include Microsoft. If Sony's BluRay disc format is picked over the other consortium's so-called HD-DVD disc, then Sony's loss on each PS3 unit will be more than worth it.
Wait a minute: Loss? Indeed, every time Sony sells a PS3 console, market research firm iSuppli estimates Sony loses as much as $300, and Sony estimated losses at its gaming unit to go past $2 billion for the fiscal year ending in March. The company couldn't build enough blue lasers (which read the BluRay discs) to keep the cost down.
So what has Sony done? Lowered the price of their 60-gigabyte unit by $100, to $499, and forced the company's Computer Entertainment president, Ken Kutaragi, to step down. Kutaragi was once considered a top candidate for head of the entire company.
See? Video games can be bad for you.