Some see it as the perfect military tribute, others dismiss it as kitschy, and many just want to smooch in its shadow. Love it or hate it, the "Kissing Statue" is back at the Port of San Diego.
The 25-foot installation — officially known as "Unconditional Surrender" — recreates the famous embrace between a sailor and a nurse celebrating the end of World War II in New York's Times Square in 1945.
"It's the right sculpture for the right place in San Diego," said Scott McGaugh, a spokesman for the USS Midway Museum, which launched a successful campaign to "save the kiss."
"It has become a major tourist destination along downtown's water front."
San Diego got its first glimpse of the exhibit in 2007 when The Sculpture Foundation loaned it to the city and the port added it to its Greatest Generation Walk, home to a number of memorials. The temporary foam and urethane prototype was removed last year when it began "looking awfully worn," McGaugh said. A plan was soon hatched to bring it back as a permanent bronze sculpture, but not without controversy.
The USS Midway Museum was given three months to raise $1 million to pay for the replacement. It reached that goal in eight weeks, with donations ranging from $20 to $100,000, McGaugh said.
"San Diego quickly voted with its money to make it permanent," he pointed out.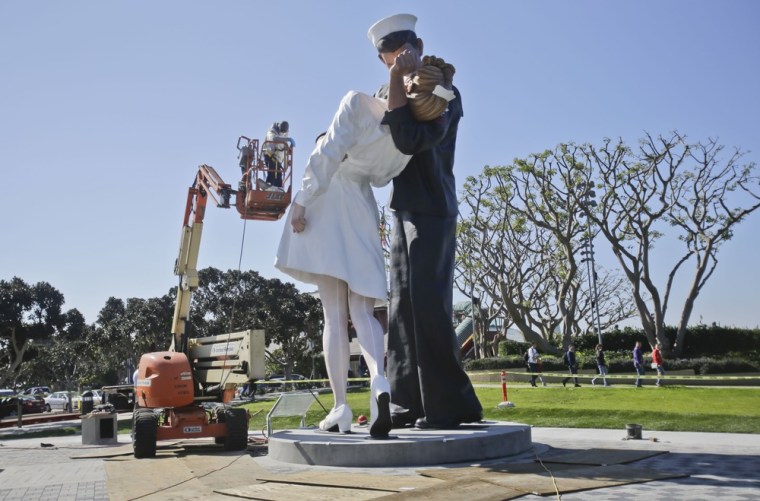 But the port's Public Art Committee voted against accepting the replacement, with critics noting that it "was not artistically or (a)esthetically pleasing," The San Diego Union-Tribune reported. When the port approved the permanent statue anyway, citing its popularity among residents and visitors, two committee members resigned in protest.
That sentiment seemed far away on Saturday when hundreds of people attended the unveiling of the bronze sculpture.
"We are in San Diego, we have the greatest number of veterans and active duty of any community in the nation," said San Diego Mayor Bob Filner, according to NBC affiliate KNTV. "This belongs here."
Meanwhile, supporters dismissed questions about the exhibit's artistic value.
"Art lovers don't love it but the people love it and that's what counts," Bill Craddock, a member of San Diego's chapter of Pearl Harbor Survivors, told KNTV.
Nine couples who got married during World War II renewed their vows during the ceremony, which left many spectators in tears as they watched the men and women in their late 80s and early 90s pledging their love to each other, McGaugh said.
The exhibit has become a favorite photo op in San Diego, with visitors of all ages, from teenagers to grandparents, eager to recreate the kiss, he added.
The 7-ton bronze statue, designed by artist Seward Johnson, was created in New Jersey and transported to San Diego on a flatbed truck. A similar installation is on display in Sarasota, Fla., but San Diego's sculpture is the only version on the West Coast, McGaugh said.
"We see it as a memorial, as a tribute, as a testament to those who serve our country in uniform," he noted. "We left the discussion of what is good art to others."