/ Source: TODAY Contributor
TVs are a Black Friday staple, but consumers need to be aware that the deeply discounted set advertised at a "door-buster" special price may not be all it's cracked up to be.
In order to get you in the store on what has traditionally been one of the busiest brick-and-mortar shopping day of the year, some retailers purchase "one-off" or "derivative" TVs specifically for Black Friday. These sets may not be high-quality and, because they have not been subject to product reviews and the exact features aren't always listed, it's often impossible for the consumer to know exactly what they're getting.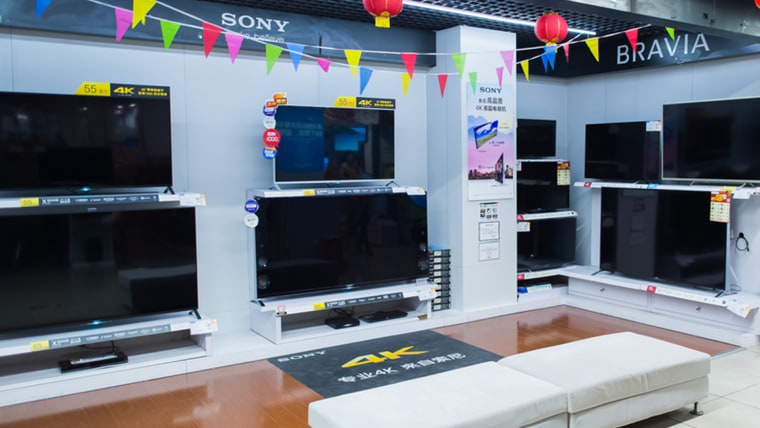 "If you see an amazing deal on a set, it could be because it's been cranked out in a limited run just for Black Friday," said Benjamin Glaser, features editor at DealNews.com. "They can artificially inflate the price and exaggerate the discount because there's technically no price history for that product, since it's brand new."
'Muted' Black Friday forecast for retailers, with TVs, toys giving a lift
These limited edition models are called "derivative" products. Sometimes the manufacturer simply gives an existing product a new model number. In other cases, they make changes to the current model in order to hit a lower price point. For example, a TV could have one less HDMI input or use lower-quality parts.
"It's a strategy devised by manufactures in conjunction with retailers that makes it harder for shoppers to do direct price comparisons because you're not going to see that exact same model anywhere else," explained Jim Willcox, senior electronics editor at Consumer Reports. "It also helps retailers as they've stepped-up their price-matching guarantees. Almost all of these price-match offers are limited to the exact same model. If you can't compare that exact same model, they don't have to match the price."
NBC News contacted the Consumer Technology Association, an industry trade group, to see if they wanted to talk about this. We did not hear back.
Specs and features can be hard to get
Because these derivative models are new to the market, you can't find reviews about them. So it can be difficult to find out what features it does or does not have — and how it compares to similar models.
"It's a new product, so we really don't know what the quality of it is, the specs aren't always available and we haven't been able to test it hands on," said Chris Heinonen, staff writer at The Wirecutter. "It might be a great value, but we have no way of really knowing that because we haven't been able to even see one or touch one."
Black Friday brief: Everything you need to know before buying a new TV
Heinonen told NBC News that the Wirecutter has seen derivative TVs and computer monitors that were made with lower quality parts that could reduce performance and reliability.
The Wirecutter provided NBC News with two examples of derivative TVs on sale for this Black Friday.
Vizio D58u-D3: This 58-inch 4K set has fewer local dimming zones (10 zones vs. 32 in the M-Series and 16 on the E-Series) and a 60Hz panel vs. a 120Hz panel in the 60-inch and larger M-Series. It is listed For sale at both Sam's Club ($998) and Costco Canada.
Samsung UN60JU6390FXZA: This 60-inch 4K TV is a Best Buy exclusive on sale for $799.99. Best Buy says the set regularly sells for $1,499.99.
The new Roku SE
TVs aren't the only electronics product where you're likely to encounter a derivative.
DealNews recently flagged the Roku SE streaming player as being a Black Friday derivative. Roku's news release says the SE, which stands for Special Edition, has a suggested retail price of $49.99 which will be "slashed to a deep Black Friday discount of just $25."
The company told NBC that the SE is "a limited-time, limited-quantity streaming player available only for the Black Friday weekend at a very affordable price." Roku confirmed that the SE is "similar to the Roku 1" streaming player in its email.
In its blog post titled, Roku Created a New Device to Confuse Us All During Black Friday, DealNews asks, "Can you really say that the Roku SE is 50 percent off, if it never actually sold for full price?
"They're just giving it a new name, rebranding it, so they can offer it for a lower price and try to hype it a bit," Glaser said.
Even so, he said, "it's a good price for an entry-level streaming device."
How can you spot a derivative?
Take the model number and search for it. If the online results you get are Black Friday ads and you can't find any reviews, chances are it's a derivative.
It might be a great model. It might not. There's just no way to know.
If you're focused on price, it may be the way to go. If you're looking for a quality set with good performance and reliability, you might be better off spending a bit more.
Is Black Friday the best time to buy a TV?
Shopping experts who've studied the ads tell NBC News there will be some good deals on quality TVs on Black Friday. The most aggressive discounting is on the new 4K Ultra High Definition sets. As always, it's important to research any models you're interested in before you go online or wait in line at the store.
"But it's not like the plug gets pulled on all the sales after Black Friday weekend," said Willcox, the Consumer Reports editor. "We did a survey a few years ago and found that about 40 percent of the TVs were actually cheaper after Black Friday."
TV sales have been soft this year, so stores may need to cut prices as Christmas approaches, Wilcox noted.
And of course, there are always Super Bowl sales in January. If you can wait and you're willing to buy a 2015 model in 2016, you should be able to find some fabulous deals.
Herb Weisbaum is The ConsumerMan. Follow him on Facebook and Twitter or visit The ConsumerMan website.