Traveling around Southeast Asia can be a challenge. Traveling around Southeast Asia with a stranger who has no limbs seems downright impossible. But that's exactly what photographer Anna Tenne, 28, decided to do after meeting motivational speaker Chris Koch, 36, who has traveled the world despite his disability as part of his organization If I Can.
"Chris was doing a talk at my local high school, which I heard about just hours before he arrived in my small town of Coonabarabran, Australia," Tenne told TODAY. "I spoke to Chris for about 15 minutes before his presentation and he said how he always wanted to visit Southeast Asia. A few days later I found him on Facebook and wrote him a message asking if he wanted to travel to Asia with me, and to my surprise he said yes!"
RELATED: Review site Brettapproved makes travel easier for people with disabilities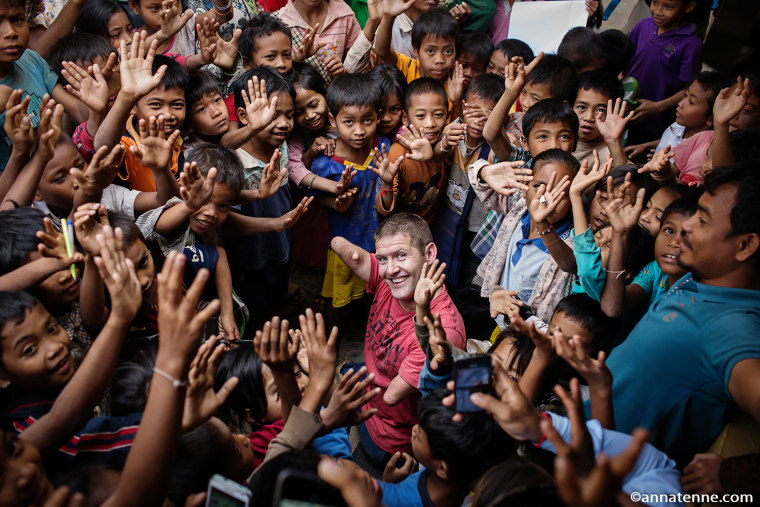 Not too long after, the adventurous duo was ready to embark on a six-week trip together — which wrapped up last February. While there was certainly plenty of excitement to go around, there was also a little bit of hesitation.
RELATED: Expensive hotels have more germs than budget accommodations according to study
"I was naive about the whole thing," said Tenne. "I saw how independent he was, but everyone was asking if I was sure I want to do this. A week before it hit me all at once. I started to wonder about his hygiene and how he would transport himself on some of these bad roads, and we could look vulnerable."
Koch, who is based in Calgary, Canada, was a little less concerned about the impromptu experience. "It's not so bad when a beautiful blonde from Australia asks you to travel around Southeast Asia with you," he joked to TODAY. "I didn't balk at it for a second to be honest with you. I've always been interested in history and geography and all that's out there in the world."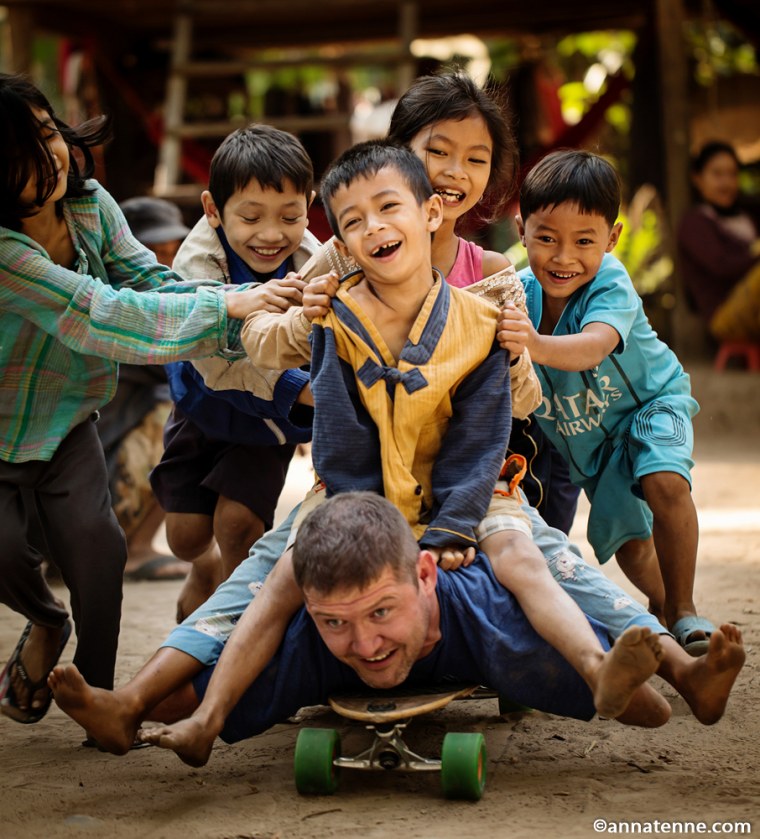 The new friends traveled to Cambodia, Thailand and Nepal, where they mingled with locals, visited ancient temples and even hiked toward Everest base camp — all with Chris on his skateboard. But aside from seeing these new and incredible places, it was the reaction of people they met that surprised them the most.
RELATED: WOW Air offers $99 and $199 airfares from California to Europe
"No one tried to take advantage of us," said Tenne. "And as a blond female usually I get all the attention, but all eyes were on Chris. He just radiates such positive energy and people flocked to him. I was happy to just be able to capture it all."
Koch added, "Some of the streets we traveled on were organized chaos and some people were worried I might get run over, but people were giving way to me. It's probably safer for you to walk around with me on my longboard because people are going to notice and not run me over than it is for you to walk by yourself."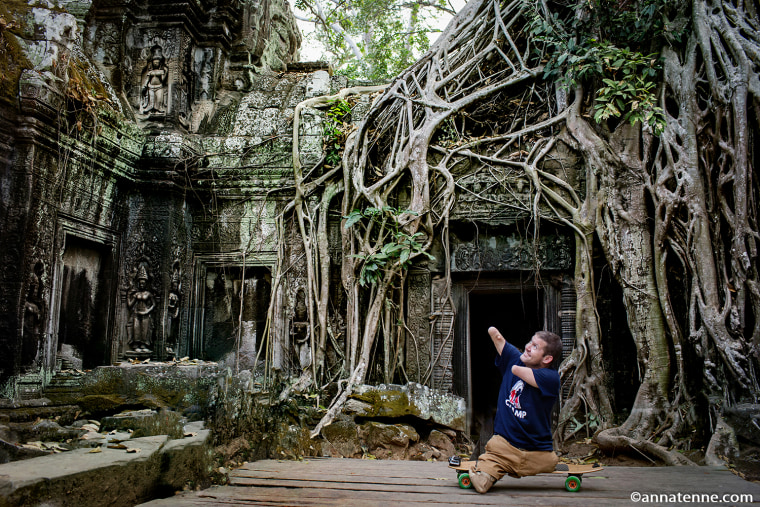 While the travel buddies made it seem easy, they admit there were some obstacles they had to overcome because of Koch's disability. "We went about a quarter of the way up to Everest base camp and it wasn't longboard material, and it wasn't a distance I could cover on my own," said Koch. "I had to kind of swallow my pride and allow a couple of porters to take turns helping me."
RELATED: Discount airfare site Skypicker offers travelers new ways to find cheap flights
Aside from that, it was actually turning on the shower that created the most problems. "Chris would undress and hide behind the door and I would reach in and turn on the shower for him because he couldn't," said Tenne. "And then when he was done we'd do the same thing all over again to turn it off."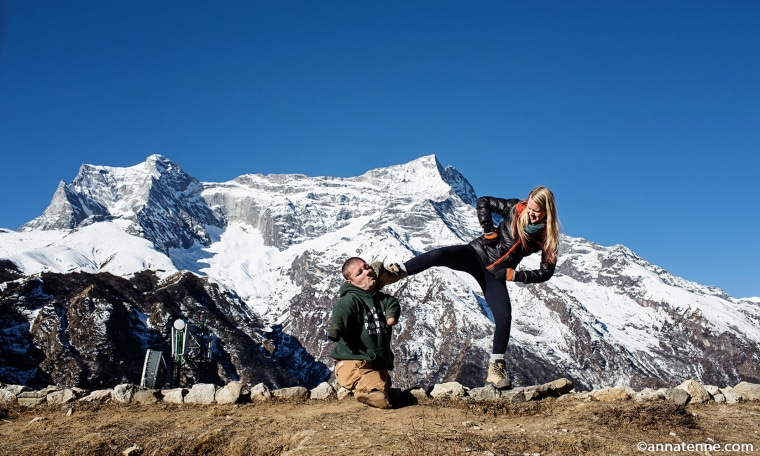 More than learning about new places and people, it was the lessons they took away from each other on this trip that are truly inspiring.
RELATED: See the good reason why this 25-year-old tech millionaire sold almost everything
"For most people, traveling is just something that's out of their comfort zone," said Tenne. "I learned from Chris that you have to challenge yourself and live life. It's getting past that mental barrier of 'what if' and not worrying about things. You have to have a positive attitude."
"I don't want to be one of those people who reads about what other people are doing on their travels because it's too much fun not to," said Koch. "Anna has created a life for herself that allows her to travel. That might mean she's not making as much money, but she loves it. And unfortunately this world is measured heavily upon material things, and the money in your bank account and the car that you drive — not just with happiness.
"Anna truly loves what she's doing and she has created a life that she loves," he added. "That's something we should all strive for."