For many travelers, setting a budget marks one of the first steps of a journey. But for Leon Logothetis' globe-trotting adventure, his allowance was simple, and stark: $0.
Logothetis, 40, instead relied on the generosity of strangers for food, transportation and lodging — a journey documented in the Netflix series "The Kindness Diaries." Though the show's travels took place in 2013, Logothetis is comfortable on the open road, having quit his job as a London broker back in 2005. So far, he's visited nearly 100 countries.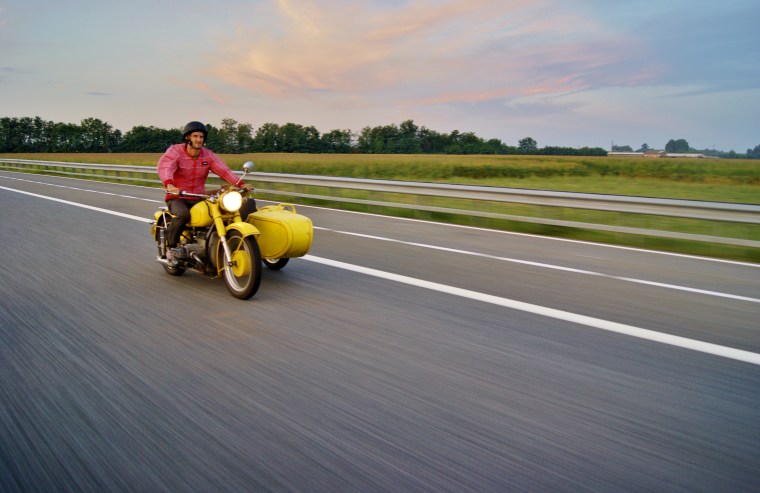 "I started doing this because I was in a lot of pain — emotional pain," he told TODAY. As someone who worked in finance, Logothetis appeared to have everything he could possibly want, but it was a different story on the inside. "I was wearing a mask, as many of us do," he said. "I felt very alone, very depressed, (with) no real sense of purpose … I felt like I was living someone else's life."
It's a feeling that resonates with many workers today, as more people are looking to escape the traditional workplace, and prioritizing experiences over things. But quitting your job and making drastic changes can be daunting for anyone. Logothetis spoke with TODAY to share his top travel tips and the biggest life lessons he's picked up along the way — many of which can't be learned in the office.
1. True wealth is not in our wallets; it's in our hearts.
One of the most emotional moments on Logothetis' journey involved a homeless man named Tony. Though he had almost nothing, Tony shared what little he did have, including his shelter and some of his belongings.
"The greatest lesson I learned was that we're all the same," said Logothetis. "It doesn't matter what religion you are, doesn't matter what color you are, doesn't matter where you live. Each person wants to be seen, wants to be loved, wants to be valued, wants to be heard."
And you don't need money to be kind. "I could lose all of my money," he said, "and if I did lose all of my money, and I started to be mean to people because of it, then everything I've done in the past decade was pointless."
He added, "The most important thing is what you give to another human being and what you give to yourself: how you treat others and how you treat yourself."
2. Making a big change is a risk, but doing nothing is also a risk.
Are you unhappy at work, and constantly shutting down an inner voice urging you to see the world? Logothetis recently advised a friend: "Do you want to look back when you're 90 and think to yourself: You had this urge to go out and live; you had this urge to go out and travel, but you never did it?"
For him, pain was the motivating factor. "It forced me to say, you know what, whatever the risks may be, it is more risky for me to sit here and live another person's life," he said. "It is more risky ... to lose that opportunity when you feel like there was this momentum to shift the way you live your life. The rewards are so great if you get it right, and if you get it wrong, you go back to work."
3. You don't have to quit your job.
Perhaps you don't have the funds to quit and travel the world just yet, but think small — even if it's just a three-day trip. Commit yourself to saving some money every week, or every month, until you have enough to travel (or try a budget option — see No. 6). "Where there is a will, there really is a way," said Logothetis.
4. Don't put too much stock in what other people think.
Friends and family may think you're "just running away" if you decide to make a big change, said Logothetis. But for him, it wasn't just about quitting his job, but building a new life.
"If I listened to everyone around me all those years ago, I'd still be sitting behind that desk," he said. "The trick is not to tell anyone what you're doing until you've done it."
Leon Logothetis traveled the world with $0 in a journey chronicled in the Netflix series "The Kindness Diaries."
5. Things will not be perfect (despite what you see on Instagram).
Browsing social media, it can be easy to believe that life abroad means sandy white beaches, romantic infinity pools, dishes artfully arranged on rustic wooden tables, and that perfect blend of shabby chic courtesy of #vanlife.
"I don't want anyone to think that it's all hunky-dory, because it's not," said Logothetis. "Social media is a beautiful thing, but it's easy to manufacture what you want people to think of how you're doing."
6. Budget travel isn't just good for your wallet.
While Logothetis doesn't advise everyone to hit the road without any money, traveling on a shoestring is within reach for many. Couch surfing is one way to find free lodging, as are volunteer programs that provide food and housing in exchange for work. And there's a new crop of startups aimed at helping people test out the digital nomad lifestyle before fully committing.
"The best thing about doing it on a budget is that it enables you to connect with people," said Logothetis. "When you're going into a four- or five-star hotel, you're not really connecting with anyone. But when you're taking a bus because you haven't got enough money to get on a train in Colombia, you are meeting the locals. You are putting yourself out there, and that's the beauty of budget travel."
7. How you show up matters — no matter where you are.
Whether it's in a foreign country, at your workplace or even at the local Starbucks, how you carry yourself — in your attitude and behavior — can help you connect with others and have a profound impact on your life.
That means being open to new experiences, and trying to find common ground with strangers that will make them feel like they matter, even on a small level.
"When I end up in a foreign country, I am a guest," said Logothetis. "And that psychology means that I act as a guest." And that attitude applies at home, too. "It's how you show up. It's the energy that you give off."
8. Everything's a lesson, both the good and bad.
While recent headlines indicate a lack of civility on airplanes, trying situations can be an opportunity to practice patience. Whether your flight's delayed, or you're stuck waiting in line, you can control your own response and make the experience less stressful.
"I was on the border between Russia and Mongolia and I had to sit in the Mongolian border for three days," recalled Logothetis. "So when you sit in the Mongolian border for three days, and someone comes on the plane (intercom) and says you have to sit for two hours, it's like, 'OK, I get it.'"
9. Don't let the news scare you into inaction.
With so many acts of terrorism dominating the headlines these days, it can be easy to just stay at home. While it's important to remain vigilant and trust your intuition, Logothetis says what you see on the news shouldn't "cloud the ability to go out and have a transformational experience."
"You would imagine that America is a mean place," he said of what typically gets highlighted in the media. "You would imagine that ... people don't care about each other. That is totally untrue." And the same goes for countries around the world.
"There is connectivity out there, and there's kindness out there," he said. "And that was one of the greatest lessons I learned."
Robin Kawakami is the senior travel editor at TODAY. Follow her on Twitter and Instagram.