Have you ever had a broken heart?
Do you own an object that won't let you forget?
Prague has its Museum of Communism. Berlin has its DDR Museum. Zagreb has its Museum of Broken Relationships filled with cherished possessions donated by people with intimate stories to tell about what led to their break-ups and what the items symbolized.
The museum is the work of Croatian designer and artist Drazen Grubisic and film producer Olinka Vistica, business partners whose four-year romantic relationship ended about seven years ago.
"We asked ourselves, 'What are we going to do with all the stuff?'" Drazen said.
They came up with the idea of starting a traveling art exhibit dedicated to the legacies of love. It later found a permanent home inside an 18th-century baroque place in Zagreb's historic upper town.

"We observe just about every important occasion with some sort of a ritual," Drazen said. "But when you break-up, that's it."
Now, on the road once again, with traveling shows planned this year in Paris, Taiwan, Amsterdam and Brazil, the pair is anxious to find out how the concept will play out in the United States when a special exhibit opens on Valentine's Day in Boulder, Colo., named No. 1 on a Gallup poll survey of America's happiest cities.
"Only two outcomes are possible,"the Zagreb curators predicted when they teamed up with the Boulder Museum of Contemporary Art to sponsor the show."We will either be left empty-handed or we will prove that break-ups do not stand in the way of happiness."
It turned out to be the latter, says Boulder's associate curator Petra Sertic who put out a call locally for donations to supplement what will be sent from Zagreb.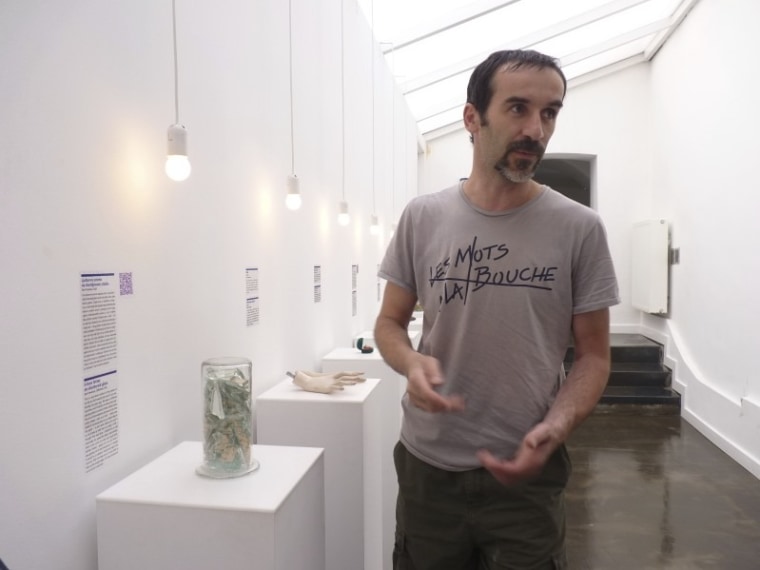 The first to come in (all are accompanied by a story that will be mounted, without names attached, next to the object) was a very Boulder-like box of fancy, new-age version of microwave popcorn.
"He was dating someone who was a buyer for a health food store, and she got a lot of samples," Sertic said." He got to sample a lot of them, and to have it around anymore, reminded him of her and their dog and the things they would share.''
The idea of turning museum-goers into artists fits in with the Boulder museum's emphasis on participatory exhibits, Sertic said.
A recent show on food featured a French artist who installed an herb garden where people could sit and enjoy eating salad.
On display, starting Valentine's Day, will be 50 or so objects, including the popcorn, a pair of gold-plated penguin cuff links (they watched "March of the Penguins'' together and decided they were each other's penguins), and a golden globe sent by FedEx with the "Ex" highlighted.
A pile of love letters came in from a Boulder man with this note attached:
"Upon breaking up she gave me back all the letters I wrote her telling me 'that she knew what happened to old letters,' and she didn't want them anymore.""Now I'm left with a pile of old letters not sure what happens to them. (Then) I found out about this exhibit. Maybe this is what happens?"
The best of what's collected in Colorado will be sent to Croatia to add to a permanent collection of more than 1,000 items—some touching, others funny or sad.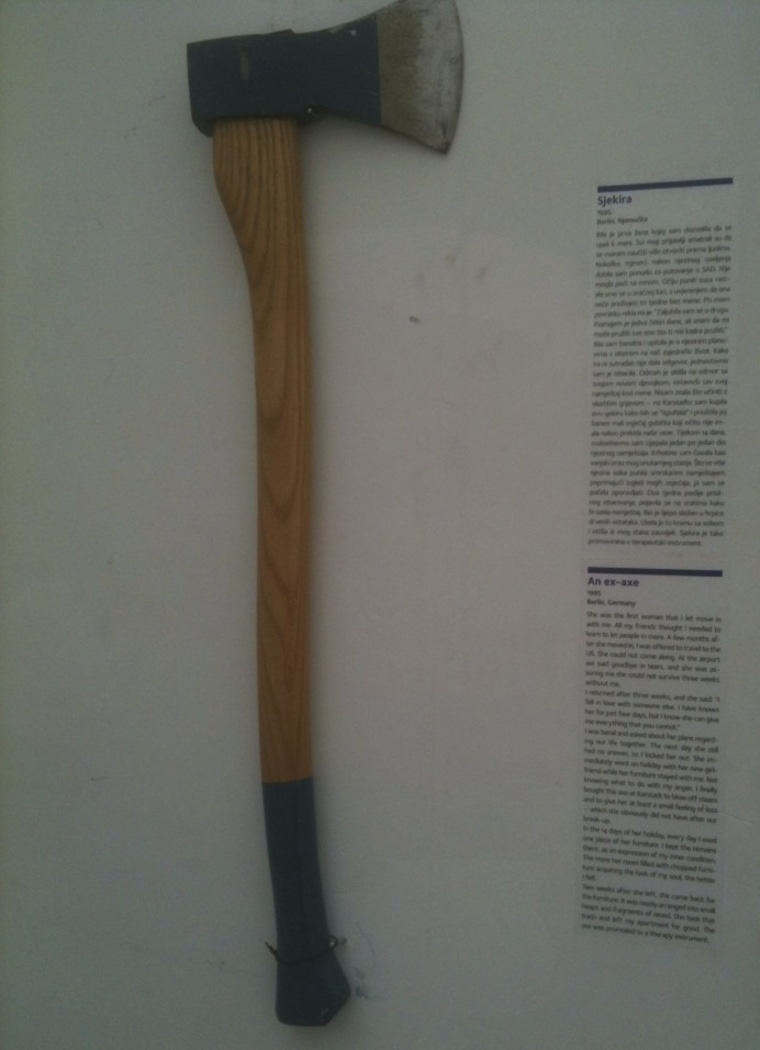 One of the first items visitors see at the Zagreb museum is a furry white windup rabbit – a relic of Grubisic and Vistica's own relationship.
"We traveled a lot and one of us would take it wherever we went," Drazen said. It was meant to travel the world, but made it only as far as Iran, where Drazen photographed it in the desert.
In one room labeled "Rage and Fury'' hangs an ax donated by a woman in Berlin who used it to chop one piece of her girlfriend's furniture every day for 14 days after the woman left, then went on a two-week holiday.
About 70 percent of the items have been donated by women, 30 percent by men.
Cultural differences show up in the way people tell their stories, Drazen said.

"In Anglo-Saxon countries, it's like a short script for a movie. In France, it's more like they're talking to a shrink.''
If you go:
The Boulder Museum of Contemporary Arthosts the Museum of Broken Relationships from Feb.14 to May 26, 2013. Details at www.bmoca.org.