Last year, RadioShack released one of the funniest commercials of the Super Bowl.
"The '80s called," said one of the characters. "They want their store back."
Alf was in it. So was Hulk Hogan and the California Raisins. RadioShack was making fun of itself for being stuck in the past, but also promising to become more relevant. It didn't work. On Thursday, the company announced that it was filing for Chapter 11 bankruptcy and would sell up to 2,400 stores.
When I walked into the RadioShack in Thousand Oaks, California, on Friday, the employees outnumbered the customers two-to-one, which would be impressive if there had been more than one customer. The store is located in the same mall as a closed-down Sears and TGI Fridays.
"The Internet has killed it," the customer, Colin Greenidge, told TODAY. "Kids today, they just use the Internet. I don't know if they even know what RadioShack is."
Greenidge, 52, a mechanical engineer, was buying stuff for a project he initially described as "top secret," but later revealed was a robot that would perform some kind of household chore.
He used to come to RadioShack a lot as a kid with his dad. Now he is very much into the "maker" scene, where tech-minded people experiment with robotics, 3-D printing and other types of technology.
People like Greenidge made up the majority of the Thousand Oaks store's regulars, said Adam Assil, 24, an employee at the store for the last five months.
RadioShack sells speakers and headphones and other stuff that electronics retailers like Best Buy have as well. And, just like you probably remember, they also sell batteries and RC cars. (Spotted during my trip: a yellow, remote-controlled Camaro ZL1). But they also sell things like Arduino kits and small soldering irons — things that tinkerers and handymen need. Those were the kind of people, Assil said, that came into the store most often. That included Assil and his father.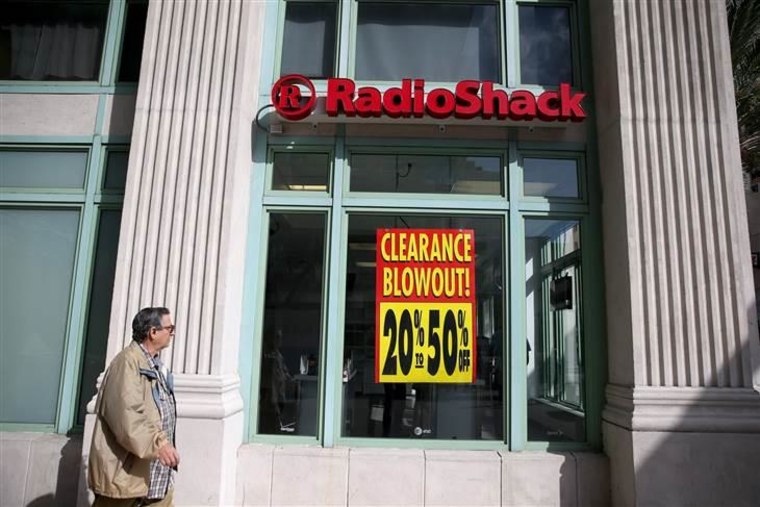 "Me and my dad used to come here all the time," he told TODAY. "It's a great place to work if you're an electronics junkie."
RadioShack has not turned a profit since 2011, so it wasn't exactly a surprise when the company said it was filing for bankruptcy. Still, that didn't stop people from fondly reminiscing about the electronics chain, even if they hadn't visited in awhile.
"As a kid, RadioShack was my toy store," Michael Rosanoff, 33, told TODAY.
Rosanoff is now the director of non-profit Autism Speaks. But growing up in Upstate New York, he was another kid racing RC cars around the neighborhood. He also remembers getting a walkie-talkie set with a headset. It's the Golden Arrow RC car, however, that he remembers most fondly.
"I got it as a Christmas gift," he said. "I got it after drooling over it at RadioShack with my dad."
These days, he buys the stuff he used to get at RadioShack — cables, AC adapters, etc. — on Amazon. Many people do. Before the Internet, that wasn't an option, leaving RadioShack as the one of the major ways tech-savvy kids were exposed to technology.
"It was one of the few places I could go to actually get my hands on all kinds of wonderful tech gear," Warner Crocker, 58, told TODAY.
He grew up in rural West Virginia. Crocker's dad loved electronics and would bring him to RadioShack to buy ham radio equipment. Later, when Crocker was old enough to drive, his dad would throw him a few bucks to go buy some 8-inch floppy disks.
"When he needed to pick up a few things or his hobbies, he would bring me along and teach me a thing or two about gadgets," said Crocker, now a theater director and self-proclaimed "mobile geek" who lives in Chicago.
Like Rosanoff, Crocker was no longer a regular customer. RadioShack has been around since 1921. For a long time, it was the place to get cutting-edge electronics, like the first mass-marketed personal computer in 1977, which ran on the Level II BASIC operating system designed by Bill Gates.
Now, under the bankruptcy reorganization plan, many locations are slated to become Sprint stores. People like Greenidge who love tinkering with electronics will have to buy parts somewhere else, probably online.
"It's kind of sad," he said. "It feels like the end of an era."
Keith Wagstaff writes about technology for NBC News. He previously covered technology for TIME's Techland and wrote about politics as a staff writer at TheWeek.com. You can follow him on Twitter at @kwagstaff and reach him by email at: Keith.Wagstaff@nbcuni.com
This article was originally published Feb. 6, 2015 at 5:27 p.m.