If you're in the mood to watch some Lady Gaga music videos right now, you'll have to search around a bit because the singer's official YouTube account has been suspended. The reason? Multiple or severe violations of the video-sharing site's copyright policy.
There aren't any details about exactly what Lady Gaga did to violate these copyright policies, but Time Out Tokyo suggests that it may be related to footage from a live performance:
[S]he posted footage from her recent appearance on the Fuji TV show SMAP x SMAP. The ten-minute performance featured a medley of songs from her new album, Born This Way, laced with Japan-themed ad libs that we're pretty much certain Shingo Katori didn't understand.
We've reached out to YouTube to see if this theory is correct and to find out whether the account is being reinstated anytime soon. In the meantime, attempting to follow any YouTube links from Lady Gaga's website will lead you to a disappointing message: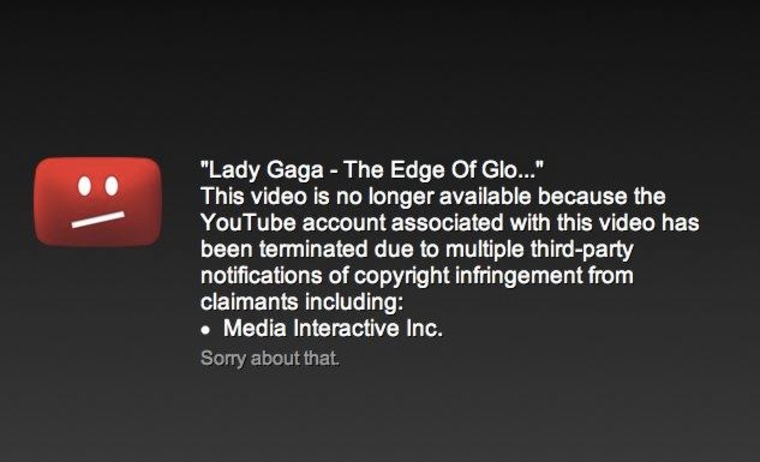 Our suspicions are that Lady Gaga's account suspension was probably the result of some sort of automated process which kicks in when someone files several copyright violation claims against a YouTube user, but considering that the account has been suspended since late on July 12 ... we're a tiny bit concerned.

Related stories:
Rosa Golijan writes about tech here and there. She's obsessed with Twitter and loves to be liked on Facebook. Oh, and she can be found on Google+, too.