It sounds like something from the future: a pair of skinny jeans that will charge your smartphone, simply by slipping the device into a sleek side pocket.
But that day is here. Joe's Jeans, a California-based fashion brand, has launched a line of jeans called #Hello, featuring a hidden pocket for a slim battery and power cord, which can connect to Apple iPhones.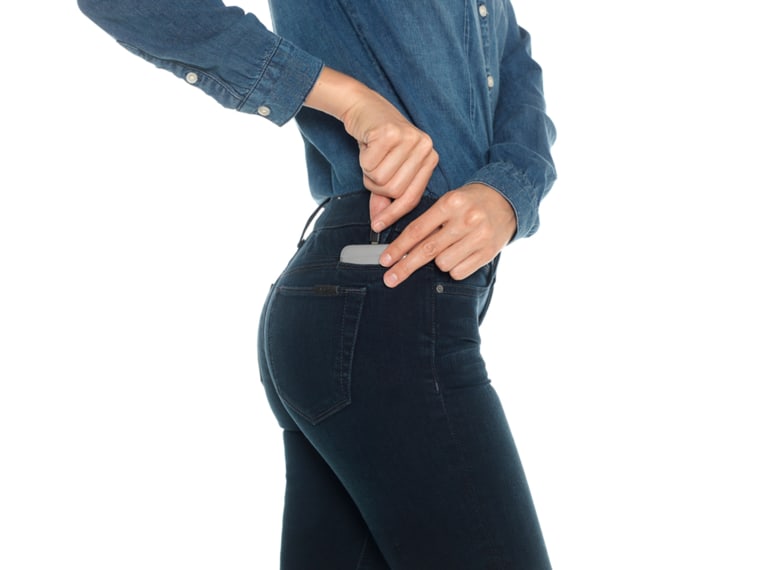 The new styles "offer a sleek, stylish way to keep women charged and connected while on the go," the brand's founder and creative director Joe Dahan told TODAY.com.
But the convenience will cost you: The jeans, available in four washes, are priced at $189, plus another $49 for the custom battery. Dahan said the line will eventually expand to include more rises, fits, colors and prints.
RELATED: Will this smart sports bra replace your usual fitness tracker?
The brand isn't the first to add charging capabilities to a piece of apparel.
A Kickstarter campaign for a technologically impressive travel jacket with a portable charger pocket has raised more than $4.5 million.
Many companies have launched purses and wallets that charge phones. The brand emPOWERED makes stylish totes, wallets and handbags ($119-$289) that charge with a USB cord, just like Mighty Wallet's buttery leather zip pouches, which cost about $100. Another brand, Everpurse, which recently collaborated with Kate Spade on a collection, skips the wires altogether with a built-in charging dock.
Backpacks like the Powerbag and this one from The North Face also let people charge their tablets or smartphones on the go, and some companies have moved beyond charging capabilities — equipping devices with GPS, speaker hookups and more.
Even our furniture might some day be able to give our phones some juice: IKEA recently said it's creating a line of lamps, desks and tables that will charge phones and tablets, without wires.
RELATED: Google and Levi's pioneer new frontier of wearable tech
Joe's Jeans is on the right track, since jeans, in particular, could use a makeover in the eyes of the consumer, said Marshal Cohen, chief retail analyst of the NPD Group. And smart clothes could quite possibly be the future of the fashion industry.
"Clothing that does more than just look good is one way of getting consumers to invest in new apparel items," Cohen told TODAY.com. "Being able to charge your phone via, say, a pair of jeans, is something all consumers will be able to relate to."
"The future of fashion clearly includes 'smart' functionality," he added. "We are already starting to see the consumer accept this level of functionality in clothing. Jeans capitalizing on this burgeoning demand seems logical to me."