Jamie Dimon, the CEO of JPMorgan Chase, tells TODAY's Matt Lauer in an exclusive interview that his company's $100 million investment in the city of Detroit isn't about public relations.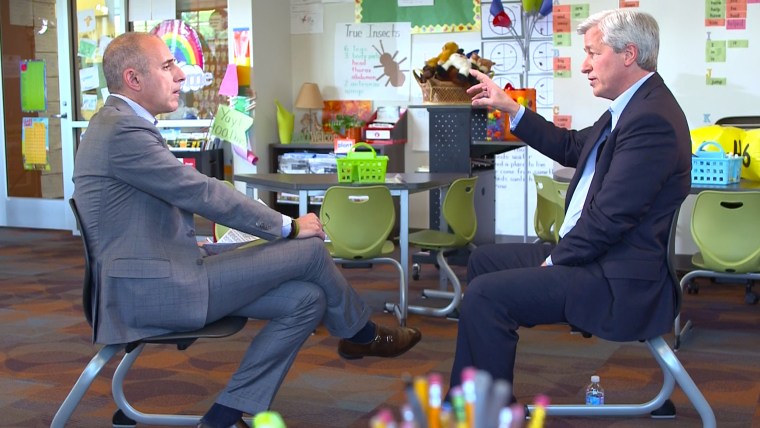 "The cynic would be wrong," Dimon told Lauer when asked if the investment was in response to a $13 billion fine levied against the company in an exclusive interview.
"We invest and develop communities around the world. And we've been doing this since our heritage started 200 years ago," said Dimon. "So that's what banks do. They do it commercially. They do community development."
Detroit, the largest U.S. city to seek bankruptcy protection, is $19 billion in debt and currently has an unemployment rate of about 14%, more than double the national average. 
"We're doing this to grow investments, to grow the city, and create a healthy and vibrant city,'' Dimon said. "And if that happens, it's good for us, too. I also look at it as an American patriot. This is one of the few cities that hasn't had a renaissance. Most other cities have. If it's done right, they can have one here, too." 
In a city where 40 percent of the buses are broken, 40 percent of the streetlights don't work and a third of the population has left over several decades, Dimon sees opportunity. The bank is hoping to make money from interest on the loan and by rejuvenating a market in which it has a million regional customers. 
JPMorgan is the nation's largest bank by assets, with a total net income of $18 billion last year. Shortly after Lauer spoke with Dimon, JPMorgan shareholders approved a 74 percent pay increase for Dimon, increasing his pay for 2013 to $20 million. 
"I think we can make this our finest moment,'' he said. "Can Americans come together, business, labor, civics...government come together and build something and fix the city? You've seen rebirth of cities all over America. I think it would be an unbelievable thing if we can come together and help rebirth here."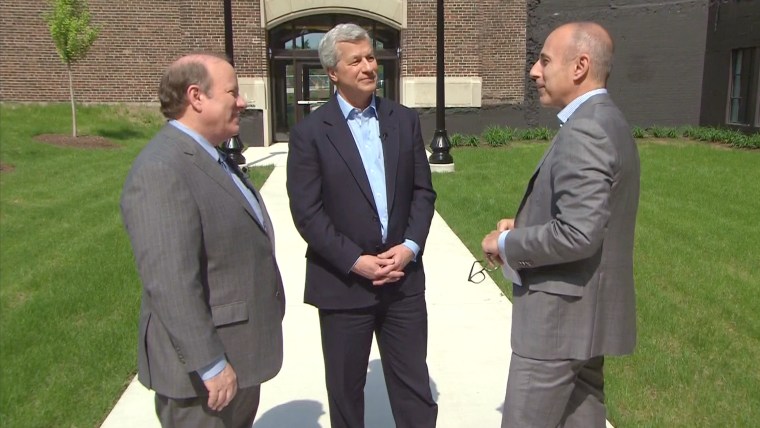 Detroit mayor Mike Duggan is hoping the investment can help trigger further rebuilding efforts in the city, which declared Chapter 9 bankruptcy in July of 2013. The investment is expected to assist the city's urban redevelopment projects, provide loans to homeowners and help in the removal of urban blight such as abandoned homes, according to the Detroit Free Press. 
"I think it's a significant start,'' Duggan told Lauer. "It's a good jumpstart. With what Jamie and his team are doing, we're going to have money to loan to entrepreneurs, so we can bring not just the neighborhoods back, but the businesses back." 

Lauer asked Dimon what he expects at the end of the investment's five-year period. 
"Jobs and population,'' Dimon said. "If it works, you'll have a healthy and vibrant economy, jobs and population, businesses will beget home ownership, better schools, and a completely revived city." 
The hope is that Detroit can become a blueprint for other struggling cities to emulate. 
"I think it would be a great example, shining example, of what can be done," said Dimon.