A wedding invite should contain all the practical information for an upcoming nuptial — day, time, place, etc. — but it should also hint at what's to come. A white or ecru (cream or ivory colored) invite engraved with black or charcoal script and addressed by a calligrapher suggests a formal event. A pastel-colored invite with hand-painted flowers along its edge may welcome guests to a garden party at an elite country club. A lime-green postcard can set the scene for a Las Vegas nuptial.
A formal invite, though, does not automatically mean the host will serve baby lamb chops as a starter and the guests will take home real crystal favors engraved with the couple's name. Nor does the lime-green invite suggest a celebration limited to beer and pretzels in the hotel lobby.
"Design options are unlimited," these days, says Peter Hopkins, company representative for Dalton, Mass.-based Crane's, a family-owned stationer since 1801, known for its high quality paper. The traditional white or ecru invite or the "little black dress" of party invites is still appropriate for any occasion, says Hopkins. But a couple planning a formal event also may opt for a dark red invite around the holidays. The bottom-line is the invitation should reflect the couple's style, says Hopkins, whether it's a Hawaiian luau on the beach or a black-tie event at a four-star hotel.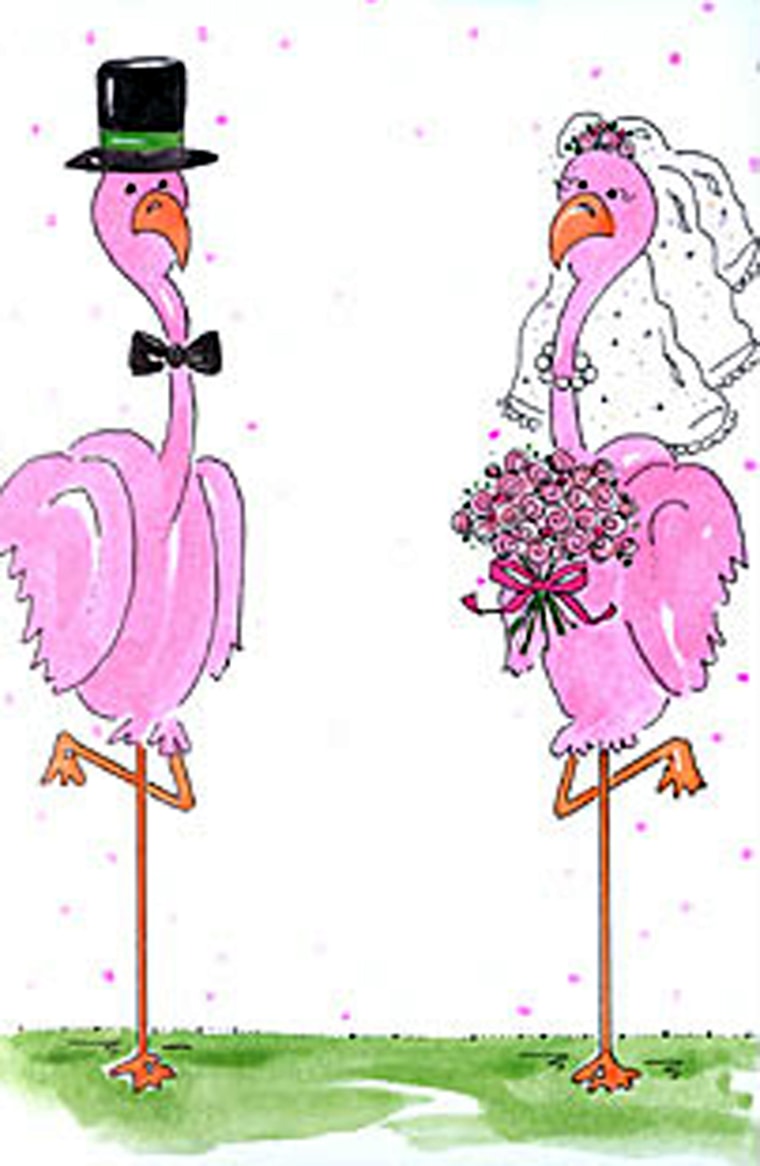 Style does not necessarily determine price. A modern invite may cost more than a classic one. Invites run from $2.50 to $50 at katespaperie.com, says Nicole Marchant, print production manager at the upscale paper boutique with four retail stores in Manhattan and one shop in Greenwich, Conn. A trendy and costly invite may be made of an exotic material such as leather, Lucite or metals and shipped in a hand-made enclosure.
On average, invites cost $4-9 at Crane's, says Hopkins. A classic invite with a border or ribbon costs about $10. Less traditional "preprinted" invites are the least expensive option. Designed for the "home cook," these invites contain everything but the wording. Couples choose a template — color, design, stock — and then print the text on a home computer.
Scores of preprinted or "unprinted" invites are available at cyber shop www.paperstyle.com. The Alpharetta, Ga.-based company even lists prices for unprinted and printed for many of its non-traditional invites from invitation designers, such as Anna Griffin, Cross My Heart, Inviting Company and Roger La Borde. One hundred unprinted copies of Roger La Borde's "Chapel of Love" invite — the lime-green postcard — cost $200 and 100 printed invites lists for $250.
Old-style printing, or letterpress printing, is another hot trend. Letterpress invites are stamped by hand using a metal plate that has raised moveable type, like a typewriter. The result is an ink-filled impression. "It's a vintage look," says Marchant about the first printing method that was used to produce multiple copies of publications, such as newspapers and books. Letterpress printing has been receiving a lot of its own press recently in bridal and women's magazines, says Marchant. Some letterpress printers have even set up shop online, such as elumdesigns.com, julieholcombprinters.com and oblationpapers.com.
Engraving is the "opposite" of letterpress, explains Marchant. Engraving is also done by hand but the text or design is etched into a plate. The result is a raised inked impression.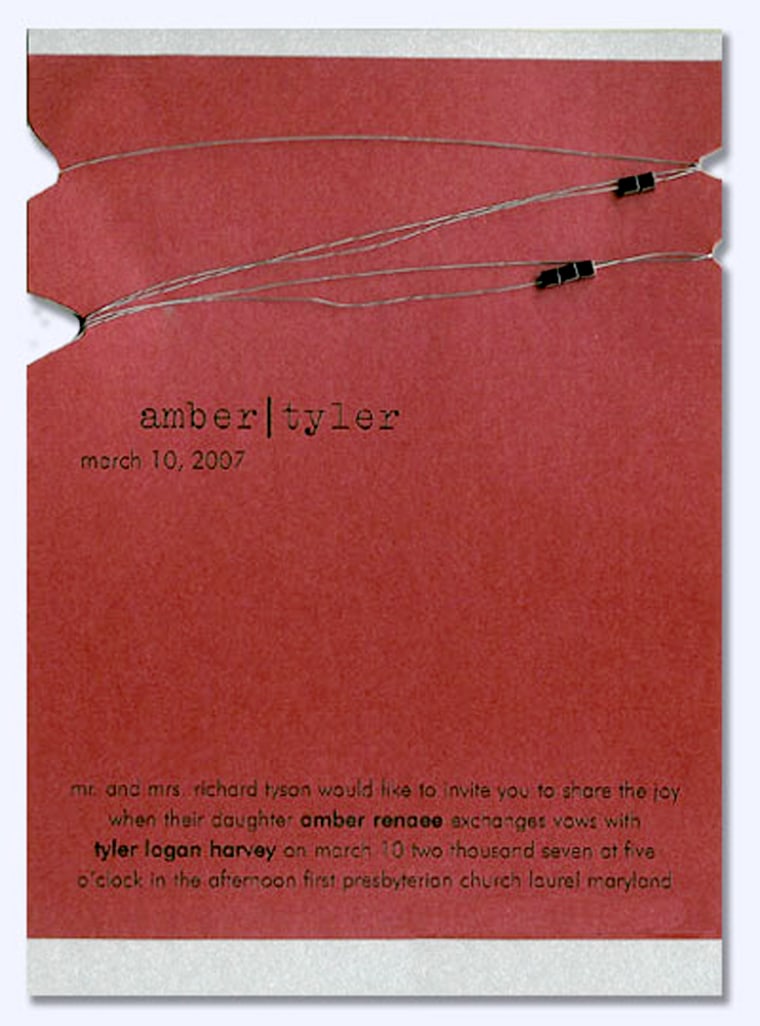 The most popular technique these days is thermograph, a chemical process used to apply ink to paper. Thermograph is a lot less expensive than letterpress or engraving but yields a similar impression or raised text as in engraving. Print production aficionados can easily see the difference between engraved invites and thermograph printing. The question is: Will your guests? Hint: Thermograph text is usually shinier, says Marchant.
Colored invites are also a huge trend. Seasonal palettes run from rust and burgundy papers for fall events to pastels and sherbets for spring or summer celebrations. Gold, silver and red are common color schemes for winter weddings.
Even hotter than the seasonal colors, though, are "fashion colors" or colors that mimic fashion trends. "What you see on the runway is what you see on the invites," says Marchant. Invites that show off the contrast between light and dark colors are exceptionally hot. Chocolate brown invites with light blue, pink or citron green insets or borders are common. Another variation on the theme is dark-colored paper with light inks or vice versa.
Mix and matching fonts is also more common now, says Hopkins. Couples may opt to print their names in a formal script and the rest of the text in a contemporary font. Flush left or flush right, rather than centered text, is cutting edge.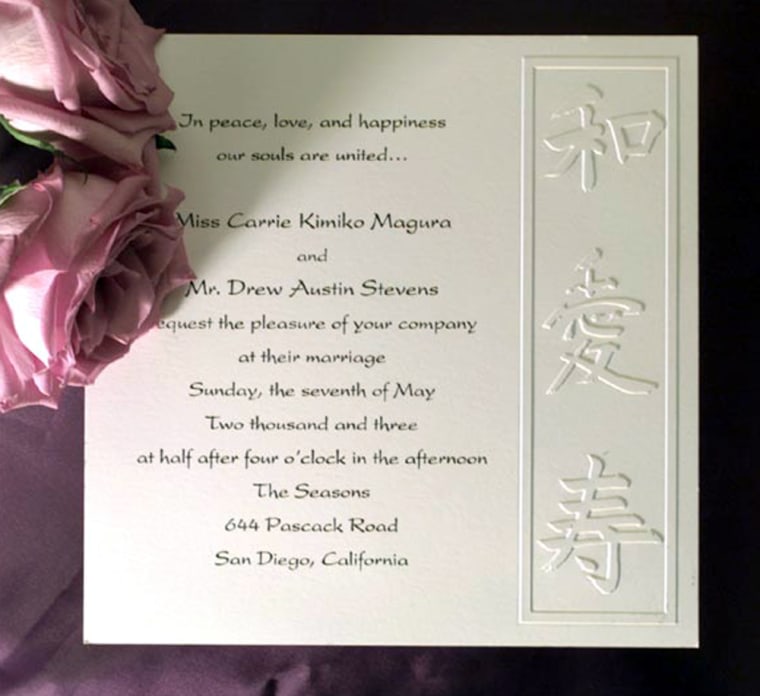 In the end, most couples just want to do something different, says Carley Roney, co-founder of one-stop wedding shop theknot.com. Everything about weddings now is also about "personalization."
But whether the invite features a century-old family monogram with a contemporary font or is printed with purple ink, some basics still apply:
Ask for samples and proof everything several times and by more than one set of eyes;
Order extra invitations for "b-list" or last-minute invites;
Order extra envelopes for common mistakes — wrong address, change in marital status of the guest, change in academic status from Ms. to Dr.;
Write out addresses on the envelopes by hand;
Mail the invites six weeks to two months before the wedding date, earlier for destination weddings.