There's no denying that just about everyone loves pizza, but how we all like it comes down to the individual.
Whether it's Chicago deep dish, New York's more traditional version, Sicilian or Artisan, everyone's got their favorite type of slice. With so many styles to choose from, so many toppings to pick, it's a personal preference like no other. However, the people have spoken (at least on TripAdvisor, that is) and we have a new pizza king.
TripAdvisor decided to take a look at their users' comments on pizza restaurants around the U.S., and took a stab at the great pizza debate by determining the top place in the country. They looked at the quantity and quality of reviews to decide what restaurant would take the esteemed title. In order to qualify, the restaurant had to have the majority of its reviews about pizza, a minimum of 500 reviews and at least 10 percent of them had to state the phrase "best pizza."
So who won? Turns out the best pizza parlor is in Brooklyn. Sorry Chicago deep-dish lovers!
TripAdvisor's Top 10 Pizza Restaurants
1. Juliana's Pizza, New York City, New York
2. Pizza Time of St. Augustine, Saint Augustine, Florida
3. Moose's Tooth Pub and Pizzeria, Anchorage, Alaska
4. Keste, New York City, New York
5. Tony's Pizza Napoletana, San Francisco, California
6. Pizzeria Regina, Boston, Massachusetts
7. Antico Pizza Napoletana, Atlanta, Georgia
8. Bill's Pizza, Palm Springs, California
9. Frank Pepe Pizzeria Napoletana, New Haven, Connecticut
10. John's Pizzeria – Bleeker St., New York City, New York
With the No. 1 pizza place in Brooklyn, TODAY.com stopped by Juliana's to check it out. Two days after the announcement, at 8 p.m. on a Thursday, there was a line down the block. We talked to co-owner Matt Grogan to find out if this was the norm or just a result of the recent hype.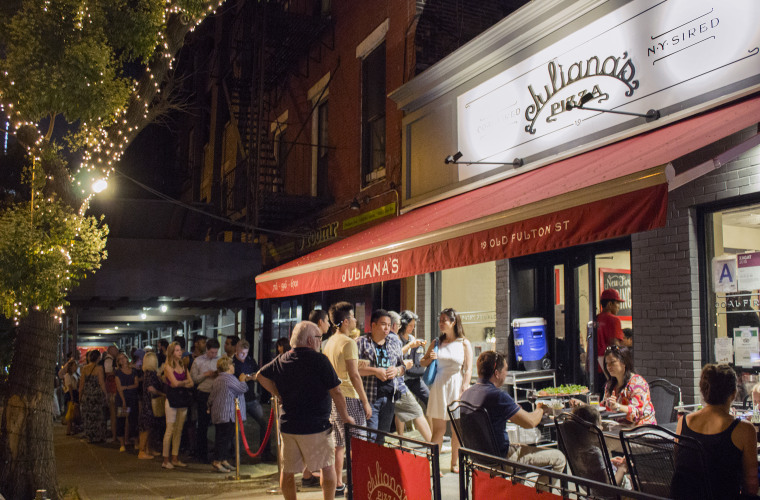 "Not always on a Thursday night and not always in this kind of weather," Grogan told TODAY.com. "We've been a lot more calls than usual. It's definitely busier."
RELATED: Pizza Hut confirms hot dog-stuffed crust pizza is coming to America
However, Grogan said there's usually a line, but it's just not consistently long and growing. The wait for a party of 2, for example, is usually about 10 to 15 minutes, he said.
So how does it move so fast? Juliana's turns out pizzas very quickly, and they don't really have a choice.
Once the dough is rolled out, the chef has about one minute to place the toppings on the pizza before it gets too tacky to slide into the oven. Then once it goes into the coal oven, which is heated to 650 degrees, it cooks in about a minute to a minute-and-a-half because the coals are scorching hot. Grogan said that cooking the pizza any longer would sear it.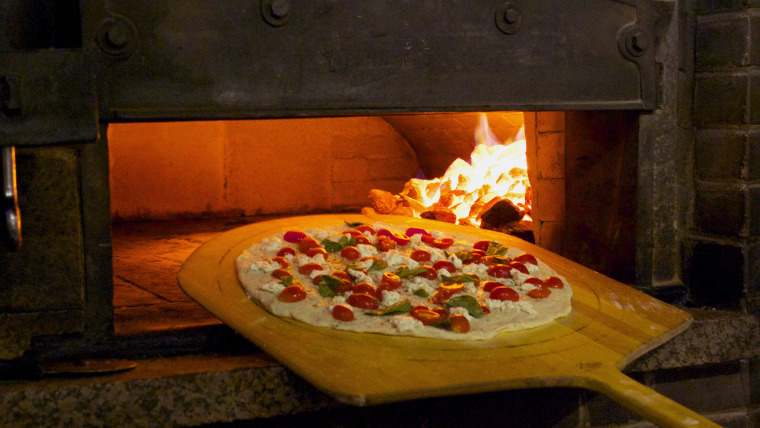 On this night, Juliana's was so busy they had to stoke the coal oven twice, something Grogan explained they usually only do once. They also ran out of ingredients — a first for a Thursday night.
"We ran out of a lot of stuff that we usually don't run out of," he said. "By 5:30, we ran out of meatballs, and we make a lot of meatballs."
RELATED: Make pizza on the grill with this easy recipe
Juliana's is rather new to the pizza scene, yet its owners are not. After growing up around pizza, Patsy Grimaldi, with the help of his wife, Carol, brought his knowledge from generations of pizza-making to Brooklyn. They opened up the well-known restaurant Grimaldi's Pizzeria in 1990. Though they eventually sold the restaurant (and the name) to a former customer, they never lost their passion for pizza.
Juliana's opened about two and a half years ago after Patsy and Carol decided they wanted to come out of retirement. Though Carol sadly passed away last year, her legacy lives on as "she was instrumental in establishing Juliana's and was a fantastic lady," Grogan said.
"Pat used to say, 'I haven't had good pizza since I quit,'" Grogan recalled. He said Patsy missed the connections with his guests, and so Grogan wanted to help him re-live his dream. Grogan quit his job of over 25 years to partner up and make it happen. "This is his family. He cares about what happens here. He wants there to be great pizza on every plate."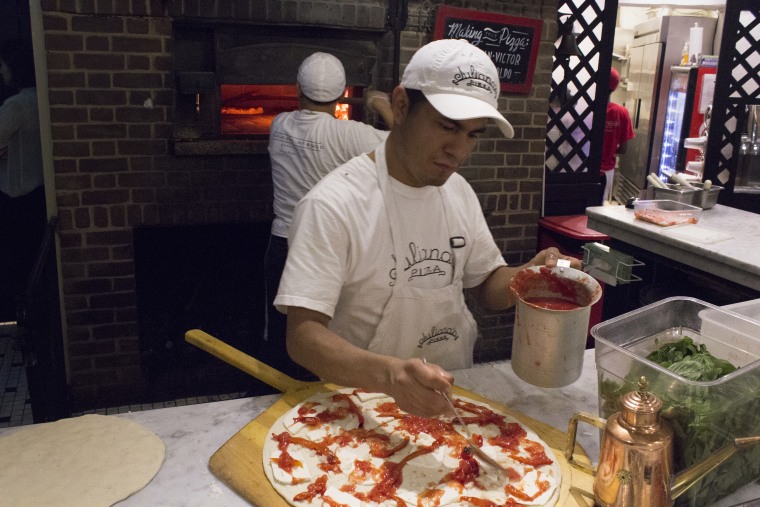 But how does Juliana's make such delicious pizza? That's a secret we may never know. But Grogan did give TODAY.com a trick for getting the most delicious pizza at home. However, he cautions that pizza never tastes quite the same when it isn't eaten within 10 seconds of it being brought out of the oven and to the table.
Grogan, who was actually one of Pat's original customers back when Pat opened his first restaurant in 1990, said that years ago, Patsy finally let him in on an insider tip. Using the oven to reheat pizza dries out, but if you take a frying pan, heat it up at a medium temperature and stick a slice in there for 30 to 40 seconds that will give it the perfect crispy, delicious sear. He also recommends taking home pizza in a bread bag instead of a box to avoid that cardboard-y taste pizza can get when its brought home.
RELATED: Scientists worry about chemicals in pizza boxes, microwave popcorn bags
While Juliana's may be the best pizza place in the country, Chicago still got some love from pizza fanatics, winning the top Pizza City. For this category, TripAdvisor looked at the quality and quantity of the reviews along with the ratio of pizza restaurants compared to other cuisines in the city.
TripAdvisor's Top U.S. Pizza Cities
1. Chicago, Illinois
Must-try pizzerias: Chicago Pizza & Oven Grinder, Lou Malnati's Pizzeria - River North, Giordano's
2. New York City, New York
Must-try pizzerias: Juliana's Pizza, Keste, John's Pizzeria – Bleeker St.
3. New Haven, Connecticut
Must-try pizzerias: Frank Pepe Pizzeria Napoletana, Modern Apizza, Bru Rm At BAR
4. Orlando, Florida
Must-try pizzerias: Anthony's Coal Fired Pizza, Via Napoli, Red Oven Pizza Bakery
5. San Francisco, California
Must-try pizzerias: Tony's Pizza Napoletana, Il Casaro Pizzeria and Mozzarella Bar, Za Pizza
Must-try pizzerias: We the Pizza, Matchbox Pizza, Pizzeria Paradiso
7. Las Vegas, Nevada
Must-try pizzerias: Project Pie, Pizza Rock, Secret Pizza
8. San Diego, California
Must-try pizzerias: Basic, Buona Forchetta, Pizza Port Ocean Beach
9. Phoenix, Arizona
Must-try pizzerias: Pizzeria Bianco, Pomo Pizzeria Napoletana – Phoenix, The Parlor Pizzeria
10. Miami Beach, Florida
Must-try pizzerias: Visa-O1 Extraordinary Pizza, Giotto Maestro della Pizza, Blocks Pizza Deli
New York may have the best restaurant, with Chicago as the best pizza city overall, but one consistency across geographical divides was favorite toppings, besides cheese of course! Pepperoni, sausage and mushrooms got top marks among pizza eaters.
Regardless of your pizza preference, next time you visit the Big Apple or the Windy City, it's probably time to check out some pizza.