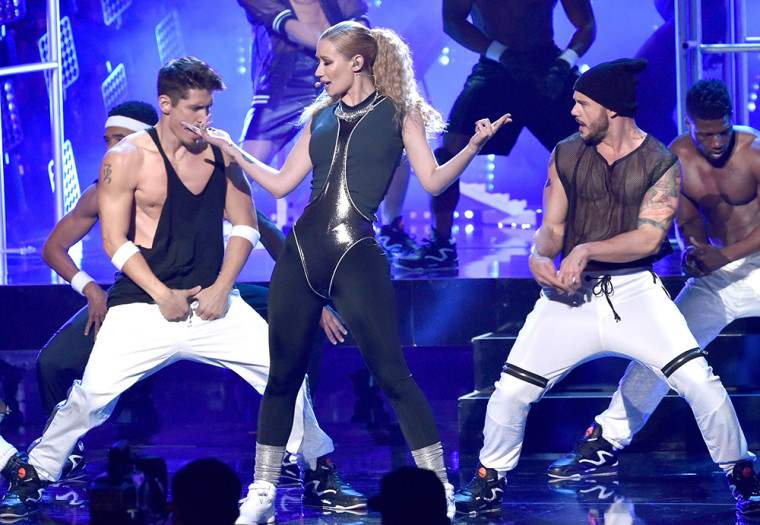 If you couldn't stop streaming "Fancy" by Iggy Azalea on Spotify this year, you weren't alone. It claimed the top spot as the music service's most-played song in the United States in 2014. 
But one man and his giant hat overshadowed Iggy Iggs when it came to the global stage. That man was Pharrell, whose hit "Happy" was streamed the most times on Spotify worldwide. 
A look at the top five global hits:
"Happy" - Pharrell Williams

"Rather Be" (feat. Jess Glynne) - Clean Bandit

"Summer" - Calvin Harris

"Dark Horse" - Katy Perry

"All of Me" - John Legend

Neither of them, however, conquered the world quite like a certain ginger R&B crooner. Ed Sheeran was officially the most streamed artist of 2014. His songs racked up 860 million listens around the globe and his album, "x," also topped the Spotify charts after it was streamed 430 million times. 
In the United States, the title of most-streamed artist went to Eminem, whose last album, "Marshall Mathers LP 2," was released in late 2013 and kept rolling strong into the next year. 
One artist who was not present on Spotify's list? That would be Taylor Swift, who famously pulled all of her music from the streaming service on her way to selling the most albums in a single week since Eminem's "The Eminem Show" in 2002. 
Don't worry, if you're not a fan of I-G-G-Y, Eminem or Coldplay (Spotify's most-played band of the year), you can get your own personalized "Year in Music" report from Spotify. Just don't complain when it says you haven't listened to anything but Drake all year long.