Communicating with your significant other can be tough. You have to do things like inquire about his or her thoughts, listen, pay attention — and even remember the important stuff. And if you fail at those tasks? You'll wind up being being miserable, lonely, in a therapist's office, or all three.
Don't panic just yet though, because there is one more option: You could find yourself using an app to salvage or maintain your relationship.
The app's called IceBreak For Couples and you can download it for free through the Apple App Store.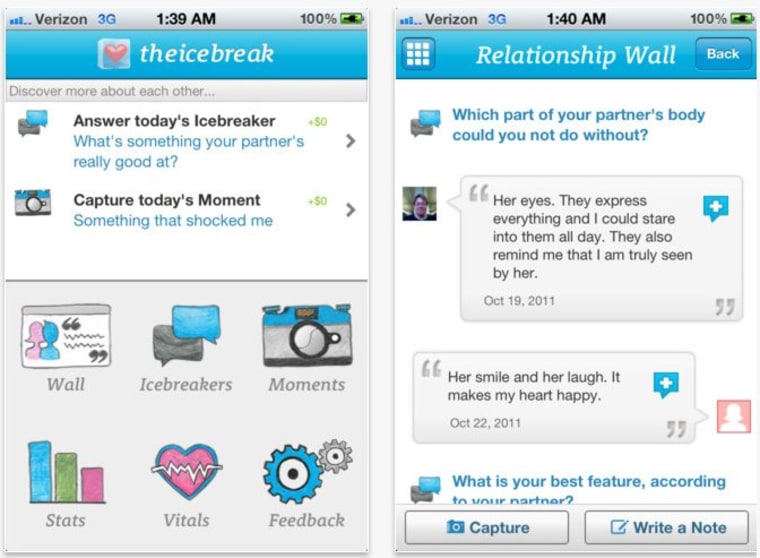 IceBreak is supposed to make couples —  whether they're married, engaged, or dating —  happy. It tries to do this by providing icebreaker questions which are supposed to encourage conversations and aid you in discovering more about your beloved. 
The questions feel like something straight out of a "99 Things You Didn't Know About Me And My Love" chain-email and include inquiries such as "Which part of your partner's body could you not do without?" and "What is something your partner's really good at?"
But silly or not, the questions could certainly turn into conversation starters if both partners are willing to answer them.
And in order to encourage the use of these icebreakers — and the app's other features such as the "relationship wall" or "relationship health" sections — IceBreak offers incentives. Every time you complete an activity or task using the app, you'll earn "Date Night Coins" which will eventually be redeemable for real-world rewards such as movie tickets or gifts.
There's no guarantee that all these incentives and icebreakers will make your relationship better, of course — but an app's cheaper than couples therapy, no?
Related stories:
Want more tech news, silly puns or amusing links? You'll get plenty of all three if you keep up with Rosa Golijan, the writer of this post, by following her on Twitter, subscribing to her Facebook posts, or circling her on Google+.