While some may be wishing the Ice Bucket Challenge would just go away, the new "Ice Bucket Challenge Costume" promises to keep fueling the Internet craze until at least Halloween.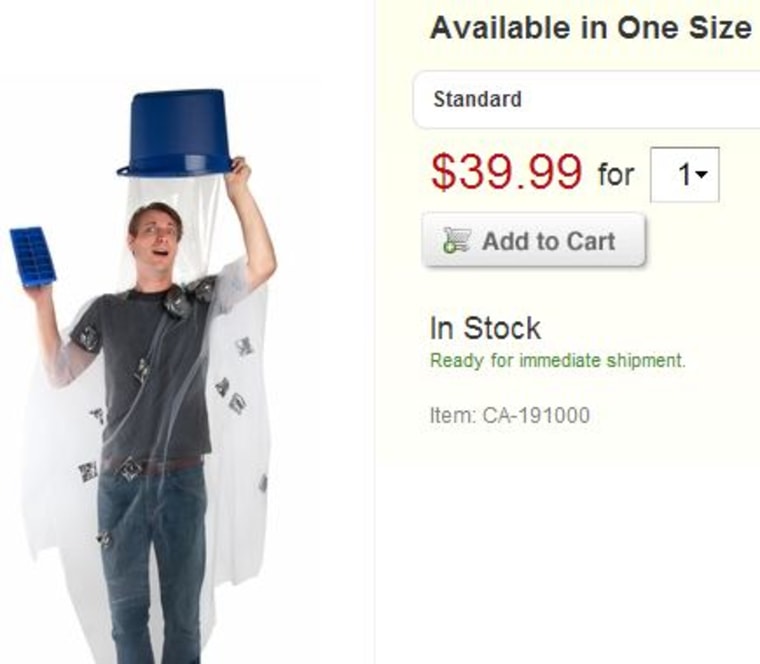 It's "totally real," insists creator Johnathon Weeks, owner of the BrandsonSale.com costume e-commerce site where the outfit is available.
"If you order it, we will ship you one bucket, one tulle tunic with silver ice cube embellishments, and an ice cube tray," he said.

Weeks said the brainstorm for the costume hit after he and about 20 of the company's employees participated in the Ice Bucket Challenge, donating $1,950 for amyotrophic lateral sclerosis research.
"Bringing this costume online extends the cause all the way to Halloween," said Weeks. "So this doesn't stop next week with everyone forgetting the point."
While only "about four or five" have sold so far since going on sale at midnight last night, it's been getting "good tread" on Twitter, said Weeks. He predicts he'll sell out of the 600 costumes in his warehouse by the end of the month. 

While "Superman and Batman and fruits and apples," are the bread and butter of the over 127,000 costumes in the company's 18-acre warehouse, Weeks said that BrandsonSale has a history of participating in activism and Internet memes. Last year it donated 400 costumes to the San Francisco "Rainbow Run." And another year it did a "baby Lady Gaga" costume.
Like that one, this costume also hides — or lays bare — a bit of social commentary.
"Our content editor believes this entire charity is a form of 'slacktivism' that hasn't been seen since the 'Kony' video," said Weeks, referring to a 2012 viral video that just by clicking "like" or "retweet" people could help demand international governments intervene in Africa to stop a guerrilla group accused of using child soldiers. "He just thinks people are going online... and putting up a video and not donating."
For every Ice Bucket Challenge costume purchased, however, Weeks said $10 of each $39.99 order will go to the ALS Association. A link to find out about donating directly to ALS research also appears at the bottom of the page.