With all of the dating websites and apps available, being able to find a prospective date has never been easier. But even though we're more digitally connected than ever, more and more people may be jumping on a new dating trend to find a different kind of connection: traveling.
According to the 2015 Visa Global Travel Intentions Study, solo travel is up 15 percent overall since 2013 and up to 37 percent from 16 percent for first-time travelers. This influx of single explorers has caught the eye of the travel industry and sparked a new wave of specialty packages and offerings designed to encourage mingling with other singles.
"More and more hotels are finding ways to help solo travelers have great experiences," Christine Sarkis, senior editor of website SmarterTravel, told TODAY. "For instance, many smaller, independent hotels offer activities like culinary and walking tours that solo travelers can sign up for if they want to join a group of like-minded travelers. And lobby happy hours, game rooms and other communal spaces offer easy ways to meet others as well."
RELATED: Booking that 2016 trip? Check out these travel destinations on the rise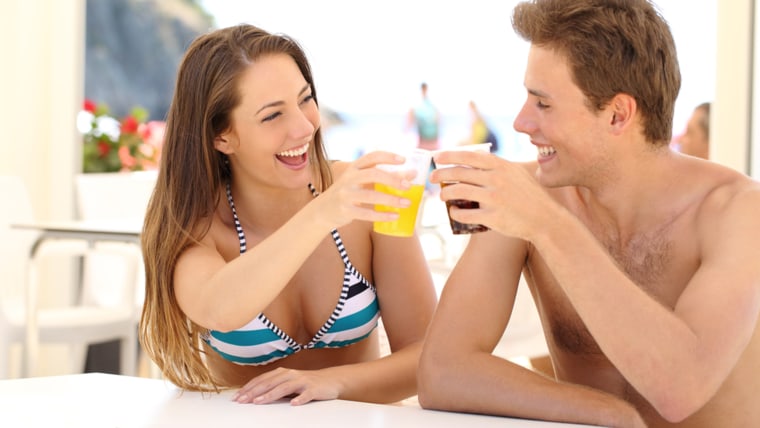 One of those hotels catering to singles is the Wyndham Grand Rio Mar Resort & Spa in Puerto Rico, which invites those traveling alone to meet with other guests seaside at the Tiki Bar's daily happy hour. And at the Zemi Beach House Resort & Spa in Anguilla, each solo hotel guest has access to a personal guide throughout his or her stay who suggests fun social activities on the property such as cocktail parties, communal dinners and rum tastings.
RELATED: Discount airfare site Skypicker offers travelers new ways to find cheap flights
While these programs are meant for more impromptu and casual meetings with other solo travelers, an app named MissTravel, released over the summer, helps match its members around the world who are seeking travel companions. Complete strangers can organize and book trips together before ever meeting.
"Just like any other dating app, our main goal is to create romantic connections between our members," Hannahmae Dela Cruz, public relations manager for MissTravel told us. "Traveling is a great way to fall in love and a pivotal test of a relationship. When we go on holiday we're often taken out of our comfort zone, in an unfamiliar place experiencing situations we often do not encounter. How we deal with these situations with a partner is a sure way of determining compatibility. Many of our successful users have gotten married and started families together."
RELATED: Beach or mountains? Study shows link between geography and personality
There are even tour operators who have carved out special trips for people wanting to see the world on their own. Single travel has doubled for Vermont-based Country Walkers over the past year, so they implemented a single-share program that allows some guests to avoid the single supplement fee entirely by pairing same-gender roommates for solo travelers. They also make traveling a group experience so you interact with others.
"The great thing about guided walking tours is that you're participating in a shared activity, so there are constant opportunities to connect with like-minded people," Timo Shaw, president of Country Walkers, said. "On our tours, all guests dine together and walk with each other every day. A walking tour allows them to truly get to know their fellow travelers in a beautiful destination while enjoying unforgettable experiences."