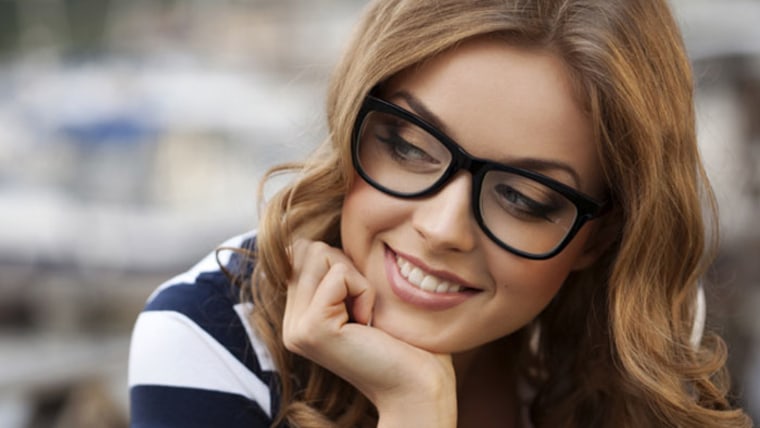 Hunting for glasses that are totally on trend yet won't set you back hundreds of dollars? How about prescription contact lenses at a bargain? Consider your search over. We've found the best places to score deals on eyewear. 

Dr. Glenda Secor, communications chair for the American Academy of Optometry, says with proper, unexpired prescriptions in hand, ordering online is a safe option. Just be sure the lenses you're ordering meet certain standards, she says. 
"Vendors who are not licensed in the U.S., may not adhere to U.S. standards for safety and patients may not have lenses that are impact-resistant or have poor optical quality," Secor says. "Cheap frames are also often poorer quality, less durable and more prone to breakage."
She also recommends ensuring the website you're ordering from has a customer-friendly warranty or return policy, like those featured below, so you won't be stuck with an unusable pair of specs.

Ready to give it a go? There are plenty of bargains to be had when you know where to look online and in stores. Here are great online shopping resources to — ahem — keep an eye out for.
Coastal.com
There's no better bargain than totally free, and Coastal.com offers customers their first pair of glasses gratis. We've tried it and there really is no catch. Simply select the frames of your choice from a list (there are currently over 600 styles included in the offer), enter your prescription and the code FIRSTPAIRFREE. All you pay is shipping and handling, which typically amounts to less than $20, when you could have spent hundreds for the frames alone. 
Glasses.com
If you've ever fallen for frames that you both love and can afford, but then found yourself priced out once you added the cost of lenses into the mix, head to Glasses.com, where single-vision lenses come free with your frames. Of note: the classic Kensington Road collection, which features high-quality frames for $79, including those free lenses. 
EyeBuyDirect.com
Crave designer frames but living on a bargain budget? This online retailer sells gorgeous glasses for as little as $6. We found a Dior-rivaling cat-eye tortoise style for just $42. Like many Internet eyewear retailers, EyeBuyDirect.com lets you upload a shot of yourself and then virtually try on any designs you're interested in. 
Zenni Optical
Looking for especially low-priced specs? At Zenni Optical, prices start at just $6.95 for prescription lenses and frames. You'll find glasses for kids, women and men — so you can outfit the whole family at once. 

Vision Direct 
Contacts can be pricey, but when you order from a site like this, you'll score online rebates, discounted prices and free shipping, all making those little lenses affordable. And, if it's your first time ordering from Vision Direct, enter the code 25NEW at checkout to take 25 percent off your first order.
Warby Parker
You'll find the brand's very stylish glasses priced at less than $100 (including prescription lenses and free shipping). But the coolest part about Warby Parker is that for each pair of glasses bought, the company works with partners to provide a pair of glasses to someone in need. And check out the Home Try-On program: You pick five frames, they ship them to you for free, you have five days to try 'em out, then return them for free and go with your fave.

America's Best
What's better than one great pair of frames? Why, two great pairs of frames. At America's Best stores, score two pairs for $69.95. You get to choose your duo from hundreds of glasses normally priced at $59.95 each, prescription lenses included, and a free eye exam (regularly $45) at any of their locations across the country. Bring on the BOGO!

Costco
Toilet paper. Cat food. Eye exam. Cross all your to-dos off your list at Costco, where you can get visit an optician, order contact lenses or pick out a pair of glasses. Exams typically cost between $49 and $79, with most frames priced below $100. 

Target Optical
If you know you need an exam, plus frames and maybe even contacts, too, head to your nearest Target store or Target Optical online for discounted prices. Frames run 25 percent off retail, lenses start as low as $13 a month and, if you're unsure which glasses to choose from, take advantage of the Try-at-Home packs, where you select four frames on the website that Target ships to your door for free. You get five days to test them out and return them, so you can then order the ones you really love.

Lesley Kennedy writes about online bargains for ShopAtHome.com. Follow her on Twitter and Google+.