For most of the country, it's the season of swimming pools, beaches, and weekends spent outside. Even with the highest of SPF — and the biggest hat — you're likely to find your skin darkening a shade or two."As we head into summer and people are getting tan, the makeup they use nine months out of the year may no longer be the right shade," says Erica Whelan, a New York-based makeup artist.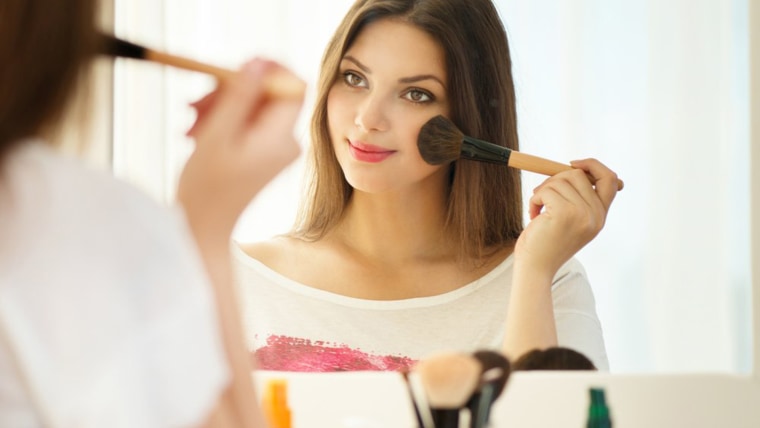 But before you head to the store to refresh your makeup for the season, spend some time shopping your existing supplies. You'd be surprised by the ways in which what you already have — both in your makeup case and your medicine cabinet — can do double duty. Taking an inventory of what you own can save you big money.
Get two uses out of one product
Cream brush can easily double as lip tint, says Whelan, and vice versa. If you're catching on to the contouring craze, a taupe brown eyeshadow can work just as well as the pricey contouring kits sold by makeup companies. "It doesn't have to be something specifically for contour," says Whelan. "You can use eye shadow with a bigger brush, or even bronzer."
Bronzer can also double as eyeshadow, and it's perfectly fine to put a little of your favorite lipstick shade on your cheeks.
Think outside the makeup case
Want darker eyelashes that won't smudge in sweaty summer weather? You can play up your natural color with Vaseline, says Whelan. It gives you that darker, wet look of mascara without the added color. Simply put some on the top of your lash line and run a spooly — a makeup wand, which many people already have — through.
You can also stretch pricey liquid foundation by mixing a spot of it with a spot of your favorite moisturizer, says Raychel Wade, a makeup consultant. And if you use an SPF moisturizer you get the added bonus of sun protection.
Get organized
If you can see what you have, you're much more likely to use it — and avoid buying duplicates or items you don't need. If you're constantly digging through what seems like a bottomless makeup bag, it's time for a new system. Cheap pencil holders can store brushes, a silverware organizer can keep blushes, powders and eyeshadows lined up, and Whelan suggests creating a palette for lipstick by cutting up the tubes and smashing them into a pill sorter.
Bonus: You'll be able to get to that little bit that's left in the tube when it's nearly run out.
Buy products that last longer
If you do decide to pick up a few new items, get the most bang for your budget. There are three tiers here, according to Wade: Liquids, like liquid foundation, mascara, and lip gloss, go bad fairly quickly, typically within six months (mascara, she says, should be replaced every three). Emollient products, like cream blushes and eyeshadows, lipstick, and stick foundations, last about a year.
And finally, powders last the longest, provided you're dipping into them with clean brushes. Just wash with shampoo every two weeks. A dirty brush will leave a film on your compact over time, says Wade.
Her trick to revive it? "Get a disposable mascara wand and gently scrape off the top layer. What you have left is good as new."