Just thinking about traveling with kids can be nightmare-inducing for many, but for this adventurous family of four, being on the road is just a way of life.
Australians Caz and Craig Makepeace, 41 and 43 respectively, have visited 52 countries and lived in five, so far. They've been exploring every corner of the world for the past 16 years, and have continued their adventures with daughters Kalyra, 9, and Savannah, 5. The couple's nomadic lifestyle has allowed them to visit everywhere from bustling markets in Singapore to volcanoes in Hawaii.
The Makepeaces share their travel experiences and tips on social media and turned their blog, ytravel, from a part-time hobby to a full-time job that finances all of their expenses. They told TODAY that sponsored campaigns with brands, freelance writing for other sites and affiliate partnerships all contribute to their income. The couple have been writing, sharing pictures and making videos about their family adventures for the past seven years.
By sharing their experiences, the couple hope to inspire other families to travel as well.
"We started the blog because we want to show you that you can do it, too," said Caz Makepeace. "It's about believing, taking risks, taking opportunities and making things happen."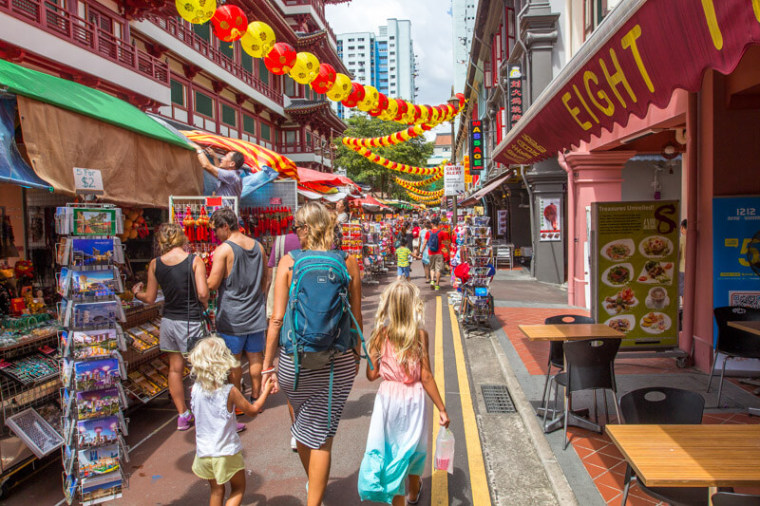 Makepeace, who is a former elementary school teacher, leads Kalyra and Savannah's home schooling on the road. The girls typically spend up to two hours a day doing "core skills" work for subjects like reading, math and science.
"I feel quite comfortable with home schooling the girls, but having said that I think any parent can do (it)," Makepeace told TODAY. "Kids also learn so much from travel experiences."
The couple caught the travel bug after taking family vacations to Fiji and Puerto Rico with Kalyra when she was less than a year old, and then, four years later, they took an 8-week-old Savannah on a trip to New Zealand. But traveling with toddler girls became even more of a challenge when they initially attempted to pursue a more nomadic lifestyle in Thailand.
"When we got there we knew it wouldn't work," said Makepeace. "It was really challenging with the kids."
Despite the setback, the Makepeaces decided to revisit their love for travel by trying out road trips instead. And, it turns out, traveling by car is a perfect fit for the family. In fact, the four of them are currently beginning a three-year road trip through the United States. They began in Hawaii on March 20 and are currently settled in Raleigh, North Carolina — a place they called home during their previous two-year stay in the U.S. when Kalyra was just 9 months old. The four globetrotters plan to spend the next year venturing up and down the East Coast while using Raleigh as a home base.
Whether you're off to a weekend getaway or looking to try a nomadic lifestyle, Makepeace has some tips and tricks for tackling parenting challenges on the road.
1. Finicky Eaters
Makepeace is no stranger to the struggles of dealing with a picky eater on the road, but she has a simple solution for even the fussiest of kids.
"We always encourage Savannah to try new foods, but we'll also have some snacks or sandwiches packed just in case," Makepeace told TODAY. "Every parent knows that at the end of the day, you can't force it."
2. Fuss-free Transportation
For plane trips, Makepeace recommends taking nonstop flights. It helps ease the stress of catching a connection, and makes things less hectic.
Also, contrary to what most parents and travelers think, flying with kids as early as possible can help them get used to the ins and outs of air travel. It helps kids take control of their own experience.
"My biggest tip is to start flying with your child as early as you can so that they know what to expect," said Makepeace. "Then when they're older, you can give them their own plane ticket, passport and have them roll their own suitcase along."
And if that's too daunting, start with road trips. "The constant moving is challenging, but with the car it's kind of a home base," said Makepeace.
As for in-car activities, Kalyra and Savannah are encouraged to pack their own "entertainment bags." The girls will bring some of their favorite dolls, coloring books and journals along for the ride.
Still, Makepeace says their family isn't immune to the age-old question. "Of course, we'll hear a lot of 'Are we there yet?'" she said.
3. Fun for the Whole Family
Finding activities that the whole family can enjoy together helps to make travel a fun, shared experience. For the Makepeaces, it's all about stand-up paddleboarding.
"It's an activity that we can do in many places," said Makepeace. "The kids look forward to it and it gets them excited about exploring new areas."
Makepeace also encourages parents to involve their kids in the decision-making process. The family will research destinations and activities together; sometimes, Makepeace will even encourage her little ones to lead mini research projects on things they specifically want to do, and report back to the rest of the family with helpful information.
"When kids are a part of the planning, not only are they learning from that experience, the travel feels like more of its own," she said.
It's also important for the whole family to think about possible problems that might occur on the trip. Makepeace notes that it's helpful to talk about conflict ahead of time to avoid any "family meltdowns" on the road.
4. Staying Under Budget
Aside from skipping air travel in favor of loading up the minivan, Makepeace also recommends keeping things local for cheaper trips.
"Even to go somewhere near home for a few days can be a trip in itself," she said. It's also a good way for families who haven't traveled a lot together to test the waters. It's all about baby steps!
5. Packing Made Easy
"Minimize your wardrobe so that you can mix and match," suggests Makepeace.
She also encourage the kids to pick a few of their favorite toys instead of trying to bring all of them along. Also, being aware of the weather at your destination and packing versatile items of clothing will help keep luggage light.
And while it's important to shed the extra toys and clothes, the mother of two warns against taking the minimalist approach to an extreme. The Makepeace family will often check their bags at the airport to have a little more packing room and less stress rummaging through overhead bins.
"If you become too much of a minimalist, it can create an imbalance and lead to unhappiness," said Makepeace.