Traveling with a family can seem like a daunting task, especially the costs associated with taking a trip. That's exactly why Cliff Hsia, writer and creator of LiveFamilyTravel.com, recently took to his blog to break down exactly how he traveled on a budget with his wife and two children for 75 days in Europe this past summer.
"I know money is a huge fear factor for families when it comes to travel," Hsia told TODAY. "The purpose of my post was to really help people conquer those fears by showing them the details of exactly how much we spent."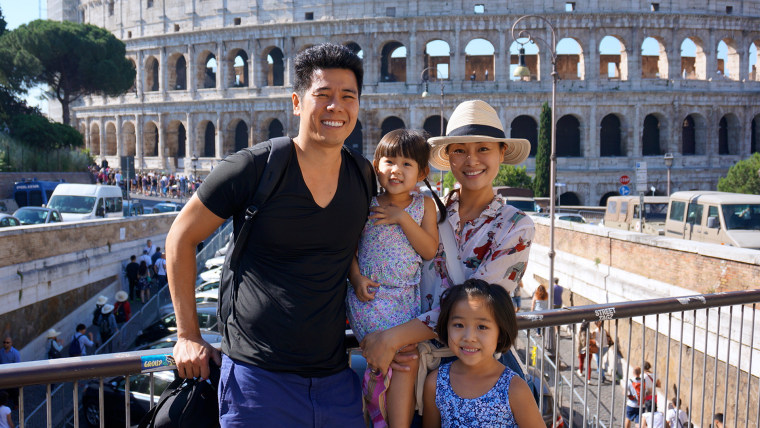 His family's grand total came to $16,000, averaging out to $213 per day, or $53 per person, per day. And this isn't the first trip he's taken. As a family of four, they've traveled to 18 countries for approximately 20 months total since June 2012. His daughters, ages 6 and 4, have even gone to local schools in five foreign countries (Guatemala, Taiwan, China, Thailand and Spain) for one month to three months at a time.
RELATED: Budget travel: 5 ways to save money on your next family vacation
While Hsia broke down his exact budget for his recent trip, his many miles logged have given him a unique perspective on how to travel with a family on a budget. Here are his top five tips:
1. Do your research on airfares.
Airfare can be one of the biggest costs associated with travel, especially when it comes to trips abroad, but there's some tricks to avoid paying top dollar. "You can use mileage points, flying off-peak times and monitoring flash deals," said Hsia.
RELATED: Kids too sick to travel see the world through virtual reality program
TripAdvisor travel advocate Wendy Perrin agreed, sharing her tips on getting lower airfares with TODAY. "Got a family of four? Search for two seats, then another two seats," she advised. "That's because airfares are priced differently, depending on how many seats are left on the plane. So, in addition to searching for four seats at once, search for two seats plus two seats, in case there are only three seats available at the lowest fare."
2. Book an apartment instead of a hotel.
Trying to find cheap accommodations in Europe during the summer can be a hassle, but Hsia managed to keep costs down to an average of $71 a night for his recent trip — even during peak season. "We booked in advance on places like Airbnb and kept in contact with the host," said Hsia. "Because we did an extended stay, we were able to negotiate a lower price. Also, since we had a kitchen, we could cook there instead of eating out, which also helped our budget."
To makes things even more helpful, TripAdvisor recently announced its "Best Time to Book" report, revealing the least expensive times to book hotels for summer travel in popular destinations around the globe, based on TripAdvisor hotel booking and meta click data. Travelers looking to visit Europe during the summer months should plan to book their hotel rooms between 3-5 months out to save 23 percent versus the peak booking period for the region.
3. Be flexible.
If you have some padding around travel dates and times, then you can often find lower fares and accommodation prices. "You've got to be a little flexible to keep costs down," said Hsia. "It's up to your tolerance level and budget. We've booked tight connections with a 35-minute layover and I would never do it again, but it allowed us to get a cheap flight. You have to figure out what works best for you."
RELATED: The top family hotel in the world is...
4. Look for free activities.
Hsia believes there's a misconception about having to spend money when you're traveling to experience new places. "When you get to a city, you don't actually have to spend a lot of money on activities," he said. "We didn't spend that much money on sightseeing. There's a lot of free things to do, like outdoor museums and festivals."
"Most London museums are free for everyone, and many Paris museums are free for kids (some even have free audio guides and activities for kids)," said Perrin. "In cities where entry to museums and iconic monuments is pricey, or where children's admission fees vary greatly among sites, look into buying a city pass or museum pass that gets you into a number of sites at a reduced rate — say, the Amsterdam Card, which also gives you free public transportation and a free canal cruise, or the Prague Card, which gives you free public transport and airport bus."
RELATED: What's it like being a 'fat person' on a plane? Moving essay reveals mental anguish
5. Live like a local.
Millions of people have to live life on a budget in cities all over the world. Hsia said following in their footsteps has helped keep their costs down. "We go to the local markets, shops, beaches and just follow what the locals do because it's usually the most cost effective," he explained. "It might not be the most traditional way of doing things, but you actually get a more culturally immersive experience."
Perrin suggests enjoying picnics in the park. "Buy provisions cheaply at the many colorful outdoor food markets or in grocery stores," she said. "Picnics in parks allow your kids to run around, work off energy and befriend local kids, while you get to slow down and feel at home amid a foreign scene."