As airlines have struggled over the years, many of them have turned to charging fees for "extras" like snacks, in-flight entertainment and checked baggage. Passengers who are unable to limit their belongings to carry-on luggage have to dole out extra cash — sometimes amounting to hundreds of dollars.
But one company has figured out a way to help you avoid those pesky fees — but you'll have to do something in return.
Orion Travel Tech, founded by a former Continental Airlines flight attendant, offers passengers the opportunity to turn their luggage into mobile billboards in exchange for covering checked-bag fees.
"A family wants to travel to Disney World and it will cost them $250 in baggage fees, and that makes a dent in their budget," creator Gary German told TODAY.com. "I want to alleviate that. Most people have corporate logos on their luggage now and they're not getting paid for it."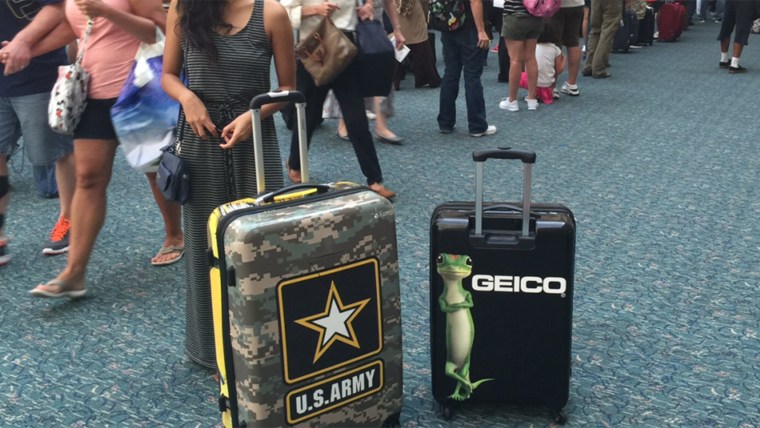 German said his background in both the airline and marketing worlds sparked his idea for the company. "I knew that advertisers spend $500 to capture one person," he said. "We thought we could do that for $35 to $45 dollars."
RELATED: Want to visit Rio for the 2016 Olympics? Start booking now
On his first test run to see if his idea could be put into action, 30 people approached him about his bag before he even got to the gate. "I tried it on seven different trips all over the world and the same thing kept happening," German said. "We ended up becoming the sales person for that advertisement and thought this would be great advertising for companies."
So how does it all work? Participants get two hard cases, one carry-on and the other for checked baggage, which come wrapped in a company's branding — which you select. Think Colonel Sanders from KFC, the gecko from Geico and even a camouflage style for the U.S. military.
"We already have a number of campaigns ready to go like the Rio Olympics and the Breast Cancer Society," said German. "You'll get to choose between 12 different graphics." And with 10 big advertisers already in place, German said he needs 5 million members to sign up to handle the influx of interest.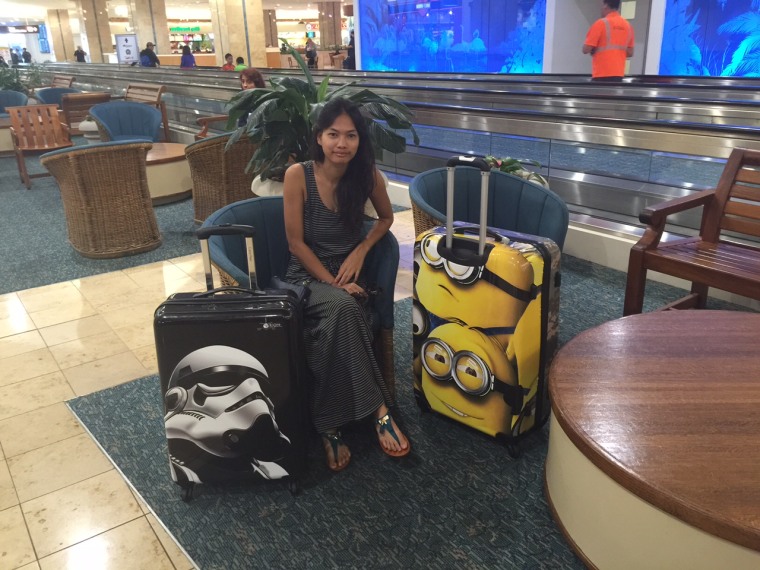 In return for you toting these advertisements, Orion will cover all round-trip baggage fees by providing you with a $50 gift card that can be recharged. In addition, the program gives you access to airport lounges and an on-site tour guide, and it also equips your bag with a GPS and luggage-tampering alert system so you'll know if someone has broken into your bag. The company will even stock your new $300 suitcases with free goodies like bath oils and car wax.
So what's the catch? German said there are no hidden fees. In fact, in order to make sure travelers were getting the best experience possible, he removed the initial $19.99 annual membership fee that was going to be implemented when the program launches at the end of November.
RELATED: Are you an annoying traveler? Study reveals the worst hotel guests
"I'm not making much money off this," said German. "We're just trying to look at it from all aspects: consumer, traveler, advertiser and travel industry, and create something that's in a win-win situation for everyone involved."
Experts believe this could even become a trend. "With so many people blocking ads online and fast forwarding through commercials, advertisers must explore new ways of getting their message across, and where better than an airport where people stand in line, wait and often have nothing to occupy them while doing so?" George Hobica, Airfarewatchdog.com founder and president, told TODAY.
"And if the ads are targeted to travelers from travel providers, even better," he said. "Whether paying for baggage fees are enough incentive to become a rolling billboard remains to be seen."