After trying his hand at acting in one school play, Jelani Alladin was ready to, ahem, let it go. The dancing didn't come naturally and there were a lot of lines to memorize. Then, one day, a friend's mom told him that if he quit, he'd be "walking away from the rest of his life."
And boy, was she right!
Now, more than 10 years later, the 26-year-old actor performs eight times a week as Kristoff Bjorgman in Disney's "Frozen" musical, a take on the hit movie that had kids everywhere in 2013 begging older siblings to build a snowman.
Alladin began acting in high school and later pursued the art at NYU. From there, he landed an agent and was cast in several shows around the country before deciding to give New York a chance.
While acting wasn't initially in the plans for Alladin (he thought he'd end up a doctor!), he's happy it has become part of who he is. And he's especially grateful for how the craft helped him find himself, too.
"For a long time, I would look in the mirror and not be happy with what I was seeing ... This industry is a lot about how you look, how you sound. And so a lot of that I had to struggle through being like, 'Okay, this is my look. I have to learn how to celebrate it. I have to celebrate all that is me.'"
That has especially helped others, too. Playing the traditionally white role has given many young kids of different ethnic backgrounds the encouragement to follow their own dreams, he says.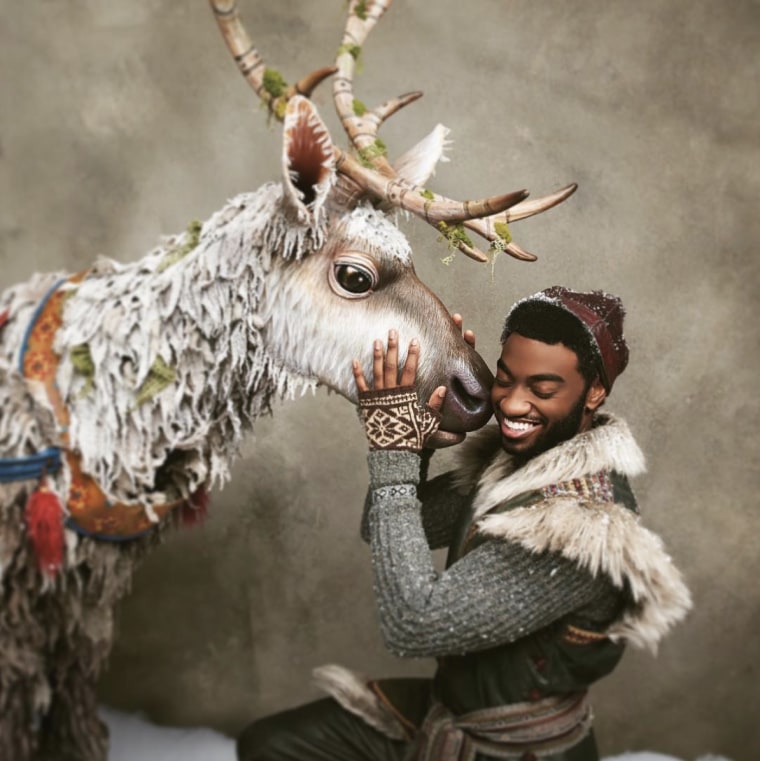 "I've had some very special moments where students and people of color have come up to me and been like, 'We're so thankful that you're in this.' Or young boys who are like, 'My dream role is now Kristoff because of you.'"
A dream, his family too, has been ecstatic to see him achieve.
"I just want to make them proud. I just want them to say, 'That's my son.' I just am so thankful that, like, here I am, achieving one of the lifetime goals that I had. You know, I never thought that it would happen this young, this fast, this epic. And I'm just extremely grateful."