It's the National Parks Service's centennial anniversary, and to mark the big event TODAY's own Natalie Morale and Jenna Bush Hager have set out on an amazing outdoor adventure.
They kicked things off in Florida, visiting three treasures: Biscayne National Park, Dry Tortugas and the Everglades.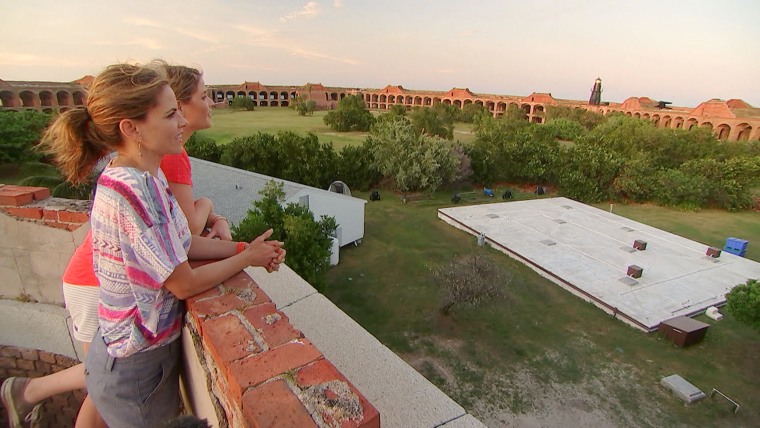 But Natalie and Jenna weren't alone at the first stop. Park Ranger Gary Bremen joined them at Biscayne — as did several dolphins.
"Oh my gosh! Is that a dolphin?" Natalie asked.
"Two dolphins," the ranger told her, quickly adding, "Four! .. Extraordinary stuff all the time. It's a place of mangroves and bay and islands and reefs and human history, and it's just good for the soul."
While at the Dry Tortugas National Park, Jenna asked another ranger just how important it is that we protect these beautiful locales.
"I can't think of anything that's more important here in the United States," Michael Wydish told her.
Finally they made their way to the massive Everglades National Park, which spans 1.5 million acres.
There ranger Allison Gant shared with them the most exciting part of the park.
"What I love most are the interactions that are happening," she said. "The big obvious level, where the alligators are going after fish and birds and turtles, but also with the very small level — snails are eating this tiny algae."
Watch the clips to get a glimpse of it all.
From Yellowstone to Yosemite, from Grand Canyon to Glacier National, there are 411 national parks in the United States waiting to be explored. To help you find the perfect destination, the National Park Service has launched Find Your Park, a site dedicated to matching travelers with the ideal park.
Follow along with our 100 Years of National Parks series join in on the conversation using #NationalParksToday.