Consumers are expected to spend $3.12 billion on candy, costumes and other Halloween goodies this year, according to a survey conducted by BIGresearch for the National Retail Federation. That's a big pile of candy corn. It's also a lot of crumpled candy wrappers, paper party props and plastic political masks in the trash the very next day. So this Halloween, why not think green?
Putting together a green Halloween is as easy as an orange and black one. Here are a few tips to get you started:
1. E-mail party invites rather than snail-mail them. Free e-mail greetings abound online. "Talking" and/or "dancing" ghosts, ghouls, mummies and more are there for the taking at cyber card shops postcards.org/postcards, greetingsdepot.com and e-cards.com. The best pumpkin card patch this year has to be castlemountains.com, which features 96 animated cards, some with short plots or story lines. Witches on brooms warn revelers not to drink and drive. Party invites come with electronic pumpkin piñata games.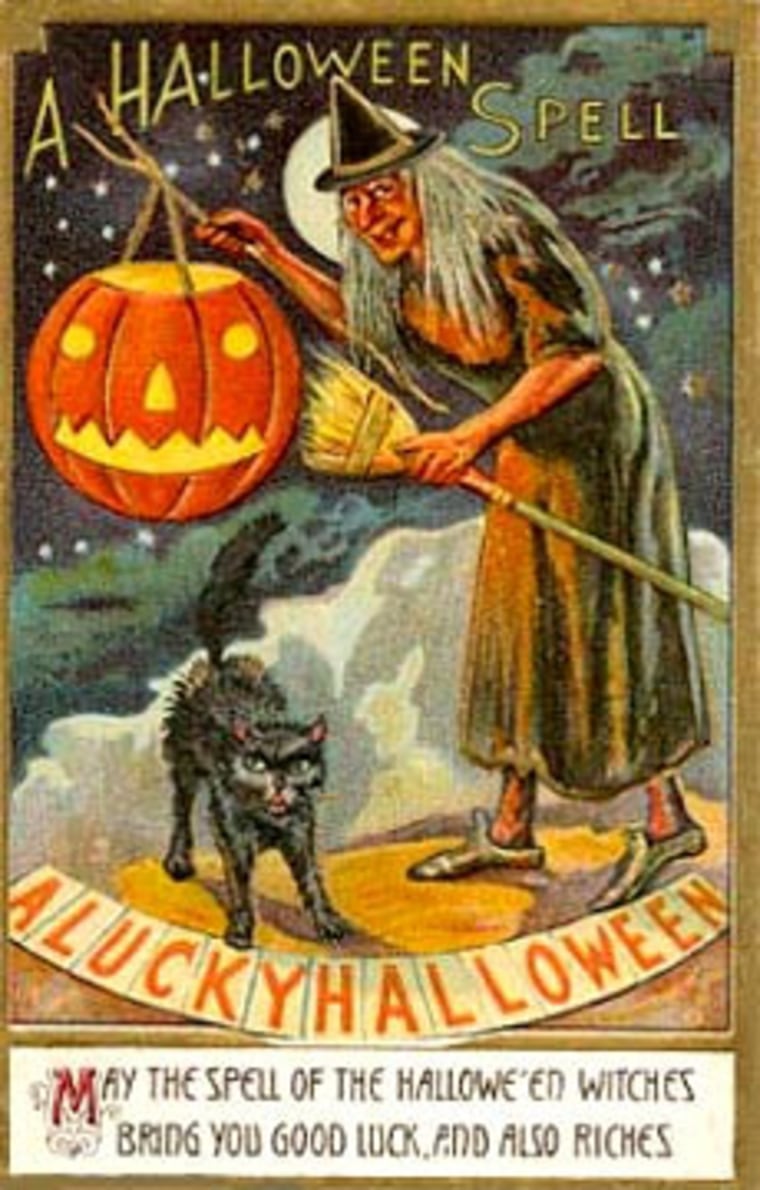 Kids also can carve out their own party invites at BillyBear4Kids.com.
2. Serve healthy and seasonal foods. The options are endless. Remember pumpkins are not just decorative items. The tender meat of the seasonal gourd can be pureed for soups, mashed for pies or spiced up for a main entrée, such as an Indian curry. Healthy recipes for all things pumpkin are posted at Vegweb, from vegetarian pumpkin chili to "Stroke of Midnight" pumpkin bread. Recipes for the sweet squash are also plentiful at epicurious.com/recipes. Serious home chefs might consider whipping up some pumpkin pesto or pumpkin flan with pumpkin seed praline.
Apples also are at their best this time of year. So make use of the crunchy fruit. Fill party bowls with several varieties of fresh apples, from tart Pippins to sweet Spartans. Serve cider hot or cold. Bake a few apples for healthy, tasty dessert.
3. Buy pumpkins, apples and other seasonal items from a farmer's market. Produce bought at farmers' market will not only taste better but saves energy. "Most foods in the United States travel an average of 1,300 miles before reaching us, burning large amounts of fossil fuels," according to the Web site for the National Town Meeting for a Sustainable America held in Detroit in 1999. Buying produce directly from the farmer also cuts out the "middleman" and increases the farmers cut or share of the profits. (To learn more, see "Ten things you can do to support a sustainable food system")
Consumers in the Northeast can seek out apples with the seal of approval from Core Values Northeast (CVN), a partnership between apple farmers in the Northeast and Mothers & Others for a Livable Planet, a non-profit consumer advocacy group, which promotes "apples of superior taste and quality while maintaining healthy, ecologically balanced growing environments." The Web site lists stores in New York, Connecticut, Massachusetts, New Hampshire, Vermont, Maine, Rhode Island, Pennsylvania and New Jersey, which carry apples with the CVN eco-label.
4. Make use of all pumpkin parts. After carving a pumpkin, make sure to save the seeds. Bake them and serve them to party guests or feed them to our fine feathered friends, the birds. There's no problem putting pumpkin seeds out for birds, wet or dry, confirms Dr. Ellen Dierenfeld, a nutritionist at the Saint Louis Zoo, which accepts pumpkin donations after Halloween to feed to the animals as a seasonal treat.
If possible, bury or compost the carcass. Check out pumpkin the burial rituals at pumpkin craving 101, to "lay your pumpkin to rest with love and dignity."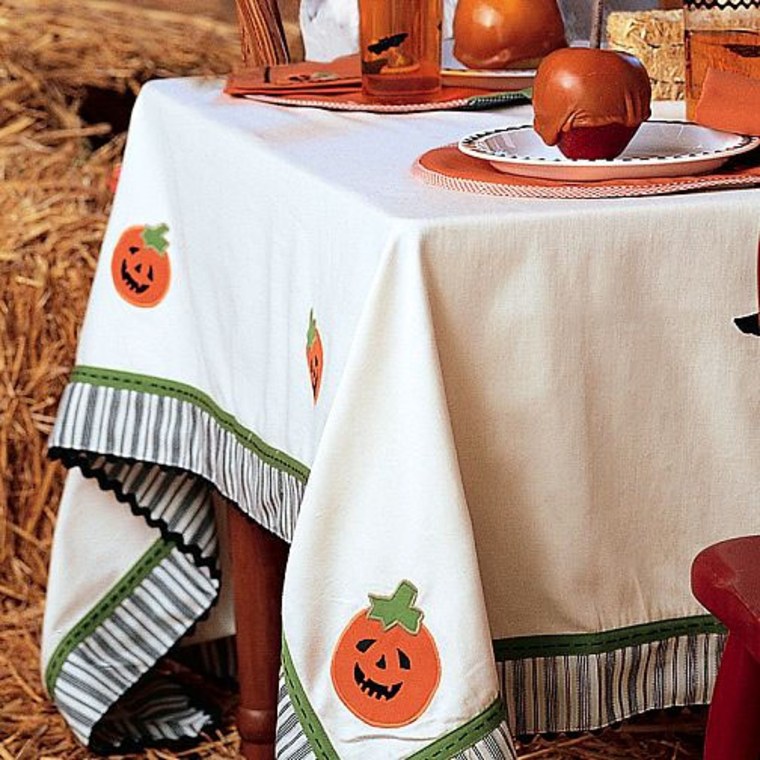 Pottery Barn Kids also has a delightful collection of Halloween-themed dinnerware and linens, now on sale. The festive tablecloths, which feature smiling pumpkins along its edge, come in two sizes. The small tablecloth sells for $23.99, reduced from $35. The large cloth costs $30.99, marked down $45. A set of four matching napkins and placemats are available for $9.99 and $19.99 respectively. The dinnerware set — now $26.99, reduced from $39 — contains four melamine plates, four bowls and four acrylic tumblers.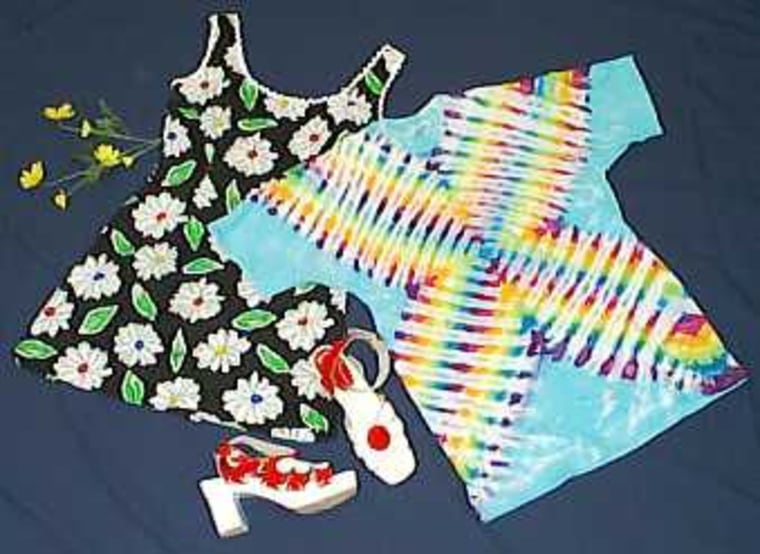 Can't find anything suitable in the house? Use Goodwill's online store locator to find a thrift store near you or shop at the online auction. This year, Goodwill not only organized merchandise into a special Halloween section but also offers up some creative costumes ideas made from second-hand garb.
7. Give out healthy treats. Finding nutritional treats has to be one of Halloween's challenges. But with some serious thought, it can be done. Some ideas that come to mind include:
Hand out individual microwave popcorn packs. Newman's Own Organic has three varieties of organic popcorn — butter, light butter and no butter/no salt.
Pick up some honey sticks or fruit leather at health food stores or tea shops. Stash tea sells honey sticks in bulk at its Web site. Each $7 pack contains 35 sticks. Fruit leather is available in bulk at Stretch Island Fruit Leather.
There's also plenty of healthy candy bars on the market these days. Sundrops, a fun treat made by nspiredfoods.com/sunspire.html, is billed as "a natural alternative to M&Ms." The candy-coated chocolate drops are pricey at about 89 cents a bag but they look like and almost taste like the real thing without having the artificial colors, flavors or preservatives.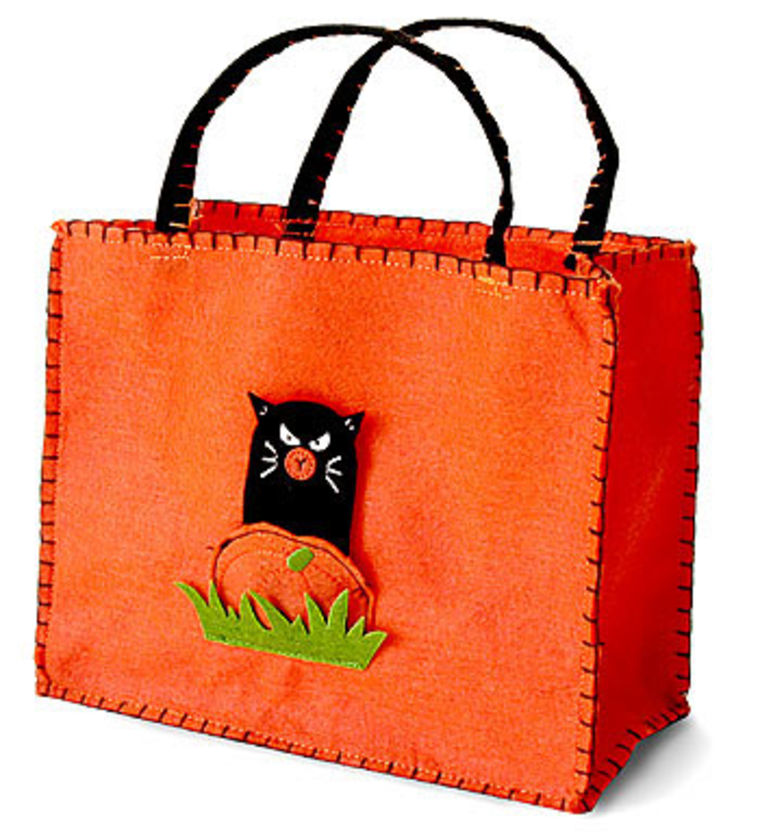 9. Teach your children well. Teach them not to litter. Tell them pumpkin jokes. My favorites culled from the Web include: What's the ratio of a pumpkin's circumference to its diameter?  Pumpkin Pi How do you mend a broken Jack-O-Lantern? With a pumpkin patch What is a pumpkin's favorite sport? Squash.
10. Experience nature. Visit a pumpkin farm. Pick fresh apples. Talk a long walk outside. Look up at the sky. Notice the moon. Remember, it's Halloween.