We know it's a big bad world out there when it comes to online courtship, so it's no wonder there's now something like Dating Site Dominator.
Let's just get this out of the way: it's not an S&M site, despite the name. 
What it is, however, is a handy app that allows men (why no women?) to power search for hotties on Match.com, Plentyoffish and OKCupid, and filter results to one place, send messages using pre-loaded templates and wait for the lovelies to holla back  (through email, so they don't even have to log into a dating site).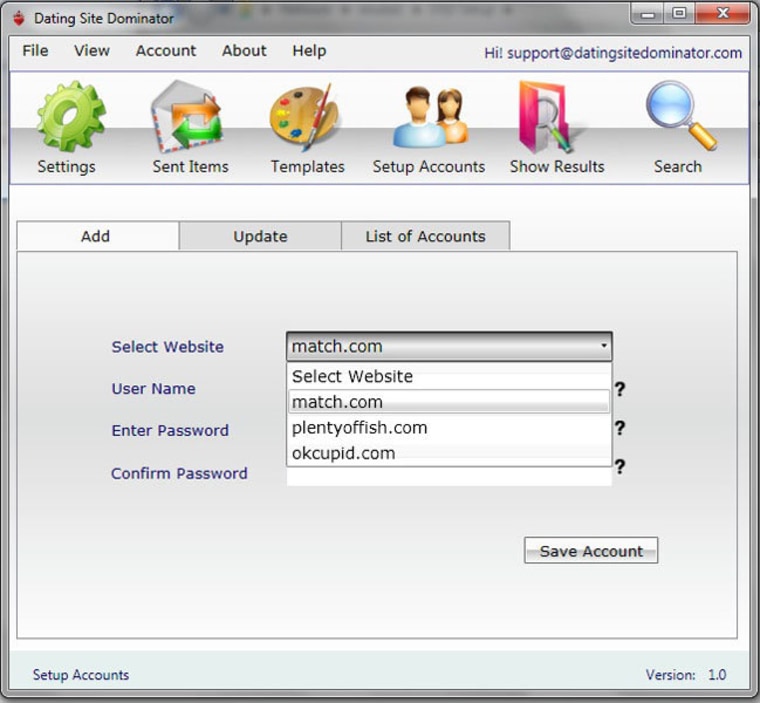 As Dating Site Dominator pontificates in its blog:
Finding "the one" is a quest that humanity has been embarking on for generations, going back in time all the way to our very primordial ooze. Ever since, the dating world has been complex and full of intimidating subtleties, and the advent of the World Wide Web has only made it even more daunting.
Our "very primordial ooze"?! We don't think our ancestors were that worried about their dating profiles, but in the present, there does seem to be a whole lot more than the average guy can deal with, unless he wants to spend his whole day in front of the computer. (Or maybe that's exactly who needs a life with "The One"?)
Here's one of many testimonials from one of the app's users, "Russel from California," a very busy professional who doesn't have time to wade through all the girls clogging up his email and who wants to "cut to the chase":
Another extols the advantages of this kind of app, which will surely give fellas more time for video games, or whatever else can take the place of all that online soulmate searching: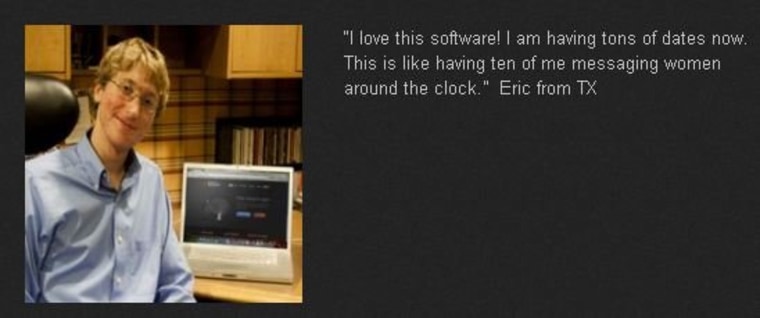 The templates — which are basically field generators — is where the men will break away from the boys, if they're creative enough.
At the click of a button, you can quickly send a message to your chosen profile. But not just any message, the perfect message every time and within minutes, custom-tailored to attract that very special lady or gent.
All you need to do is go to the template tab and create a personal message that will get you noticed, but with one interesting and handy twist: you can leave as many blanks as you want. Some examples of these blanks – also called tokens – could be #$#Name#$#, #$#Interest1#$# or #$#Body Type#$#; and a short message made with those blanks could look like so:
"Hello, #$#Name#$#.
I love #$#Body Type#$# women and I am also into #$#Interest1#$#."
How do you fill in the blanks? That's the coolest part. You don't have to. After creating the perfect template, Dating Site Dominator automatically takes care of filling in those blanks using the information from your chosen profile. So if you are looking at the page for a girl called Amanda, who is athletic and her first interest is listed as biking, the message turns into:
"Hello, Amanda.
I love athletic women and I am also into biking."
Don't know if such suave talk will get Amanda or those like her to reply, but the app allows users to fire off hundreds of messages using such tools, which kind of takes away that personal touch, but hey, this is a numbers game, right? 
Right now, the app only works with Match, OkCupid, and Plentyoffish, but it promises many more are on the way. After trying it for free, you can purchase the app $19.95 per month (or $7.99/month for six months). You can only send 50 messages on the free trial. And also, it's only for guys with PCs, so all you Mac guys: Sorry.  
Now our question is, are guys going to pony up for this? Would you?
More stories:
Check out Technolog on Facebook, and on Twitter, follow Athima Chansanchai, who is also trying to keep her head above water in the Google+ stream.