It's been nearly a year and a half since CEO Dan Price announced plans to slash his roughly $1 million salary to $70,000, also making that the minimum salary for all the employees at his credit card processing company, Gravity Payments. The move shocked the business world and thrust the 32-year-old into the spotlight.
Since then, a lot has changed. After the initial flurry of praise — and then resumes, of course — there was the inevitable criticism: Was this all really a clever publicity stunt?
Looking back, Price insists it wasn't. But he also knows the experiment was, at least in part, a deliberate business move.
RELATED: Dan Price reflects on $70K minimum salary experiment for TODAY
"It's not like I'm throwing money into a charity and having no hope of return," he told TODAY recently by phone. "I view this as a long-term investment."
A 'Happier' Workplace
Since the initial pay hike, there's been a baby boom at the office, and Gravity Payments, based in Seattle, has seen increased retention and happiness rates (the latter is measured by an online-survey service employees use) among workers. Their overall commute time is shorter, since some employees used the additional money to move closer to work.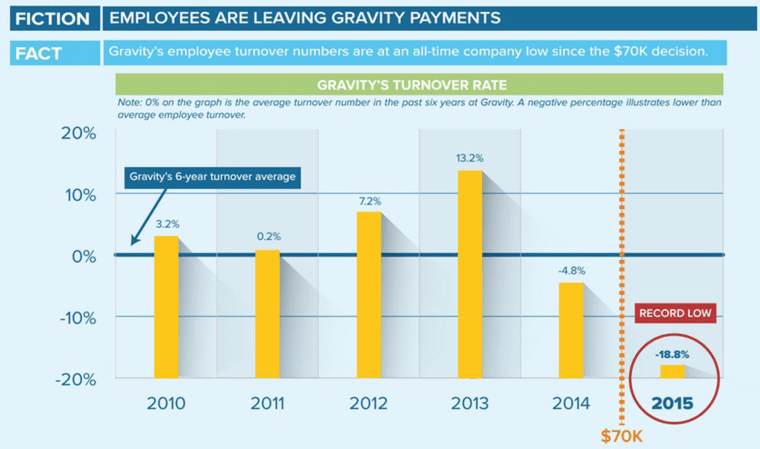 Price himself made some cutbacks to adjust to the lower salary, although more out of sensibility than necessity. He now rents his house on Airbnb during the summer to make extra cash, and sleeps in the guest room at a friend's house.
RELATED: Car colors with the best resale value? It's not black or white
"You might call it a sacrifice," he said, speaking from the borrowed room. "But to me, it's fun. It feels good."
A Temporary Pay Cut
Price is quick to state the obvious: that any life adjustments he's made as a result of earning less after earning so much more are hardly "putting me in some horrible, awful position."
Of course, even as he's emerged as a champion for income equality, he won't be making $70,000 forever, and that was never the plan.
"When I made the announcement, I said I would just put my salary back where it was once the company's profits had gone back to where they were," Price said. "I expected us to take a big step backwards."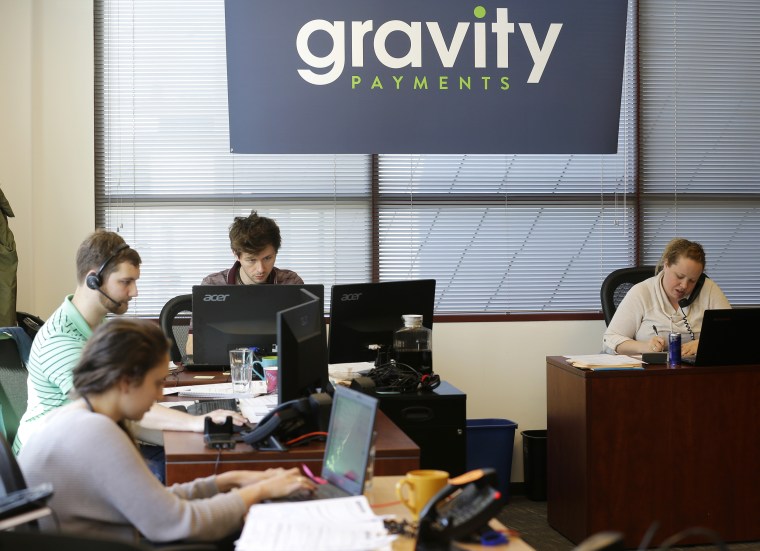 But that's not what happened. Instead, sales skyrocketed after the announcement, and Gravity Payments continues to take on new clients at a rate it never had before. It reports nearly doubling profits in a year, from $3.5 million in 2014 to $6.5 million in 2015. So Price is re-evaluating the metrics, and still trying to decide what his income should look like.
RELATED: Broke Olympian moonlights at sporting goods store to afford Rio
Brotherly Divide: 'I love him and I believe he loves me'
The million-dollar-plus salary Price once earned, and presumably will again, has often been scrutinized, even amid praise for his wage hike, which he refers to as "the program." It was also at least partly to blame for his legal troubles with his brother, Lucas Price, with whom he co-founded Gravity Payments in 2004. Price recently won a court battle against Lucas, who'd claimed in a lawsuit that Price overpaid himself and abused a corporate spending account, according to reports.
Despite his victory, Price appears genuinely hurt by the rift with his brother.
RELATED: Want to ask for a raise? Think about these easy tips first
"I feel bad that we have a hard time coexisting and maybe being good brothers to each other," he said. "It's something we need to improve on… but I love him and I believe he loves me."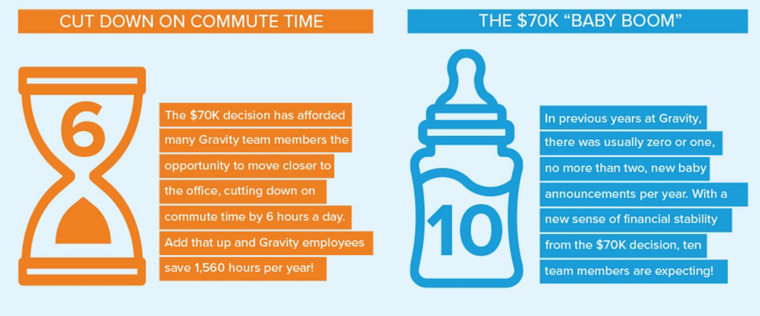 In a Facebook post after the ruling, Price said that he's grateful to have the lawsuit behind him and "excited to once again get back to investing all of my time and energy into supporting our clients, communities and our team's mission to change the way we think about the purpose of business."
As for what impact his salary program, which is still being rolled out, has had on employees, Price repeatedly stresses that it's not only about the money.
RELATED: Here are the biggest mistakes women make with money
"I think it's easy to focus on the money because it's easy to understand and to write about, but what we really have is a sense of autonomy and freedom, and the increase in money provides that," he said.
'I don't have any daily worries about money anymore'
Of course, for some employees, it is exactly about the money.
Take Alyssa O'Neal, perhaps one of Gravity's best-known success stories. Before the salary increase, the 22-year-old single mom, a support representative, was making $35,000 a year. O'Neal told TODAY she's now earning about $60,000, but her salary will increase to at least $70,000 once the program takes full effect at the end of 2017.
With the additional income, O'Neal was able to move closer to work, into a better neighborhood, and recently took her son to Disneyland for his fifth birthday, she said.
RELATED: The 'Yelp of maternity leave' policies reveals top companies for women
"I don't have any daily worries about money anymore — checking the savings account, seeing where I can penny-pinch," she said. "I'm able to live a bit more freely now. Not necessarily spending money left and right, but just doing a little bit more for myself."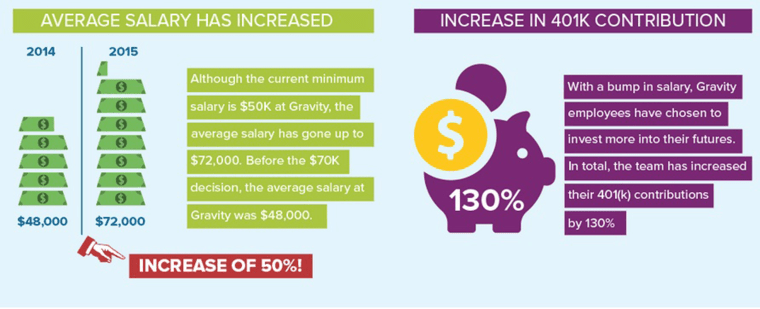 On Self-Criticism, and His Ex-Wife's Allegations of Physical Abuse
Stories like O'Neal's highlight the positive effect of Price's program — as do the TV show offers and his upcoming book — but the CEO's time in the limelight hasn't all been smooth sailing. Aside from Prices legal battle with his brother, there were his ex-wife's rumored allegations of physical abuse. "There's no truth to it," he said. And he's also copped to encouraging some of the "hero" story lines in the media, at times even exaggerating to the point of untruthfulness in interviews.
RELATED: GoPro CEO talks early designs, competitors and what's next
"When you have someone like me who's young and somewhat inexperienced with media and on the optimistic side… it's easy for me to get into a conversation and just get lost," Price said.
He chalks it up to a learning experience.
"I think that almost all the criticism I've received is true," Price said. "That doesn't mean it's all 100 percent true, but it all has truth in it, and valuable lessons for me to learn."
And while he does still believe in the program, he knows there's more work to do.
"I'm getting better as a leader and getting better as a businessperson," Price said. "I always try to improve as a man, and as a human being."