/ Source: TODAY contributor
Everybody knows it's lonely at the top. But now it's getting dangerous. Want proof? Consider the iPhone. Widely considered the most user-friendly "smartphone" in the world, the iPhone has won just about every kind of accolade, award and title an electronic device can earn, but it's about to get another name: Hunted prey.
In other words, major tech makers have declared open season on Apple's revolutionary touch-sensitive device; if you look inside the design studios and marketing headquarters of Apple's rivals as I have recently, you'll see a bull's-eye pasted on the iPhone's stainless-steel backside. This past week in Barcelona, Spain, nearly every phone maker — from LG to Nokia to Motorola to Sony Ericsson — introduced a touch-screen challenger to the iPhone at the huge 3GSM World Congress wireless mobile convention.
If early pictures and tests of these devices are any indication, and if even half of the promises they make come true, Apple will not be lonely at the top for long. And in the face of this competitive onslaught, there might be another benefit to you: Those sky-high iPhone prices may come down.
Nokia N96
Finnish company Nokia — the biggest cell-phone maker in the world — requires that you move to Europe this year to get your hands on the N96 (pictured above). I'm actually considering buying a ticket. The beautiful little N96 has a TV tuner in it that allows out-of-doors digital TV viewing and includes a kickstand that lets you set it up on a park bench or any flat surface for mobile viewing. Oh, and by the way: It's also a cell phone, a GPS device, a Wi-Fi-enabled Web surfer and an MP3 player with built-in speakers. No word yet on when it will get to the U.S., but it will sell for about $800 in Asia and Europe. More at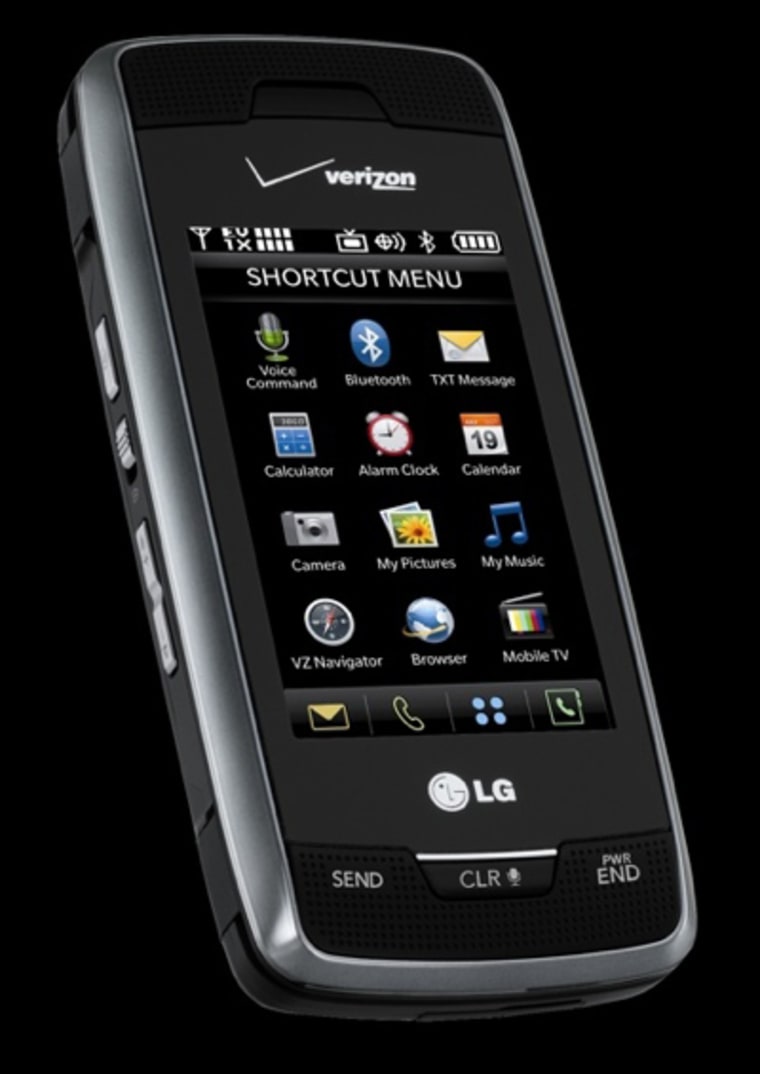 LG VoyagerWe've recently talked about LG's popular new Voyager cell phone (Reach out and touch this technology), which is available only on the Verizon network. It not only has a big touch-screen interface on the outside that gives you fingertip access to all of Verizon's software, games and wireless Web surfing, it also has a fold-out QWERTY keyboard. The result: Typing text messages and e-mail addresses is far easier than on the iPhone's touch screen. Far easier. Anybody who has tried to type on the iPhone's flat glass display has wondered when they suddenly lost the ability to spell properly. More at
Sony Ericsson XPERIA X1 But the Voyager pales by comparison with an amazing new smartphone from Sony Ericsson, called the XPERIA X1. Unlike any Sony Ericsson before it, the X1 has a 3-inch touch screen on the outside skin (like the Voyager and the iPhone) but an elegant slide-out keyboard underneath. The keyboard is what some call an "arc slider," meaning it curves up to meet your fingers, instead of lying flat, making typing miraculously simple to do, especially with your thumbs. Add a powerful (and widely familiar) Windows Mobile operating system, and you have a truly worthy competitor to the iPhone. Sony Ericsson says it will be available in the U.S. late this year. More at
Garmin Nuvifone  And finally, one of the most eye-opening news bites this January was an announcement by GPS giant Garmin about its upcoming Nuvifone. That's right, the company famous for letting you stick a touch-screen, voice-activated GPS device on your windshield is getting into the phone business, but with an alternative (and not entirely surprising) take on the cell phone: navigation. If you'd been guessing Garmin would come out with a phone (and I certainly had not), you'd probably have imagined that navigation and location features would be heavily emphasized (Google software figures heavily). But they've also added a 3.5-inch touch screen, a Web browser and a built-in video camera. No word yet on pricing, but Garmin says the Nuvifone will hit American store shelves in the third quarter of this year. More at
Of course, Apple's rivals have a good reason to aim high: They're low. As in, most smartphones on the market today, from the annoyingly complicated Motorola Q to Samsung's so-so BlackBerry copy, the BlackJack (BlackBerry — BlackJack — get it?), have unremarkable looks and, worse, lumpy operating systems.
Paul Hochman is the gear and technology editor for the TODAY Show and a "Fast Company" magazine contributor. He covered the Olympic Games in Salt Lake City, Athens and Torino, Italy, for TODAY. He was also a three-year letter winner on the Dartmouth ski team and has a black belt in karate. Paul's blog can be found at: