Google repeatedly tops lists of best places to work. Now a new survey suggests the search engine company's chief executive may have a lot to do with that designation.
Google's Larry Page grabbed the No. 1 spot on Glassdoor's annual report of the 50 most popular chief executives of large U.S. companies, released Tuesday.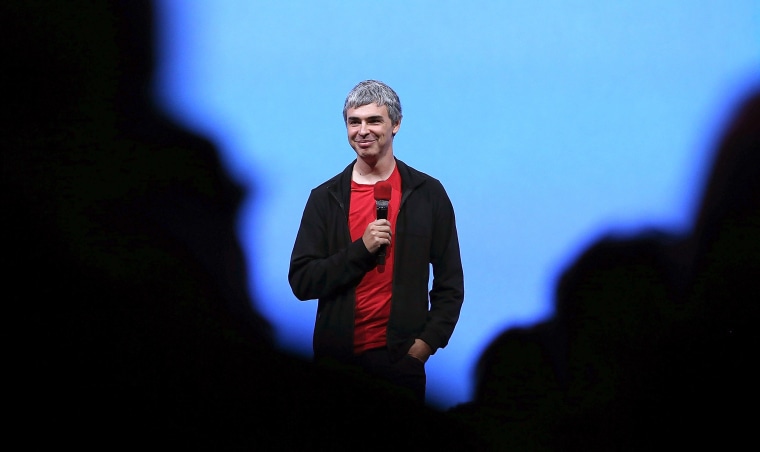 Page, who received a 97 percent approval rating, jumped to the top spot after being ranked No. 11 the previous year. Meanwhile, last year's top boss, LinkedIn's Jeff Weiner, who then scored a perfect 100 approval score, dropped to Nov. 12 this year with a 93 percent rating.
Glassdoor, a jobs and career website, based its rankings on a survey that collected data from employees who anonymously provided feedback about their CEO, their work environment is leading
The top five includes Nike's Mark G. Parker ranked No. 2 among CEOs. Charles C. Butt of HEB, Facebook's Mark Zuckerberg and Ultimate Software's Scott Scherr rounded out the top five.
Glassdoor received surveys from employees of companies representing a wide span of industries, from tech and finance to manufacturing, travel and tourism.
Newcomers on this year's top 50 rated CEOs include Chevron's John Watson (No. 16; 93 percent approval), Sephora's Calvin McDonald (No. 17; 93 percent approval) and Airbnb's Brian Chesky (No. 48; 89 percent approval). Of the 50 CEOs, 20 made last year's list.
Here is the full list of the top 50 rated CEOs, according to Glassdoor:
1. Google – Larry Page
2. Nike – Mark G. Parker
3. HEB – Charles C. Butt
4. Facebook – Mark Zuckerberg
5. Ultimate Software – Scott Scherr
6. Monsanto – Hugh Grant
7. Goldman Sachs – Lloyd C. Blankfein
8. Northwestern Mutual – John E. Schlifske
9. Insight Global – Glenn Johnson
10. Apple – Tim Cook
11. Expedia – Dara Khosrowshahi
12. Linkedin – Jeff Weiner
13. Costco – Craig Jelinek
14. T Mobile – John Legere
15. Edward Jones – Jim Weddle
16. Chevron – John S. Watson
17. Sephora – Calvin McDonald
18. EY – Mark Weinberger
19. P&G – A. G. Lafley
20. SolarCity – Lyndon Rive
21. Salesforce – Marc Benioff
22. Yelp – Jeremy Stoppelman
23. Paychex – Martin Mucci
24. Medtronic – Omar S. Ishrak
25. Power – Corey Schiller
26. J. Crew – Mickey Drexler
27. Johnson & Johnson – Alex Gorsky
28. Wegmans – Danny Wegman
29. Nordstrom – Blake W. Nordstrom
30. FedEx – Fred Smith
31. Starbucks – Howard D. Schultz
32. KPMG – John B. Veihmeyer
33. Cognizant – Frank D'souza
34. CDW – Thomas E. Richards
35. Infosys – Dr. Vishal Sikka
36. Intuit – Brad Smith
37. The Walt Disney Company – Bob Iger
38. Vanguard – William McNabb
39. Intel – Brian M. Krzanich
40. Protiviti – Joseph A. Tarantino
41. Cummins – Tom Linebarger
42. Total Quality Logistics – Kenneth Oaks
43. Stryker – Kevin A. Lobo
44. Quicken Loans – Bill Emerson
45. Slalom – Brad Jackson
46. Sherwin-Williams – Christopher M. Connor
47. Adobe – Shantanu Narayen
48. Airbnb – Brian Chesky
49. Delta – Richard H. Anderson
50. Marriot – Arne Sorenson and Nike – Mark G. Parker