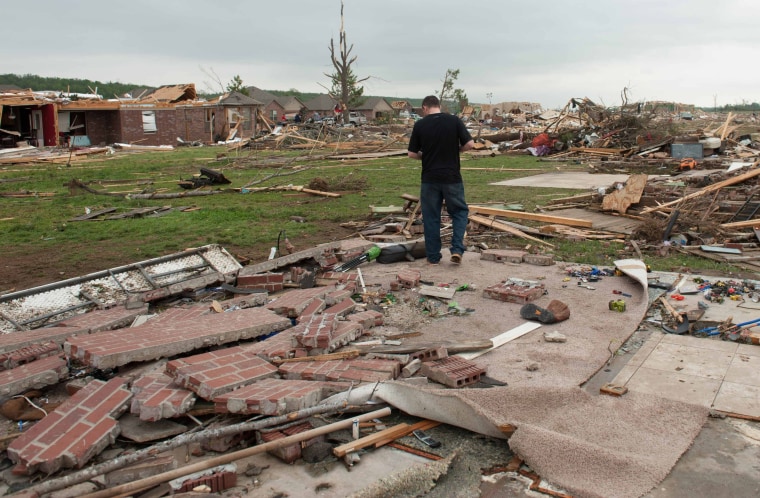 When a tornado hit the town of Vilonia, Arkansas, for the second time in three years, people on the Internet began to rally around the town's 4,100 or so residents. 

According to Reuters, at least nine fatalities have been counted in Vilonia, five more than final number in 2011. Overall, 16 people have died throughout Arkansas.
Residents of Vilonia and nearby Mayflower, as well as sympathetic outsiders, began expressing their support on Twitter with hashtags like #PrayForVilonia and #PrayForMayflower almost immediately after the tornado hit. 
On Instagram, people let good Samaritans know where they could donate supplies and volunteer. Residents also documented the destruction, and even posted photos of dogs who were separated from their owners. 

"We are getting a lot of supplies together all day for disaster relief in Maumelle, Vilonia, and the surrounding areas. Bring any donations to the Kappa Sig house @ 2329 College Ave, Conway AR 72034. Anything helps. #arwx #Vilonia #Maumelle #Arkansas"

"If you want to help in #Mayflower or #Vilonia just let me know! All you will have to do is show up and bring whatever you can for cleanup like chainsaws, rakes, shovels, wheel barrels etc."
"What is left of my brothers home. #vilonia #prayforarkansas #tornado"
"This sweet boy "Bobby" was reunited with one its owners right at the end of the night! Sadly the little boy who named and loved this sweet dog was one of the fatalities in the #vilonia #arkansas #tornado"
People also called for donations on Facebook. Sadly, this is not a new phenomenon, as the same thing happened in 2011 after the previous tornado hit the town.
On Monday, Vilonia police chief Brad McNew described the devastation to Savannah Guthrie on TODAY, saying that the damage was "a lot worse than it was three years ago."