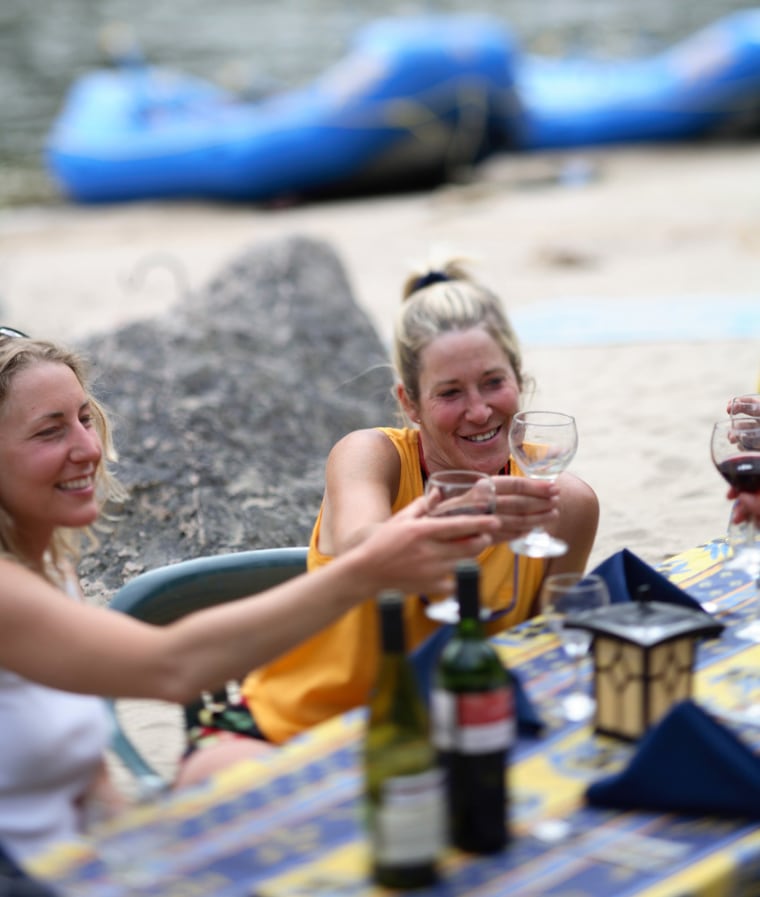 Hotels advertise "bleisure" packages. The Thai Tourism Authority is promoting "honeyteering." And a Mississippi TV anchor told advocates of gay equality to "go on gaycation."

Whatever you're doing on vacation, chances are there's a made-up word to describe it. Combine honeymoon and volunteering, you get honeyteering. Combine business and leisure, you get bleisure. Add glamour to a camping trip with wine, steak and scented candles, and you're glamping.
Lexicographers call these blended words portmanteaus. The travel industry doesn't have a monopoly on them — think "brunch."
But they do "come in handy in a business sector where there's often a need to come up with clever marketing spin," said Ben Zimmer, executive producer of Vocabulary.com and language columnist for The Wall Street Journal. "It's niche marketing. You're trying to appeal to different sectors of the public: 'Well, we have a special kind of tourism for you and it has a special name.'"
Other examples: voluntourism, ecotourism and mancations — the latter, describing a guys' getaway, popularized by Vince Vaughn in the 2006 movie "The Break-Up." And while the word honeymoon is centuries-old, one of the first cited references to babymoons — a couple's trip before the first baby — was in a 2004 promotion for luxury resorts.
Sometimes heavy marketing can make these blends seem like "stunt words," said Katherine Connor Martin, head of U.S. Dictionaries for Oxford University Press, which publishes the Oxford English Dictionary. "They're so cute and self-conscious."
Their overuse can even lead to a backlash, as with staycations, a term that often elicits an "UGH!" response — mainly because most of us would rather go away than stay home if we could afford it. The word staycations was used before the recession, but it was only when people cut back on vacations during the economic slowdown that destinations started using the term to market themselves to locals.
"It was trying to take a bleak economic picture and make it into something happy," Zimmer said. "It had a euphemistic sound."
The suffix "-cation" is also well-suited to blends, especially if you come up with a term that rhymes with vacations. And so, in addition to staycations and gaycations, there are nakations at nudist colonies, hurrications if you leave town ahead of a storm, and playcations, just for fun.
But how do portmanteaus go from being terms nobody can figure out at first glance — like honeyteering or bleisure — to words everybody loves to hate, like staycation?
"People coin many more words than we end up adopting," Martin said. "It's hard to predict which will catch on and which won't. It's about seeing people actually using the word in an un-self-conscious way, expecting people to know what they mean."
A made-up word crosses over into acceptability — and maybe consideration for a dictionary entry — "when it's used for a period of time and in a variety of contexts in independent use, and not just the same magazine trying to make it happen again and again," Martin said.
Kory Stamper, associate editor for the Merriam-Webster dictionary company, says lexicographers track words in various ways to look for first use, but it's often "really difficult to determine who, exactly, coined a word." She says Merriam-Webster traces staycation to a quote that appeared in an Alabama newspaper in 2005, while Zimmer traces it to an online review from 1999.

Bleisure first appeared in a Carlson Hotels press release in 2007, Stamper said, while ecotourism dates to 1982. Hurrication appeared in 2005 after Katrina, and glamping showed up in the United Kingdom in 2005. And while the Thai Tourism Authority issued the "honeyteering" promotion in March of this year, Stamper traces the word's first use to 2006.
As more proof that portmanteaus are often used in marketing beyond travel, Zimmer cites "framily" from quirky Sprint commercials offering discounts on calls to friends and family. The father in the ad even "says framily is not a word," Zimmer notes. "He says you can't just put two words together and make a new word. It's funny because it's very self-conscious."