Addison Witulski is only 9 years old, but it's already clear that she's a girl who puts family first.
Her 7-year-old brother, Kaden Witulski, has Wolff-Parkinson-White syndrome, a heart condition he was born with, and now he needs surgery.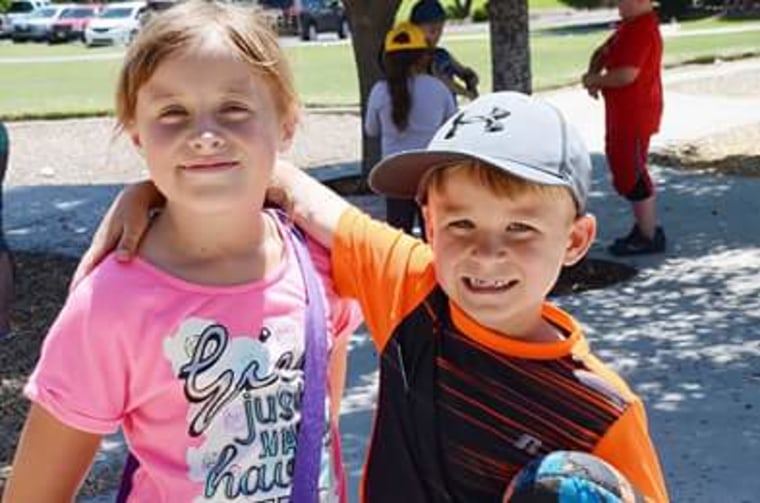 She overheard her grandma and guardian, Kim Allred, whom she calls "Nonny," discussing finances with her husband, JC Allred, who works in the oil industry. Allred appeared to be worried about being able to afford traveling to Houston, where Kaden's surgery is set to take place on July 19, on top of paying bills, so she suggested hosting a bake sale.
"We're a one-income family who lives paycheck to paycheck," Allred told TODAY. "The fact that she heard me say that and then went ahead and raised money made my heart melt."
RELATED: How one girl's lemonade stand has raised $80 million and changed lives
When Addison started setting up a lemonade stand on her driveway in Hobbs, New Mexico, last Saturday, Allred assumed she was just doing it for fun. But when the little girl handed over $54 at the end of the day, it made her Nonny "start bawling."
"I still cry every time I think about it," Allred said through her tears. "To see a 9-year-old want to help her brother like that is incredible."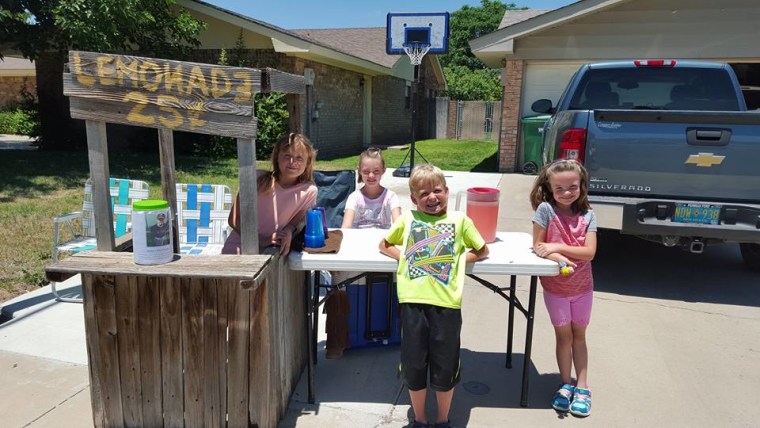 Addison's best friend, Erika Borden, wanted to help too, so they had another lemonade stand the next day. This time, it was at Erika's place a couple blocks away and Addison decided to sell her drawings of butterflies, trees and birds for $1, as well as a small cup of lemonade for 25 cents and a big cup for 50 cents.
"Halfway through the day, she came running into the house saying her butterfly pictures were selling like crazy and she has to make more," Allred said. "It was adorable how seriously she was taking it."
Erika's mom, Mace Petty, promoted the lemonade stand on Facebook and within minutes, cars were lining up to cash in on a refreshing drink — and possibly score some new art — all for a good cause.
"I wanted people to know this wasn't just your ordinary lemonade stand; these kids had a purpose," Petty told TODAY. "Seeing the kids take part in such a real-life situation can give the rest of the world such great hope for humanity."
They said they felt like everyone from the community showed up, even police officers, who presented Kaden with his very own badge and told him to "stay brave."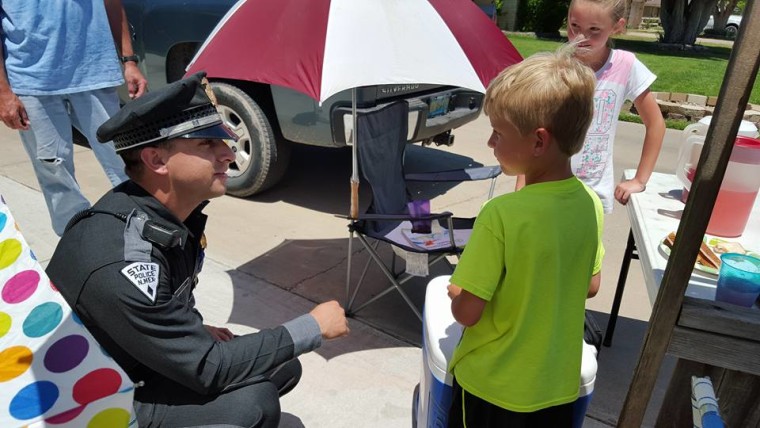 RELATED: Siblings give up birthday presents to make 900 sandwiches to feed the homeless
That day, they raised a total of $568, which all went toward Kaden's journey.
"I thought she'd want at least 20 or 30 bucks to go to Wal-Mart and pick something out, but she handed me every last penny," Allred said. "She's so mature and helps me just as much as I help her."
When Allred is exhausted, Addison will tell her to go lie down and rest while she finishes doing the dishes.
As for Kaden, he is overjoyed by all the support, and thought it was really sweet that his sister raised all that money from a small lemonade stand.
"I love my brother because he's nice and helps me with stuff, so I wanted to help him back," Addison told TODAY. "I also wanted to help my parents because they needed the money."