No, it's not a mirage. An impossibly huge and colorful garden is blooming in the desert climate of Dubai, aiming to set world records and lure visitors with sensory delights.
The region's newest tourist attraction – dubbed the Dubai Miracle Garden -- contains 45 million flowers arranged into mosaics, patterns and shapes. Organizers hope it will stand out in a metropolis that already dazzles travelers with its glitzy architecture, man-made islands and the world's tallest building.
After all, this is the place where you can frolic in the snow in the first indoor ski resort in the Middle East, but the garden's creator is betting that visitors are yearning to spend time outside.
"People get tired of malls, closed places," said Abdel Nasser Y. Rahhal, general manager of Akar Landscaping Services and Agriculture.
"I hope people will understand that this country is not only for extremes in concrete and steel. This country is given beautiful weather for seven months… with a little care, you can get a really beautiful production."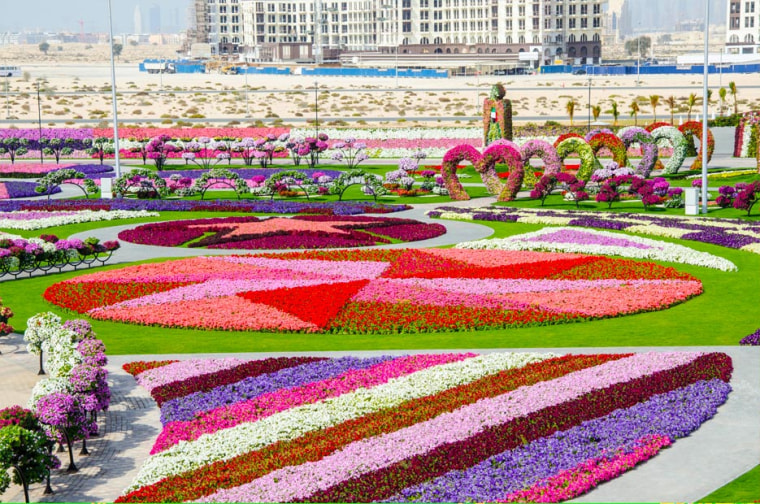 So how do you get flowers to thrive in a region known for its dry, hot weather?
The blooming season in Dubai lasts from mid-October to mid-May, Rahhal told NBC News. Right now, daytime temperatures reach 70-80 degrees Fahrenheit and dip to around 50 degrees at night, so flowers don't need much watering and the water that is provided doesn't evaporate, he added.
At the same time, the garden has installed what it calls an eco-friendly irrigation system and uses water retention materials, like capillary mats and polymers, to deliver moisture most efficiently.
It took 60 days and 400 people to create the 721,000 square foot garden, which opened on Valentine's Day. Rahhal estimated the cost of the project at around $11 million.
The park features about 30 different varieties of blooms, including petunias, geraniums and marigolds. Visitors strolling among the flower-covered arches, pyramids, and sculptures have been impressed.
"I was stunned," said Anne Abit, an expat from the Philippines who lives in Dubai and blogged about her visit to the garden. But she noted it wasn't as peaceful as she had hoped, with caretakers carefully watching visitors and blowing their whistles at anyone who was in danger of touching a petal. However, the garden is so breathtaking that "it's totally understandable why the guards are so protective with the flowers," she told NBC News.
Another drawback, said Abit, is the location's relative inacessability. There's no direct public transit and the Miracle Garden is so new that she said she had to show taxi drivers the spot on the map to get there.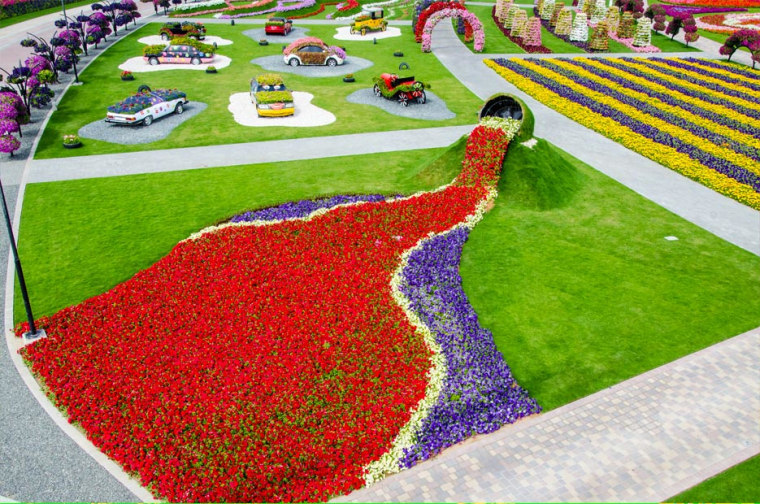 The park will close for four months out of the year during the hottest period -- a break that will give organizers the chance to redesign it for the next season, with different flowers and shapes, Rahhal said.
"If you come next year, you will never know you were in the same garden," he added.
The second phase of the project is set to begin this summer, with the addition of a butterfly garden, retail space and an "edible plants dome" that will allow people to pick their own fruit.
Dubai Miracle Garden also hopes to be recognized by Guiness World Records as having the world's biggest flower clock, the longest wall of flowers and the largest pyramid of flowers.
Admission to the park is about $5.50 for adults. Kids under 3 get in for free.
The Dubai Properties Group, a partner in the project, expects the park to draw more than one million visitors over the next year.