Though parents may still have had to scrounge for Elsa costumes this Halloween, the "Great Frozen Merchandise Shortage of 2014" is melting.
Suppliers say they've finally adjusted to an unexpected surge in demand for toys and accessories to the $1.3 billion blockbuster, the most successful animated film of all time. The unexpected success had hit retailers by surprise, leading to empty store shelves and "out of stock" notices at online retailers, frustrated parents, and skyrocketing prices on eBay for anything Frozen-related.
"Anyone who has a girl who likes Frozen is caught in this craziness because they're just crazy for it. I went to a Frozen parade the other day and it was like a cult," said Keesha Beckford, a Chicago-based dance instructor and mother of two. Her four-and-a-half-year-old girl is thoroughly Frozen obsessed. 
"We have the video. Their love of it is not fading at all," she said.

In fact, the home release is probably why the love isn't fading nearly one year after the movie's release. A surge in demand tends to occur with home releases, said Jim Silver, editor-in-chief of toy industry magazine TTPM. But add that surge to an already astronomically successful film like Frozen, and demand becomes unprecedented.
Frozen, released in late November 2013, was mostly planned to spur mostly holiday sales, said Silver.
"The assumption is it would cool off in January and February. That didn't happen."
Instead, Frozen turned into a box-office mammoth, becoming the fifth-highest grossing film of all time. Toys sold out during the holidays. And people kept buying them when the holidays were over.
"I think they're always shy about overproducing," said Matthew Hudak, an analyst covering games and toys for Euromonitor International. That can hurt relationships and stock can languish on shelves. "If you're underproducing, demand can be fixed later," he said.
Merchandisers design their toys more than a year before a movie comes out, said Silver, often based on a ten-minute clip of the film, and going from production of a toy to arrival in a store can take four months. There's no formula to predict what's a hit and what's not. 
Then came the March 18 home release.
"Right after the video came out, it reached an altogether different level," said Silver.
By April, Disney Stores had to institute a two-item limit on Frozen merchandise. In May, Walt Disney Company CFO Jay Rasulo acknowledged the supply issues in a meeting with investors, blaming it on "lag time" in meeting surprise consumer demand.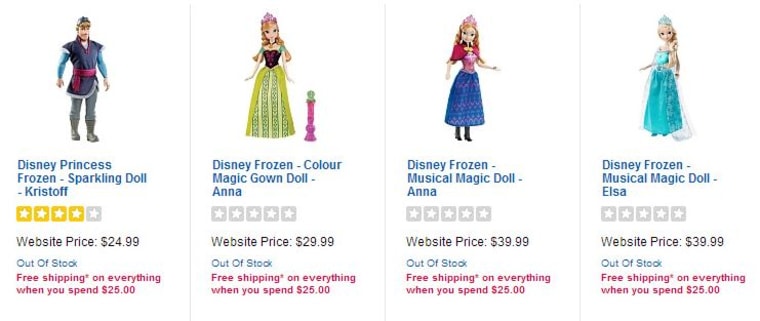 Meanwhile, the Frenzy continued to heat up. A dress made by Jakks Pacific that retailed for $20 sold on eBay for between $150 and $350. Limited edition dolls that sold for $100 retail were fetching thousands online. A Disney company spokesperson said that the company even had to airlift Frozen dresses to stores. Across the internet Elsa and Olaf dolls were sold out.
Frustrated shoppers took to the Disney Store's Facebook page to post their lamentations.
"Sad momma," read one. "I've been trying to get a classic Elsa doll since April. I talk your site daily only to be sold out again. :(. #missionElsaByChristmas."
Another user posted a cartoon of Olaf, the snowman from Frozen, showing him baffled by the store's delay in restocking his movie's merchandise.

Now, finally, manufacturers including Disney, Mattel and Jakks Pacific have adapted to a new reality where demand for Frozen merchandise seems unquenchable. The Disney store is back to full stock. Wal-Mart said it had filled its stores with everything from Frozen dolls to bikes to diapers.

The question is whether it's enough. The months Frozen sold out only account for 30-40 percent of yearly toy sales, Silver said. The real test will be the upcoming holidays.

"I think once people are going into Christmas, it's going to be a whole other deal," said Beckford. "Anything that they make, they know it's going to sell."
Andrew Thompson is Philadelphia-based freelancer. Find him on Twitter @asthompson.