According to tradition, Santa's not supposed to make an appearance until the wee hours of Christmas Day. Apparently the man himself didn't get the message.
In fact, he's been spotted in so many forms in so many places recently that children and other wide-eyed types might find themselves suffering from a slight case of Claus-trophobia.

Just kidding. We're sure the real St. Nick will make his appointed rounds on the aforementioned night but in the meantime, travelers looking for a different way to get their Santa fix have plenty of options.
Here are a handful of the more unique ones, none of which, it's worth noting, require hitting the mall and standing in line for hours for a photo op with a red-suited dude who'd probably rather be somewhere else:
Santas by the Score
Picture hundreds and even thousands of people in Santa outfits strolling the streets, enjoying adult beverages and singing songs like "Walkin' Round in Women's Underwear" and you get an idea of what SantaCon is all about. Starting with a single Con in San Francisco in 1994, this year's festivities will take place in nearly 300 cities around the world.

"It's the one day of the year when everybody knows each other's name because they're all Santa," said Santa Yvonne, aka, Yvonne Heffernan, who's helping organize the inaugural SantaCon Brooklyn on Dec. 15. Like others around the country, the event is adult-themed — think sexy Santa-wear and serial bar-hopping — but it's all in good, clean, slightly naughty fun, oftentimes with money raised for local charities. For a full schedule of SantaCons, visit SantaCon.Info.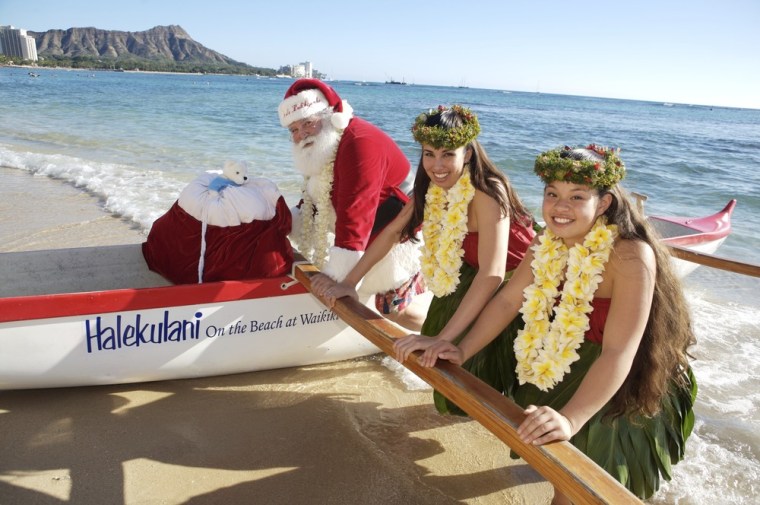 Sky-high Santa
Depending on the theme and location, it's not surprising to see Santa arrive via snow skis, water skis, parachute or helicopter. At the Halekulani Hotel on Waikiki Beach in Hawaii, the jolly fellow even shows up in an outrigger canoe.

But few Santas make a bigger impression than the one riding a jetpack in the annual Christmas Boat Parade in Newport Beach, Calif. Held nightly Dec. 19­–23, the parade features hundreds of lighted yachts and, wait for it, "Jetlev Santa," who has apparently tossed his sleigh in favor of a water-powered jetpack that lets him fly 25 feet above the assembled crowds. We can just hear him introducing himself à la 007: Claus, Santa Claus.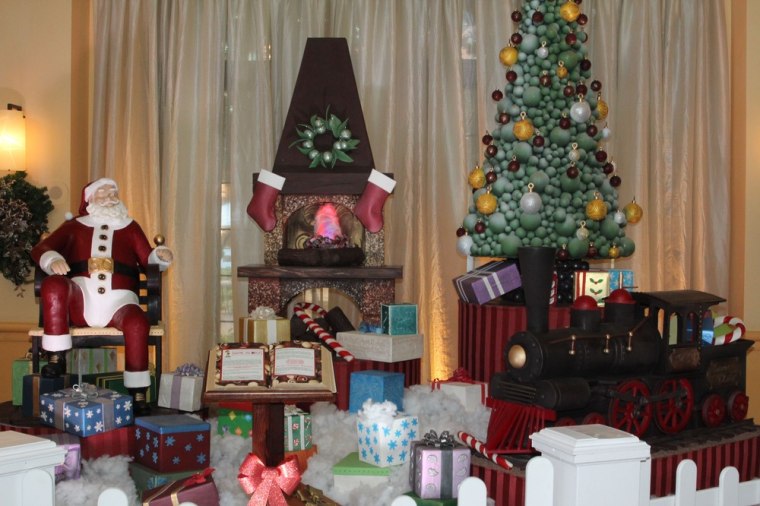 Sweet-tooth Santa
Chocolate — apparently, it's not just for Easter bunnies anymore. At the Swan and Dolphin Hotel at Walt Disney World, guests can gaze on the world's largest chocolate Santa display, a 1,200-pound confection made of dark, white and milk chocolate.

The display features an ornament-covered tree, fireplace with hanging stockings, a dozen or more brightly covered gifts and, of course, the man in red himself. Visitors would be advised to look but not nibble as the scene also contains a whopping 2.9 million calories.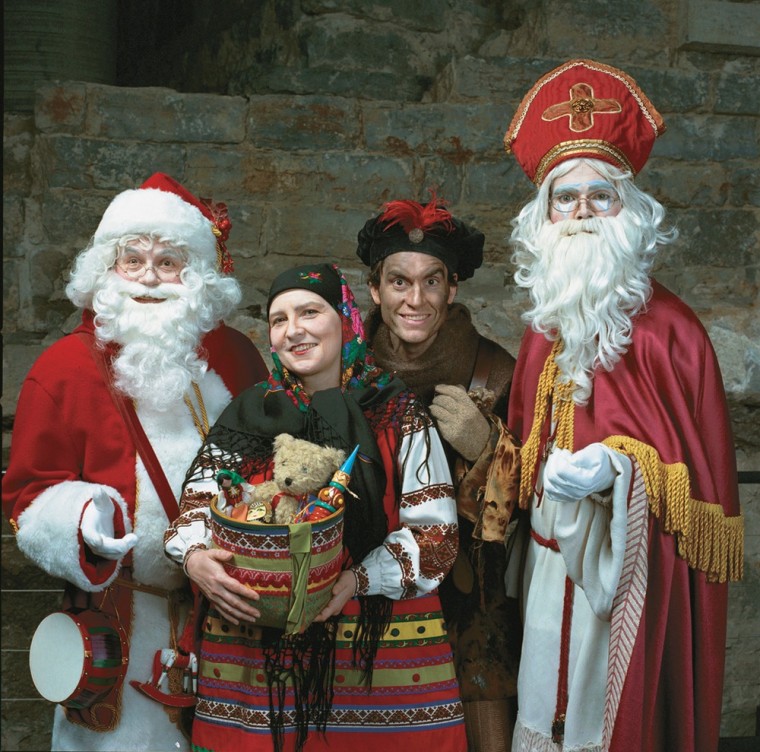 A Santa by any other name ...
On weekends, visitors to Pointe-à-Callière, the Montreal Museum of Archaeology and History, can take a special tour that explores the question "Who is the real Santa Claus?" Combining exhibits and live characters, the tour introduces them to Melchior, one of the three Magi; Babushka, a warm-hearted Russian grandmother, and Black Peter, who historically handed out turnips, stones and lumps of coal.

Fortunately, Santa himself is also on hand to explain how it all works, resolve any confusion and, bless his merry old soul, hand out treats.
The Unsinkable Santa?
Step inside the Titanic exhibition at the Luxor hotel in Las Vegas and you can see historic artifacts, room recreations and, on Dec. 15, St. Nick himself. What's the connection, you ask? Mail, as the original ocean liner lived up to its name as a Royal Mail Ship — hence its official RMS Titanic moniker — by reportedly carrying 7 million pieces of mail.

To commemorate that history, Santa will visit the exhibit's Grand Staircase on Saturday morning to personally collect letters from children and, assuming they've been more naughty than nice, other Sin City visitors.
With Christmas just days away, here's hoping those letters turn out to be more deliverable than the original batch.
Rob Lovitt is a longtime travel writer who still believes the journey is as important as the destination. Follow him at Twitter.